Making legal aid a pillar of the welfare state and providing duty solicitors for border detainees were among justice policies announced at the party's conference last week.
'That's not just rhetoric,' shadow justice secretary Richard Burgon stressed, after telling this year's Labour party conference that he wants legal aid once again to become a pillar of the welfare state. Labour may not have finalised its manifesto for the general election that the prime minister may or may not call before 'Brexit day' next March, but it has started setting out its stall on justice. How much this elaborate stall will cost, mind you, must wait for another day.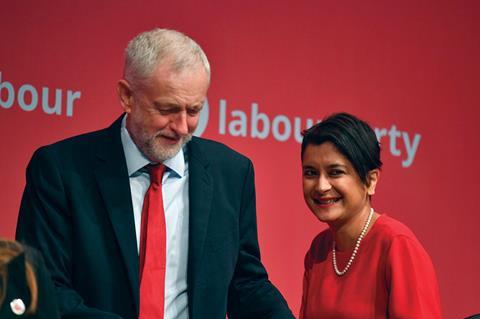 Last week, Burgon announced that a Labour government will 'properly support law centres as engines of empowerment for working-class communities'. He has teamed up with the Law Centres Network to draft 'detailed' proposals 'and put this into reality when we come into government'.
The shadow justice secretary, a solicitor who once worked in the employment rights unit at Thompsons Solicitors, said the party wants to ensure a single parent can fight back against a 'lousy landlord', employees are not exploited by 'bullying bosses', and migrants can fight back against 'immoral and unjustifiable decisions'.
Burgon is 'very worried' about the future of legal professionals, especially criminal duty solicitors and legal aid practitioners. His work with the Law Centres Network will include training the next generation of social welfare lawyers.
Shadow security minister Nick Thomas-Symonds, who is also the shadow solicitor-general (despite being a barrister), highlighted his objections to the government's Counter-Terrorism and Border Security Bill, which has its second reading in the House of Lords this month.
Thomas-Symonds objects to border officers being able to overhear what is said between a detainee and solicitor during consultations.
He said: 'The government is saying it wants to have this power to restrict access to a lawyer because it thinks, somehow, the person stopped will abuse their phone call or the person they speak to won't be a bona fide lawyer. There's a simple solution. We have a situation where we have duty solicitors for police stations. There's no reason why something similar could not work in terms of this.'
Shadow attorney general Shami Chakrabarti is deeply unimpressed with the government's attitude to tweaking its court reform proposals. The Courts and Tribunals (Judiciary and Functions of Staff) Bill will allow court staff to deal with 'routine matters' and free up judges' time to concentrate on other matters.
Chakrabarti said she was 'pretty disappointed so far in the government's approach to even light and healthy scepticism about the notion of delegating what are significant judicial functions to relatively poorly paid court staff'.
She said the government has been 'resistant' to the idea that such functions should be delegated only to people with a minimum number of years' call or qualifications and that they should not make decisions affecting someone's liberty or financial cap.
The shadow attorney general insisted she is not wholly opposed to reform: 'I do not think it's quite sincere to call reduction "reform" or to say you can do justice on the cheap any more than you can do security on the cheap.
'Our court buildings are creaking and crumbling. The profession is hugely demoralised. None of that seems like reform. It seems like a downright attack. Just because there is an atmosphere of demoralisation, we should not be taking this lying down.'
Chakrabarti also insisted that, when it comes to technology, she is no Luddite: the internet should be used to support legal literacy, but it is lawyers who will empower clients to make informed decisions.
She said: 'Whether you're a company director facing disqualification, an MP being accused of fiddling your expenses, you're losing your job, having your family split up or being denied access to your children, these are not life crises that can be dealt with online.
'I've never met someone with a crisis who did not need a person to sit across the table from them and show a bit of empathy as well as expert judgement. This is based on my experience as a recipient and provider of legal services.'
Chakrabarti delivered equally strong words about the Civil Liability Bill: 'The government is in the pocket of insurers… You talk to some of these Tory ministers, even some Lib Dem colleagues, about what they consider a small claim and you wonder what planet they're living on.'
Perhaps the strongest words on justice, however, were voiced by David Lammy, who wants to end the Home Office's 'hostile environment' policy. Legal aid could help here too, he stressed: 'The idea that people should struggle on their own or be contacted by people who are not lawyers, or are "mickey mouse" lawyers, is criminal,' Lammy told a session organised by human rights group Liberty.