As recently as 20 years ago, a lawyer suffering from trauma linked to their work might have been regarded as not up to the job or somehow weak, and might have sought help from a bottle.
But the landscape has changed markedly as awareness of trauma has grown and the stigma reduced. Now a litigation team regularly handling traumatic events has brought in a specialist to provide support and counselling to help solicitors deal with what they encounter.
Vikki Woodfine, head of the health and safety team at DWF's Manchester office, wanted to bring any difficulties faced by her staff into the open and ensure no-one was bottling up their worries.
Trauma is inherent in all that we do and, sadly,dealing with wholly unexpected fatalities,sometimes even of babies and young children,can have a traumatic impact on us as lawyers,our clients and their employees
Vikki Woodfine, DWF
Therapeutic provision would appear to be an extremely rare departure for a law firm, and is a further sign that the sector is embracing new approaches to wellbeing.
'Dealing so frequently with tragedy left me with the view that it was important to have an open dialogue within our team about the human challenges we face and the difficult aspects of the work we do,' she said. 'Trauma is inherent in all that we do and, sadly, dealing with wholly unexpected fatalities, sometimes even of babies and young children, can have a traumatic impact on us as lawyers, our clients and their employees.'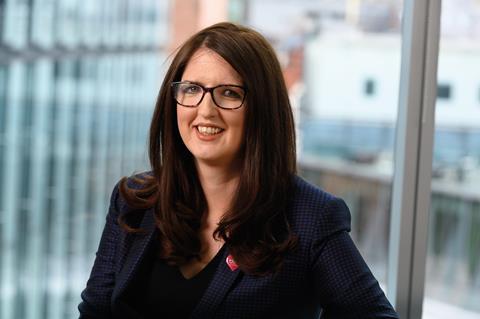 Woodfine and her team are regularly called in during the immediate aftermath of an incident and are obliged to speak to witnesses who have lost friends or colleagues, poring over what are sometimes graphic details.
Last year, Woodfine arranged specialist training on trauma-related mental health and met with Jessica Woolliscroft, director of the Cheshire-based Brightstone Clinic and accredited trauma therapist. Woolliscroft worked with DWF to discuss issues such as general trauma, PTSD and grief. Woodfine has run training and discussion sessions with staff to ensure they are equipped to deal with the kind of incidents they encounter. Questionnaires are also distributed to find out whether people may be suffering without even realising.
Woolliscroft explained that consultations involve creating a 'trauma map' which normalises responses to a tragedy and helps people make sense of their own and other people's responses.
'When Vikki or members of her team arrive to investigate and consult at an incident they are confronted with all sorts of visceral data, images, stories, physical evidence, people in obvious distress, people doing things out of character, and, in the most extreme cases, people who have been injured, or seen others injured or killed.
'So the team members have a job of work to do in a context where they are bombarded with emotional information; while supporting others to manage. Knowing that a response can be predicted, that it will last for a period of time and then fade is incredibly empowering. The team can share this knowledge with the people they come in contact with and doing this helps them to feel competent and capable rather than flooded, triggered or overwhelmed.'
Woolliscroft urges law firms to develop a culture where people feel safe to share the fact that sometimes their work is distressing – and to stress to people that this is a normal response. Group trauma sessions are useful but should always be voluntary, as some group members may be reluctant to attend them.
Woolliscroft added: 'I sense there is a shift in the culture: divorce lawyers and those working in safeguarding seeking trauma informed consultations, for example, is increasingly common. However, there is so much that can be offered to help people change the design of the work to reduce its traumatic impact. For example, is it really necessary for lawyers to view every part of an evidence video?'
Jonathan Wheeler, managing partner at London firm Bolt Burdon Kemp, agrees the legal profession's attitude to trauma has changed significantly in recent years. Wheeler has spent much of his career representing victims of abuse and once broke down in tears after watching a video of his client's police interview where the client talked about the abuse he suffered as a child.
'Using my experience as an example, we started talking about how the job can affect you within the wider team,' he said. 'It really is important to share and speak up if anything is causing you upset. I realised that mine was an honest reaction to another person's harrowing story, and that this was a good thing. If one becomes so desensitised then one can lose empathy and focus.'
The firm now runs courses in-house, with managers trained to look for signs of trauma among staff, and lawyers encouraged to come forward if they are finding the content of cases difficult.
The most important change has been in attitude. What was once viewed as a sign of weakness is now seen as the opposite, and firms increasingly realise the healthiest approach to trauma is to not treat it as something to be suppressed or ignored.
Woodfine added: 'Anything that we can do as professionals working on traumatic cases to support ourselves, our colleagues, our clients and all those affected by the relevant trauma must be done.'