Ireland's prime minister has said the country is exploring how to take legal business from the UK after Brexit. Taoiseach Leo Varadkar cited a partnership of the legal representative bodies to exploit the UK's departure from the EU.
After the first new year meeting of Ireland's Cabinet, Varadkar said that ministers had decided to prepare Brexit legislation in detail over the next two weeks, but that any no-deal legislation would not be introduced to the Dáil until March.
'A partnership with the Bar Council and the Law Society, they take a view that one of the areas that could benefit from Brexit are legal services, on the basis that Ireland could… take some business from the UK,' he told the Irish media.
The Law Society of Ireland and Bar of Ireland have developed a set of proposals aimed at assisting the Irish government's stated key priority to 'minimise the impact [of Brexit] on trade and the economy'. These are contained in a report published last year, Promoting Ireland as a leading centre globally for international legal services.
Ken Murphy, chief executive of the Society, told the Gazette: 'After the UK leaves the European Union, the Irish legal profession will be unique in terms of its European and common law identity. Ireland's ongoing alignment with the UK in so many spheres – economic, political and social – means that we have an opportunity to provide world-class professional services, in many cases complementing the UK market and its main operators.'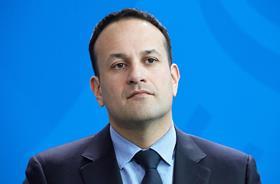 Varadkar's commitment follows a surge in applications from England and Wales lawyers to join the roll in Ireland in anticipation of Brexit. Transatlantic firm Eversheds Sutherland topped a 'league table' of registrations published last August, with 132 England and Wales solicitors admitted to the Irish roll. Eversheds was followed by magic circle firms Freshfields Bruckhaus Deringer (131) and Slaughter and May (98), and and Latham & Watkins (80).
The figures appeared in data produced by the Law Society of Ireland showing that by last September 1,644 England and Wales-qualified solicitors had joined the Irish roll since 2016. A further 75 Northern Ireland solicitors had also joined.
Amid continuing uncertainty about mutual recognition Christina Blacklaws, president of the Law Society of England and Wales, observed then that law firms and solicitors were doing everything they could to ensure they continue to meet their clients' needs seamlessly when the UK leaves the EU.