Volunteers are needed to help a charity continue providing support to those facing civil and family courts without legal representation.
Support Through Court volunteers, based in locations across England and Wales including Nottingham, Manchester and London, provide practical and emotional support in civil and family court proceedings to litigants in person or unrepresented individuals.
Katie Baxter, senior supporters manager at Support Through Court, said: 'Half a million people are going through court alone with no legal representation either because they cannot afford it or have little legal aid available. We provide practical and emotional support to those who are unrepresented and need it. We do not give legal advice.'
Practical advice can involve volunteers helping complete forms, explaining the court process, support in court, taking notes to debrief afterwards as well as showing clients around the courtroom.
Baxter added: 'We give people a space to talk things through. People feel a lot better for it, they may not want to initiate legal proceedings and may want to go through mediation instead. Sometimes, people just want someone to hear them out.'
The charity is based in 14 courts across the country. It has between 700-800 volunteers with a large contingent being made up of students reading law or law-related careers.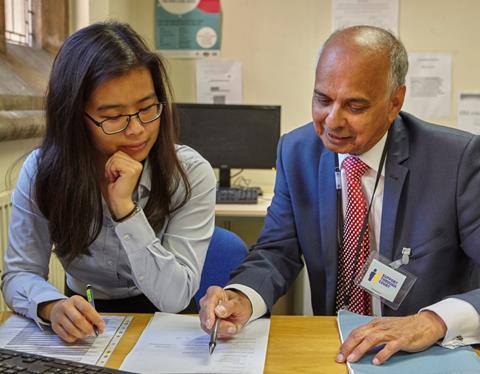 'It is amazing practical training,' Baxter said.
Extensive training, including shadowing, is provided to all volunteers before they start. The charity asks that volunteers then donate two days a month.
Retirees form a large cohort of volunteers, including former legal professionals. This group was larger in number before the pandemic and with an estimated 70,000 clients expected to have been helped by STC this year, compared to 50,000 last year, the organisation is looking to boost its volunteer numbers, particularly in London.
Volunteer Helen, a retired solicitor, has been working with STC for four and a half years, and is based at the Royal Courts of Justice.
She said: 'I retired nearly five years ago and wanted to give something back. I wanted to keep engaged with people of different ages and background and use my experience. It is very interesting, challenging at times but that is not a bad thing, and varied. I have very nice colleagues and managers too.
'My experience volunteering has been very good and I like being able to help people. It is a privilege, you get an insight into very intimate details of someone's life and it can be extremely rewarding.'
Talking of one client who was 'highly intelligent and severely dyslexic', who Helen helped to adjust her electronic documents to make them easier to read and showed her how to use software that reads out text, Helen said:
'She had a judicial review, and the court guidance is 250 pages long, for her to find her way around was a nightmare, so this was a help. We hugged each other at the end. It was so rewarding'.
To find out more about Support Through Court and sign up as a volunteer, visit supportthroughcourt.org.
This article is now closed for comment.