The financial year yielded healthy profits across the City – but firm bosses have warned of tougher times ahead. All of the magic circle posted rises, two of more than 10%.
Profit per equity partner at silver circle outfit Travers Smith soared by nearly a quarter. At £1.2m, the figure is a 23% rise on last year. However, managing partner David Patient warned of fresh challenges and 'bumps in the road ahead' in a year in which the UK will formally leave the EU.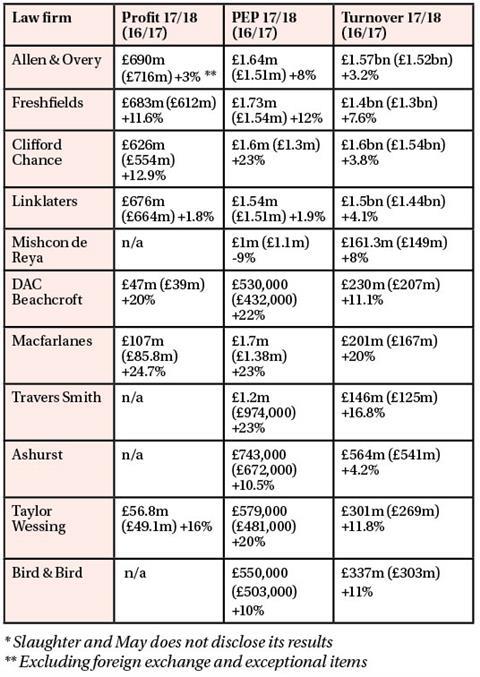 Macfarlanes reported a 25% increase in profit to £107m, while PEP was £1.7m, up 23%. But the firm also spoke of increasing volatility and warned that financial performance is 'bound to reflect that'. 'We expect our results to show variable growth year on year. This year has started encouragingly, but there are many potential headwinds out there,' a spokesperson said.
Meanwhile, Taylor Wessing's Tim Eyles, UK managing partner, hailed the firm's 'best year yet'. He added: 'While conscious of ongoing market and economic developments, we look forward to the next 12 months with optimism.'
Simon Konsta, global senior partner at international firm Clyde & Co, said the climate for global business 'remains complex' and that the firm's priority is to continue to adapt the services it offers and the delivery of them to ensure it is providing clients with the best service locally and globally.
Mishcon de Reya warned of challenging conditions. PEP fell by 9% from £1.1m to £1m – although there was an 8% turnover rise. Managing partner Kevin Gold said the level of growth in 'challenging and unpredictable market conditions' was heartening.