Clifford Chance's top paid partner drew £3.2m last year as the magic circle firm's pre-tax profit before members' remuneration and profit share rose 4% to £692m.
The highest earning member's entitlement to profit was up 20% from £2.67m the previous year, according to the firm's financial statements for the year to 30 April 2021 which show the total profits available to be shared among members increased from £637m to £642m.
Net assets attributable to members, excluding members' interests classified as liabilities, also increased from £341m to £372m, which the firm said was 'primarily due to profits for the year exceeding profit distributions in respect of the previous financial year'.
Turnover was up just over 1% to £1.828bn. Partnership profits were up 8% to £716m, the firm announced in July, with a 9% rise in profit per equity partner.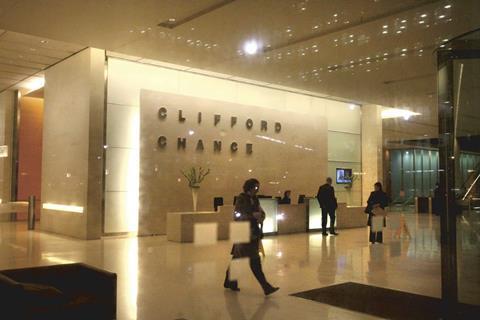 The firm said the financial year 'started slowly as the pandemic created uncertainty', but that activity levels in the second half accelerated to 'exceed those seen in the prior year across all regions'.
Clifford Chance's 14-strong executive leadership group, which includes outgoing global managing partner Matthew Layton – who leaves the post in May – CFO Patrick Glydon and COO Caroline Firstbrook received total remuneration of £28m, up from £22m the previous year when the group had 13 members.
According to the statement, an unnamed relative of one member of the group received total remuneration for the financial year of £1m, the same as the previous year.
Clifford Chance also improved its net cash position over the financial year, the firm's accounts published last week reveal, with cash and cash equivalents at the end of the financial year up from £299m to £370m.
The firm said it 'maintained strong cash reserves throughout the year, and did not drawdown on its revolving credit facility', adding that the net cash increase was 'driven by continued improvement in the firm's order to cash process resulting in a 10% reduction in trade receivables'.
It followed two other top firms in boosting its net cash over the same period, with Allen and Overy increasing its figure by almost 80% from £197.1m to £352.1m while Eversheds Sutherland's more than doubled from £41.5m to £108.9m, according to accounts published late last year. Linklaters' cash and cash equivalents, however, fell nearly 40% from £362.7m to £222.3m.