The first woman to practise as a barrister in England and Wales is to be commemorated with a blue plaque from English Heritage. Helena Normanton KC, born in 1882, was the first woman to benefit from the Sex Disqualification (Removal) Act 1919, which opened up the legal profession to women.
In December 1919 she became the first woman to join one of the Inns of Court, having unsuccessfully challenged the refusal by Middle Temple to admit her prior to the act.
In November 1922 she became the second woman called to the bar of England and Wales, following Ivy Williams in May 1922, but she was the first to practise. Normanton was also the first woman to appear in the High Court and at the Old Bailey and to lead a prosecution in a murder trial.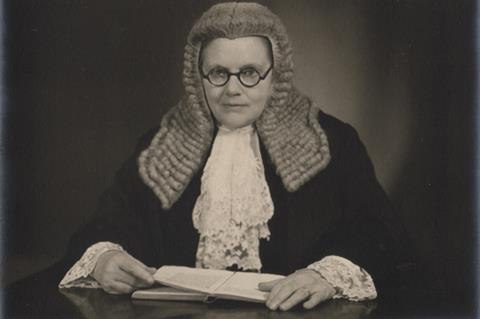 In 1949, with Rose Heilbron, she was one of the first two women King's Counsel at the English bar.
The plaque will mark the address where she lived for the early part of her legal career. English Heritage was not able to confirm the address, but the application was made for a property at Mecklenburgh Square, at the end of Doughty Street, London, where she lived as a junior barrister.
Her recognition follows an application made by Doughty Street Chambers in 2018, supported by the First 100 Years' project, which charts the history of women in law.