The solicitor about to become magic circle firm Freshfields' first female senior partner says she was overwhelmed by the wonderful messages she received from the profession – including strangers – following her election.
Georgia Dawson, currently Asia managing partner and leader of the Asia dispute resolution practice, was elected senior partner in September and will take up her role in January.
In her first public engagement since being elected, she spoke about what the new appointment means for her at the Next 100 Years Inspirational Women in Law Awards event.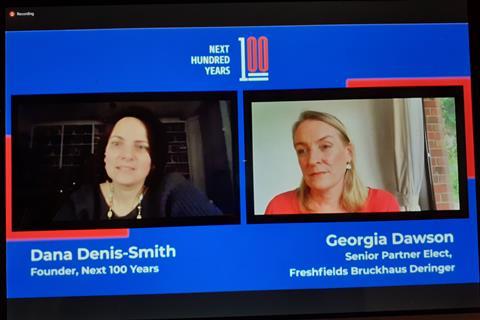 Dawson told Dana Denis-Smith, founder of the Next 100 Years project, in a pre-recorded interview that throughout the election she was focused on the issues under debate within the firm.
She said: 'The election process provided an opportunity for an open and vibrant discussion of where we want to take the firm as partners in the years ahead. It was rewarding and provided an opportunity to meet and debate with partners across the world.
'When I got the phone call to say I had won the election, I was focused on the privilege of being a custodian or steward of the firm and the significant responsibility that comes with that. Really only in the 24-48 hours after that, the effect of the appointment on women and men, or women in particular, in our own organisation and the legal profession more generally it really became apparent.
'There was a lot of interest, a lot of emails coming in from people across the world and across the profession, from people I didn't know. People pointing to this will hopefully send a message in the profession. It has been an extraordinary couple of weeks and the wonderful messages have been quite overwhelming.'
On her father, who is celebrating 50 years as a solicitor, Dawson said: 'The wonderful thing is he believed in me throughout my whole life. When I said I was considering putting myself forward for the election, we talked through the pros and cons, and he had absolute conviction I would win.'
Asked what the profession can do to equal the playing field for women, Dawson highlighted three strands to the diversity agenda: a focus on inclusion (creating a workplace that is attractive to men and women); engagement (creating dialogue within the firm and the communities in which they operate to promote gender equality); and excelling (creating an environment where everyone in the firm can succeed and are supported in their career progression).