Three solicitors were among a tranche of Conservatives to turn seemingly safe Labour seats blue, as Boris Johnson's party secured a thumping Commons majority. In total, over 33 solicitors were elected to parliament yesterday.
But one solicitor not returning to Westminster is former justice secretary David Gauke, who stood as an independent in Hertfordshire South West after being removed from the Conservative party. He secured almost 16,000 votes, but came in a distant second to Tory candidate Gagan Mohindra.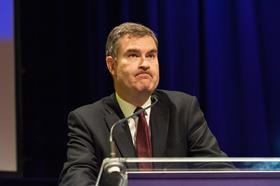 Following the result, Gauke tweeted: 'It is clear to me that in seats like SW Herts there is a yearning for the pragmatic politics of the centre ground. Not sure quite what the future holds for me but I'll continue to make that case.'
In one of the most remarkable results of the night, commercial lawyer Shaun Bailey took West Bromwich West from Labour, which had held the seat since 1974. Bailey secured a majority of 3,799 votes - just over 50% of the vote.
James Daly, a partner with Bury firm Crompton Halliwell and a conveyancing specialist, overturned a Labour majority of 4,375 to win Bury North with a majority of just 105 – one of the narrowest margins of the night
Peter Gibson, managing director at north-east firm Coles Solicitors and a personal injury litigation specialist, secured a 4.8% swing to gain a majority of more than 3,000 for the Tories in Darlington.
He said following his victory: 'People have lost trust in our politics and it's time to restore that faith and trust and integrity and I look forward to doing that.'
Natalie Elphicke, a former housing and finance lawyer, won in Dover with a convincing majority of over 12,000 and nearly 57% of the vote. The seat was previously held by her husband Charlie.
Concerns that former Linklaters solicitor Dominic Raab would be unseated in Esher & Walton proved unfounded, as he held off the Liberal Democrats to win with 31,132 votes – albeit this slashed his majority by more than 20,000.
Carlisle was held for the Conservatives by John Stevenson with an 8,000-plus majority and an 5.3% increase in his vote share. Stevenson continues to be a member of the Carlisle firm Bendles Solicitors.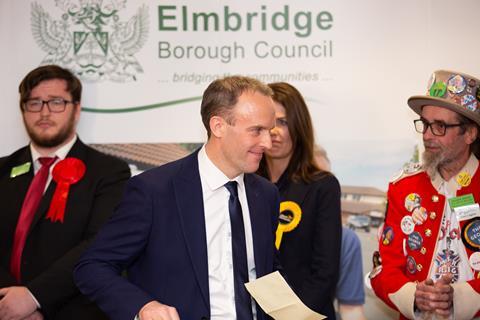 David Jones almost doubled his majority to 6,747 in the north Wales seat of Clwyd West, while former conveyancing solicitor Will Quince held Colchester with an increased vote share and 50% of the electorate.
In Middlesbrough South and East Cleveland, Conservative Simon Clarke, a former trainee with magic circle firm Slaughter and May, increased his majority following a challenge from another solicitor, Lauren Dingsdale.
Other Conservatives re-elected included: Gareth Johnson (Dartford), Sir Greg Knight (East Yorkshire), Alan Mak (Havant), Bim Afolami (Hitchin and Harpenden), Jonathan Djanogly (Huntingdon), Helen Grant (Maidstone and the Weald), Robert Jenrick (Newark), Stephen Barclay (North East Cambridgshire), Shailesh Vara (North West Cambridgshire), James Brokenshire (Old Bexley and Sidcup), Jake Berry (Rossendale and Darwen), and Sir Bill Cash (Stone) .
In an all-solicitor battle – their fourth general election going head to head - Labour's Bambos Charalambous held off the Conservative challenge of David Burrowes in Enfield Southgate.
Solicitor Darren Jones held onto his Bristol North West constituency for Labour, often regarded as a swing seat, with a marginally increased 5,692 majority.
Immediately following the exit poll predicting a large Conservative majority, Jones tweeted: 'The bottom line is that a political party exists to win elections, in order to change the country. We have to be honest about why we lost and be better.'
Former Thompsons solicitor Jo Stevens retained her seat in Cardiff Central with a near-unchanged majority of more than 17,000.
Harriet Harman also returns to parliament, having secured more than 40,000 votes – a 71.3% vote share – in the south London seat of Camberwell & Peckham.
Labour's solicitor MPs based in the north-east won but suffered falls in their vote share. Karl Turner held onto Hull East,with his majority slashed from more than 10,000 to 1,239. Shadow justice secretary Richard Burgon had his majority more than halved in Leeds East, while shadow transport secretary Andy McDonald lost around 5,000 from his majority in Middlesbrough. It was a similar story for Catherine McKinnell in Newcastle upon Tyne North.
In the north west, Afzal Khan slightly increased his majority his Manchester Gorton, while Rebecca Long-Bailey, a solicitor formerly with Halliwells, Pinsent Masons and Hill Dickinson, was re-elected in Salford & Eccles. Jonathan Reynolds held his Stalybridge and Hyde seat for Labour.
In Walsall South, Valerie Vaz held off a challenge from the Conservatives, again with a reduced share of the vote.