The government has been urged to remove clauses that impose tougher sentences on protestors amid concern that innocent people could be hauled before the courts.
After scrutinising the controversial Police, Crime, Sentencing and Courts Bill, the Joint Committee on Human Rights flagged up several concerns in a report published today.
The bill would increase the maximum prison sentence for protest organisers who fail to comply with a condition imposed by the police from three months to 51 weeks. The maximum fine would rise from £1,000 to £2,500.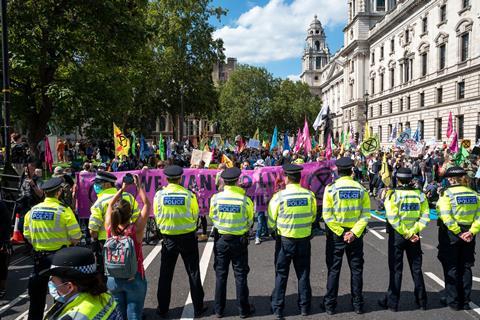 Home Office ministers cited examples of assaults on journalists and police officers at recent protests to justify the increased sentences, but the committee pointed out that these were not mere breaches of conditions.
The committee said: 'Violence of this type is already covered by other offences with appropriate sentences. It is of real concern that this significant change to the available penalties would allow for a person engaged in peaceful protest to face a sentence of a year in prison.'
The committee calls for clauses that increase penalties for breaching conditions placed on protests to be removed.
The government is also warned that innocent people would be caught up in its attempt to close a potential loophole regarding the offence of failing to comply with a condition lawfully imposed by the police.
The report says: 'Under the proposal, as long as the protester "ought to know" that a condition is in place, there is no requirement that they know or ought to know their own actions amounted to a breach. Once they know or ought to know a condition is in place the offence is essentially one of strict liability. A person who attended a demonstration limited to 100 people would commit the offence if they knew or ought to know of this limit, even if they had no idea that they were the 101st person to join the assembly or procession?'