Five court sites are now offering home-testing kits for staff, lawyers, judges and jurors in a tranche of new Covid-19 safety measures.
Birmingham Crown Court, Croydon Combined Court, Liverpool Combined Court QEII, Snaresbrook Crown Court and Wolverhampton Combined Court will provide home-testing kits from today, including lateral flow tests.
The service will be offered to all professional court users, lawyers, judiciary, contractors, jurors, witness services and staff who attend scheduled hearings at the pilot sites. HM Courts & Tribunals Service says each kit comprises either three or seven tests, with results available immediately afterwards.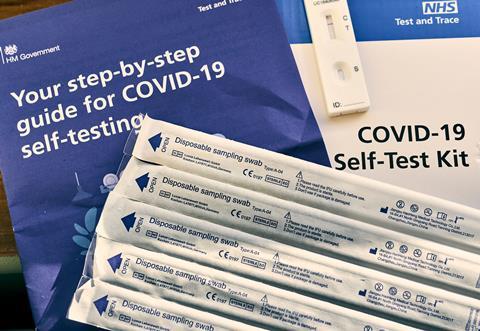 On-site test centres have now opened at Manchester Civil Justice Centre and Southwark Crown Court. HMCTS said around 600 people have been tested at the pilot sites so far, with no positive results. More sites are expected to open in the coming weeks and both existing pilots have been extended until 23 April 2021.
HMCTS has repeatedly insisted that all of its courts are 'Covid-secure' and that there is no evidence of heightened transmission in its estate. However, the Public and Commercial Services Union (PCS) – one of the UK's biggest trade unions – has accused the service of 'refusing to take Covid in the workplace seriously'.
According to PCS, staff at Liverpool Law Courts and Snaresbrook Crown Court have backed strike action as a result of the concerns.
In a weekly operational update, HMCTS said it has opened a Nightingale court at Birmingham Maple House, which provides four extral courtrooms for Crown, civil and family work. It has also opened a makeshift court in Barbican, London, which provides two additional courtrooms for Crown court work.
The Crown court backlog currently stands at roughly 56,000 cases.