Landmark survey shows bullying rife
The shocking scale of bullying and sexual harassment across the global profession is exposed in a landmark survey conducted by the International Bar Association. Half of all women lawyers have been bullied at work and one in three has been sexually harassed. One in three male lawyers reports having been bullied, while one in 15 has been sexually harassed.
These are among the preliminary findings of an IBA survey on bullying and sexual harassment in the profession, which closes on 26 October. The survey has already received responses from more than 5,000 lawyers from 120 jurisdictions.
A quarter of all lawyers have been sexually harassed, of whom 36% have experienced harassment in the past year. Yet in four out of five cases the harassment was never reported, for reasons including fear of career damage and reprisals. Some 43% of respondents have been bullied, but this was not reported in 57% of all cases, with similar reasons given.
Where harassment and bullying were reported, legal employers proved generally inept in dealing with it. In around two-thirds of cases the response was 'insufficient or negligible', and in three-quarters of cases the perpetrator was not sanctioned. In 62% of cases, bullying conduct contributed to the victim leaving or intending to leave the workplace. For harassment, the equivalent figure was 36%.
The findings are likely to galvanise efforts to improve the profession's handling of bullying and sexual harassment cases amid the 'MeToo' campaign.
The IBA's survey findings were disclosed at a session on harassment and bullying. Speakers included Zelda Perkins, Harvey Weinstein's former assistant.
Civil legal aid blueprint
A former Law Society president unveiled the first international principles for the funding and administration of civil legal aid. Lucy Scott-Moncrieff (pictured) said the blueprint would provide a 'starting point' for debate on the subject, while stressing that governments bear the primary responsibility for delivering access to justice.
The 27 principles were developed jointly by the IBA's Access to Justice and Legal Aid Committee, and the Bar Issues Commission. Drawn up at a roundtable of international experts last year, they come under the headings of funding, scope and eligibility; administration; and provision.
Principle 1 states that legal aid service delivery generates social and economic benefits. 'Contrary to the prevailing narrative that legal aid is a drain on limited resources, research shows that provision of access to justice and legal aid can prevent adverse consequences on the health, employment and well-being of individuals.'
Nearly 95% of respondents to a consultation agreed with this principle.
Ex-EC president dismisses second Brexit referendum hopes
Former European Commission president Romano Prodi told the conference opening session that Brexit will be 'painful and difficult' – but dismissed Remainer hopes for a second referendum. Prodi also doubts the result would be different second time around anyway, given his experience of UK 'exceptionalism'.
Prodi, who led the commission from 1999-2004 and was twice prime minister of Italy, also warned delegates that liberal democracies are 'under threat. 'From the Philippines to China, from the EU to the US, people seem to be more and more uneasy with the traditional political parties and decision-making,' he said. 'Everywhere there is a desire for authority.'
Populist movements across Europe are exploiting the perceived negative consequences of globalisation, said Prodi. He cited inequality, 'which has risen everywhere in the last generation', despite GDP growth; pressure on the salaries of 'middle-range' workers; the political impossibility of running domestic political campaigns on the promise of higher taxes; mobility of capital in an era where labour is far less mobile; and technological advances.
Prodi said the European project has now been 'frozen'. He added: 'The EU was the symbol of shared progress in the defence of rights and the visible instrument of a new social justice in a continent devastated by wars. But things changed.'
On Brexit, Prodi expects a 'compromise' that will safeguard free trade, with sacrifices in areas such as freedom of movement and joint social projects. He added: 'We are in a very difficult situation. I don't believe the referendum will be repeated – I can't imagine how you could do it.'
ICC chief attacks 'machiavellian' US
The International Criminal Court's prosecutor condemned attacks by the Trump administration as 'machiavellian' attempts to stop the court doing its work. Dr Fatou Bensouda vowed not to be deflected from a prospective investigation into allegations of war crimes by US military and intelligence personnel in Afghanistan.
The US is refusing to cooperate with the court in any way. Last month national security adviser John Bolton said if the ICC carries out the investigation, the US will ban its judges and prosecutors from entering the country, freeze any funds they have in US financial institutions and attempt to prosecute them in US courts.
The US is not a state party to the Rome statute which founded the ICC, but Afghanistan is a signatory. The ICC prosecutor requested in November 2017 to open an investigation into alleged war crimes committed by the US military and intelligence officials in Afghanistan, especially over the abuse of detainees.
At an IBA lunchtime session, Bensouda said Bolton's attack had prompted an outpouring of support from states, international organisations and NGOs. 'By the very nature of what we do, holding to account those who bear responsibility for atrocities and crimes of aggression, there is bound to be push back,' she said. 'We have seen it from my own continent [Africa]. The recent attacks by Mr Bolton are machiavellian attempts to stop the court doing its work. These words will not deter us.'
Bensouda is awaiting a grant of authorisation from judges to proceed with the inquiry. She voiced confidence that this will be forthcoming.
The prosecutor, who was a government minister and chief legal adviser in Gambia before joining the ICC in 2012, went on to rebut the recurrent criticism that the court overly focuses on Africa. She alluded to recent action on alleged crimes in Venezuela, Georgia, Colombia and Myanmar.
Bensouda, does, however want more vigorous backing from signatory states and the UN Security Council. Sudan's President Omar al-Bashir, it was noted, continues to travel freely in defiance of an ICC arrest warrant. 'The states that created the court have a responsibility to execute its decisions,' said Bensouda. 'We don't have an army or a police force, the executing arm is the states themselves.
'I have been urging the Security Council to act; it can do much more than it is currently doing.'
Clarke calls for action to tackle corporate excess
Ken Clarke, the former Tory chancellor and justice secretary, has called for a root-and-branch overhaul of corporate governance to address the popular grievances which he believes gave rise to Brexit. Many multinational companies are now 'self-perpetuating oligarchies determining their own rewards', he told a lunchtime session. Breaking the stranglehold that the Big Four professional services firms hold over the statutory audit of leading corporations should be part of that reform agenda, he said.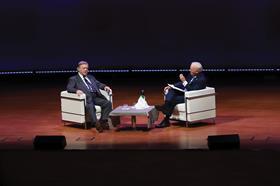 Clarke admitted the 1990s credo of 'capitalism with a social conscience' which he embodied had failed too many people.
'We failed to appreciate that in educated, successful and prosperous meritocracies, about half of the population were being left behind by what they saw as an increasingly out-of-touch elite. A big surge in immigration became the scapegoat. All traditional politicians are crashing in the polls. [In the Brexit poll] people in rust-bucket parts of the UK showed the establishment what they think of them.'
While reiterating his faith in free markets and social liberalism, Clarke said advanced democracies must tackle the 'abuses and excesses' of markets. 'We have to address corporate governance,' he said. 'Many major corporations are self-perpetuating oligarchies determining their own rewards. Shareholders are not in control and corporations need to engage with a bigger civil interest.
'Even with the distribution of rewards generally, the ostentatious vulgarity of the lives of the super-rich causes rage to the redundant steelworker living in a city in Britain, the US or anywhere else. We need to look at how corporations are run and managed so that they have a broader responsibility than just the return of capital.
'At the moment we are just nibbling at the edges with ideas and most of those ideas are met by ferocious lobbying. Western democracies can't even get on with addressing unregulated social media publishers, or breaking up the Big Four auditors.'
On Brexit, Clarke lamented that a small number of Labour brexiteers prevented an amendment enabling a customs union. 'What we need is a customs arrangement and regulatory alignment – if that look likes a bit like a customs union and a single market, I don't mind. This is the big, short-term thing – everything else can go into the long grass for an indeterminate period, where grown-up civil servants will get into negotiations about what the future relationship with Europe is going to be.'
The government's Chequers proposal for a deal 'was only drawn up to keep Boris Johnson onside and it only lasted 48 hours', said Clarke.
Rule of law under threat
The president of the global bar, Czech lawyer Martin Šolc, urged delegates to act as 'true guardians' of the rule of law by fronting a new IBA campaign titled: 'Look after the rule of law and it will look after you.'
The campaign consists of eight videos showcasing what the IBA believes to be at risk – including the rights to a fair trial and not to be subjected to discrimination on the grounds of personal characteristics.
Šolc warned: 'Values underpinning liberal democratic society are being questioned, even in countries where I thought they were safe.
'We cannot turn the clock back – but we should realise that one element of what is needed in society is the rule of law. That is where we need to become true guardians and get the message across.'