Proposed changes to judicial review powers will be debated in parliament this week, with at least one prominent Conservative MP suggesting he will vote against the government.
The Judicial Review and Courts Bill will have its second reading in the House of Commons today, as ministers seek to overhaul the judicial review process. The government says it wants to stop JR being abused to conduct politics by another means or to create delays, but critics say this is an assault on the legal system and an attempt to avoid accountability.
Writing in the Guardian, the former Brexit secretary and shadow home secretary David Davis MP said he would be 'at the forefront of any battle to protect this important legal tool'.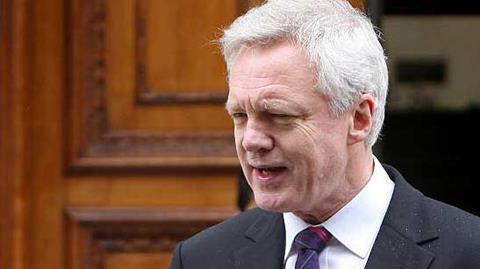 He said: 'The government plans to restrict the use of judicial review in an obvious attempt to avoid accountability. Such attempts to consolidate power are profoundly un-conservative and forget that, in a society governed by the rule of law, the government does not always get its way.'
Davis said the importance of judicial review went far beyond the Article 50 and prorogation cases. He pointed to the successful challenge to the Parole Board's decision to release serial rapist John Warboys from prison, and use of a judicial review to argue for an inquest into the death of a woman murdered by her partner.
The bill would allow courts to suspend the effects of a quashing order, allowing judges to delay the overturning of a government action while legislation is amended. Ministers also seek to abolish Cart judicial reviews, named after a 2011 Supreme Court judgment, to prevent Upper Tribunal appeals being subject to review.
Despite Davis' opposition to the legislation, it is highly unlikely that any House of Commons rebellion will prevent the passage of the bill. It is more likely that amendments would be made following the reading in the Lords.
This article is now closed for comment.