The next Labour government will put an end to politicians denigrating lawyers, shadow attorney general Shami Chakrabarti has pledged on the second day of the party's conference in Brighton.
Chakrabarti, a former in-house lawyer, told a Young Labour Lawyers wellbeing event last night that lawyers are good at representing their clients, but not so good at representing themselves. 'The wellbeing of this profession will be better without politicians denigrating us. That denigration will stop with the next Labour government,' she said.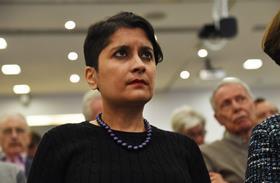 Chakrabarti, who was called to the bar in 1994, acknowledged that a person does not have to be a lawyer to believe in the rule of law, but she praised the number of lawyers in the shadow cabinet 'who so share your values'.
She added: 'There's hope here. No more lawyer jokes. I used to tell them. Self-loathing lawyers no more. We are part of the pillar of what's left of the welfare state. One more heave [and] we will be part of the next consensus.'
Shadow justice secretary Richard Burgon told the event that he was constantly trolled about 'fat cat lawyers' every time he talks about legal aid on Twitter. 'The work lawyers do, we need to talk about the value lawyers' work does.'
Being a lawyer is very much a 'pastoral role', Burgon said, pointing out that lawyers see clients at perhaps the most traumatic time of their lives, such as divorce, a custody battle or who has suffered domestic violence. 'We cannot stand by while lawyers get criticised while they're doing this demanding work that helps to keep society together.'
Meanwhile Gloria De Piero, who was appointed a shadow justice minister in July, said she is looking into the possibility of setting up an inquiry or commission to explore ways to open up the legal profession to people of all backgrounds.
De Piero, MP for Ashfield, said the profession continues to be dominated by people from privileged backgrounds. 'I need your help to come up with solutions to help me on how to open up this great profession to people of ordinary backgrounds,' she said.