Nominations for this year's Law Society Excellence Awards close on Friday 26 May.
The awards, which celebrate the best and brightest English and Welsh solicitors, are now in their 11th year.
Nominations are sought across 12 categories for firms and seven categories for individual solicitors. The winners will be announced at an awards ceremony to be held at the Hilton Park Lane in London on 19 October.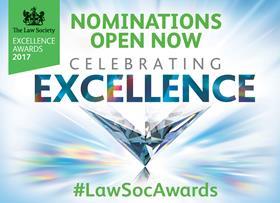 The new categories recognise specific fields of work - Excellence in Conveyancing Practice and Excellence in Law Management. For more information on this year's awards and how to make nominations, see: http://www.lawsociety.org.uk/support-services/events-training/excellence-awards/
The awards also include the Gazette Legal Personality of the Year, which aims to recognise those who have made an 'outstanding public contribution' to the profession in the last 12 months. Please submit your nomination for the Gazette award by email to editor-in-chief Paul Rogerson: paul.rogerson@lawsociety.org.uk, explaining why your nominee deserves to win. The Gazette's editorial team will draw up a shortlist of potential winners from your nominations.
The winner will be selected by a panel chaired by the editor-in-chief.
'Every day solicitors across this country demonstrate their commitment to their clients, their community, and the common values that bind our proud profession together," said Society president Robert Bourns. 'The Excellence Awards recognise and commend the very best - those solicitors whose dedication, skill and passion for the law have set them above the already high standard of their peers.'