More than a third of cases in the family court have no legal representative for either party, new statistics show.
Quarterly statistics for the period from April to June show neither the applicant nor respondent were represented in 34% of cases.
That proportion is at its highest since the major increase in unrepresented parties following the introduction of the Legal Aid, Sentencing and Punishment of Offenders Act in 2013, which restricted legal aid for family cases.
When the legislation was implemented around 17% of family court cases had no representation for either party.
Cases where both parties are represented has fallen from around 40% in 2013 to around 27% in the second quarter of this year.
From April 2013, legal aid is now only available for private family law cases, such as contact or divorce, except if there is evidence of domestic violence or in child abuse and child abduction cases.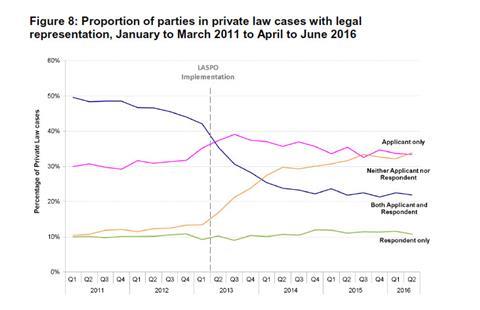 The quarterly statistics show the courts failed to meet the 26-week time limit, introduced in the Children and Families Act 2014, for disposing of care or supervision proceedings in 40% of cases.
The average time for a disposal in care proceedings is around 27 weeks, although this figure has dropped in recent years.
However, the Ministry of Justice explained this figure was 'skewed' by cases that can take a long time: the median time to make a disposal was 25 weeks for all children involved in case and supervision proceedings.
The average time for the disposal of divorce cases with financial remedy has been steadily increasing, from 20.5 weeks at the start of 2015 to 24.9 weeks in the second quarter of 2016.
The workload of the family courts appears to have increased significantly.
There were 66,328 cases started in family courts in England and Wales in April to June 2016, a 10% increase on the same period in 2015.
The number of public law cases started has increased by 24% over the last 12 months, from 3,896 to 4,833. The number of children involved in public law applications increased by 21% over the same period to 8,972.
The courts received 1,429 applications for an adoption order, down 4% from the same quarter in 2015.