A gang of lawyers who collectively defrauded victims of £426,000 through insurance scams has been jailed.
The group of six, all based in Preston, were jailed for a total of 13 and a half years at Liverpool Crown Court today for conspiracy to defraud by false representation.
It is understood to be the first prosecution by the City of London Police Insurance Fraud Enforcement Department (IFED) involving solicitors.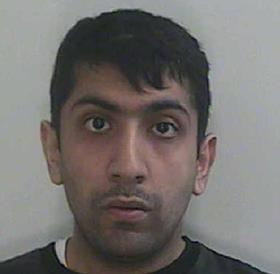 The criminality first came to light in September 2012 when Nadir Suleman (pictured), 31, a qualified solicitor working at Farleys Solicitors in Blackburn, made a claim on behalf of his wife after her vehicle fell from a ramp when it was being repaired.
The car was written off and Suleman submitted a claim to NIG Insurance via Farleys, bypassing the firm's company procedures.
Suleman also claimed for solicitors' fees and the hire of a vehicle from Matrix Car Hire, purported to be controlled by Arif Patel, 33.
It was later found the hire vehicle was being advertised for sale at a car dealership in Kent, with neither the dealership nor the new buyer knowing anything about Patel and Suleman. NIG queried the claim and referred the case to police.
In March 2014, Suleman and Patel were arrested at their homes and their properties searched. Evidence was seized which showed Suleman was involved in a number of fraudulent medical insurance claims.
Patel was also found to have a number of fraudulent medical invoices which had been altered to show treatments which had never been given to patients.
Both men's phones were seized and Whatsapp conversations found which revealed the extent of the network involved.
In May 2014, officers arrested Nadim Iqbal, 28, a paralegal at Preston firm Dylan Nair Solicitors. A search of his desk found falsified medical reports with Farleys Solicitors referenced.
Nadim Iqbal had photographs on his phone including one showing an invoice and a Dylan Nair cheque for £3,000 made payable to Alex Butler, 29, a director of medical reporting agency Plus One Medical. Dylan Nair had no trading relationship with Plus One Medical, but a search of Nadim Iqbal's car found eight claim files for road traffic accidents, one of which was for a client linked to the medical company.
Officers then investigated Plus One Medical and found fraudulent claims were being made. Further enquiries into the cheque made payable to Butler led officers to Wasim Iqbal, 27, a trainee solicitor at Preston firm Eastway Solicitors. Wasim Iqbal was found to have further links to fraudulent invoices.
Officers then arrested Aadiel Salya, 29, from hire car company ReplaceMyCar, a business that Suleman and Patel had been naming when making false claims.
The six men were sentenced to the following:
Nadir Suleman sentenced to four years in jail
Arif Patel sentenced to 32 months in jail
Nadim Iqbal sentenced to 28 months in jail
Aadiel Salya sentenced to two years in jail and a directors disqualification for seven years
Wasim Iqbal sentenced to 15 months in jail
Alex Butler sentenced to 15 months in jail and a directors disqualification for seven years.
A spokesperson for Farleys Solicitors said it had ensured no client has suffered any financial loss as a result of Suleman's misconduct, and he has now been reported to the SRA by the firm.
The spokesperson added: 'As a solicitor, Mr Suleman was required to conduct himself with integrity and to the highest professional standards.
'Instead, he conspired with others to embark on a complex fraud, letting down his clients, the good name of Farleys and the solicitors' profession.'
Detective inspector Oliver Little, head of IFED, said the case was groundbreaking for his team, working alongside Lancashire Police for five years to secure convictions.
'These men abused their professional roles, betrayed their employers and exploited the insurance industry for their own monetary gain,' Little said. 'Today they are facing the consequences of their greed and these sentences should help to deter other professionals from pursuing a criminal path.'