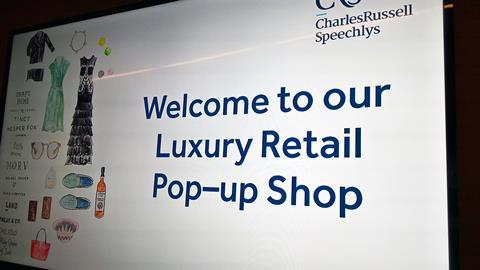 On occasion, heading to a brownfield site somewhere on the eastern fringe of London on the strength of a tweet to catch the 'next big thing' doesn't tick all of Obiter's boxes on the comfort front. If only 'pop-ups' could pop up somewhere more salubrious.
And so to 5 Fleet Place, EC4, where law firm Charles Russell Speechlys promised a 'Luxury Retail Pop-up Shop' with cocktails and capapés; and to top it all, lawyers on hand to discuss 'anything from the impact of Brexit on the retail sector to fake designer bags'. Match that, windy car park in New Cross Gate.
Actually, Obiter managed to avoid the Brexit chat, but did talk to the folk selling – entrepreneurs who've had a little success and hope to go further (obviously requiring sound legal advice along the way…).
There was ethical clothes designers Morv – whose look channels a rock vibe (pictured), achieved in one item with 'leather' made from apples (Obiter is beyond impressed). Items in Morv's next collection will use prints to channel the founder's feminist convictions.
Also on the wizardy side of things was 'Little Moons' – who thoughtfully put ice cream inside rice dumplings; and 'Mary Queen of Scots' whisky – a blend of 14 whiskies that tastes like a single malt.
On the legal [fees] front 'there are no special deals for entrepreneurs', one client of our hosts told Obiter, 'but unlike our previous lawyers they really cared about our case'. Market pitches at the pop-up, however, were free.
Which entrepreneur in the room is set to make it big? Could it be the nicely cut workwear of ex-City entrepreneur Polly McMaster's brand 'The Fold'? Actually, with Brexit looming, Obiter's companions thought the English 'champagne' of Sussex Sussex winemaker Nyetimber could come in handy in event of a 'hard' exit. Cheers.