Obiter is a great fan of the late playwright Joe Orton and admires the educational work of the National Justice Museum, Nottingham. So we were delighted to hear that the museum is planning a new exhibition to mark the 50th anniversary of Orton's death in August 1967, along with the decriminalisation of homosexuality under a bill passed just weeks before. The museum is crowdfunding £10,000 - and still has £8,800 to go.
You can donate through the Art Happens platform; the museum is offering Joe Orton-inspired badges and tote bags, prints and a private viewing of the exhibition a thank-yous for support.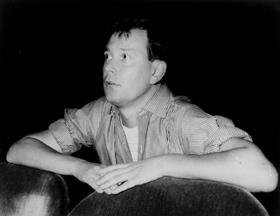 Tim Desmond, chief executive, says the new exhibition will for the first time will explore the role of crime in Orton's life and work. There's certainly a bit to explore. The author of Loot, What the Butler Saw and Entertaining Mr Sloane, famously served six months for creatively defacing Islington Council library books.
But one of the proposed exhibits, Orton's Morocco diary, may need careful handling, with its tales of encounters with young boys in 1965 and 1966. In the grim days before the Sexual Offences Act 1967, the British authorities tended to turn a hypocritical blind eye to extra-jurisdictional behaviour. Thankfully, no longer.