Obiter is as excited as anyone to see the return of lawyers and clients to the gleaming towers of the City. There are even reports of queues at sandwich shops, and sightings of black cabs that don't have their 'for hire' lights on. But this also signals a problem for anyone who shares Obiter's dreamy artistic temperament – with City firms having a slightly uniform 'look', remembering which one you are in can be a challenge.
Obiter's orientation method is to look at what's 'on the wall'. See a Tracey Emin or a Damien Hirst and you're in Simmons & Simmons; a big photograph of Churchill with Dean Acheson, and it's Covington & Burling; that Athena poster of the baby in an American infantryman's shoulder bag, and… you've gone too far east.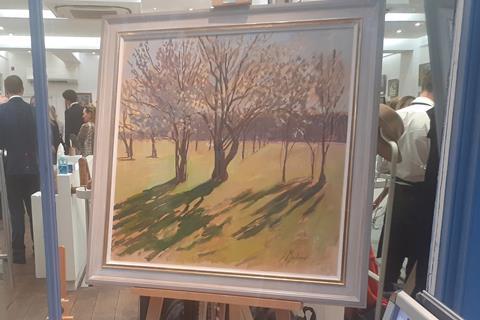 And now if you see 'Ancient Plum Orchard with Blossoms' by Susanna MacInnes (@pindroppainter) then you are in Wedlake Bell. September saw the return of the Chelsea Art Society's annual exhibition, an event of which Wedlake Bell is the longstanding sponsor. Susanna won the firm's £1,000 prize, for which exhibiting non-members are eligible. Just as importantly for the artist the firm has also purchased the winning piece for its offices.
Natural outdoor subjects like Susanna's were well represented this year, Obiter noticed, and speakers at the private view thought this reflected the importance of nature in a difficult time, as well as its availability during lockdowns (though Susanna tells Obiter she has also been painting from her London roof).
For readers sorry to have missed out on 'Ancient Plum Trees', other paintings are available. The catalogue can be viewed at chelseaartsociety.org.uk.