The Law Society's annual Law Management Section conference kicks off with a soupçon of cynicism leavened by a generous pinch of optimism. The former is provided by LMS chair Ann Harrison, who remarks that this time last year we were focused on thriving despite the uncertainty posed by Brexit. Twelve months later, to everyone's diminishing surprise, she observes that we are still focused on surviving the same uncertainty.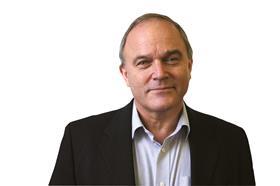 The optimism comes from Law Society deputy vice-president David Greene in his opening address: 'As lawyers, we will cope with whatever is thrown at us.'
Greene is senior partner of London firm Edwin Coe. Senior partner, he says, is a role that ranks in difficulty with 'herding cats'. He has been at the firm for 40 years. 'When I tell people that,' he comments, 'I watch their expressions change from surprise to horror. Lawyers entering the profession today cannot conceive of staying at the same practice for so long.'
Greene tells the conference (aptly titled 'Success in an ever-changing world') that the Society is strongly opposed to a no-deal Brexit, but warns of other impending challenges: 'Regulatory changes and revisions to the handbook are going to increase compliance burdens for law firms.'
Linda Moir, former Virgin Atlantic director of customer service and head of Spectator Experience at the 2012 London Olympics, gives the keynote address: 'Delivering a memorable customer experience through people'. Moir confides that one of her first tasks for Virgin Atlantic was to order 400,000 teddy bears. These were to adorn the flat-seat beds that the cabin crew make up for business class passengers. 'Low cost, high value,' she comments. 'And all part of the great service our cabin crew aimed to give.'
She moves on to the 2012 games, when 15,000 volunteers helped host 9 million spectators. 'We learned three golden rules from the 2000 Sydney Olympic games about retaining volunteers,' says Moir. 'Keep them busy. Rotate them between duties, because you should never underestimate people's love of learning new things. And thank them every day – people like to be valued.'
Attention to details paid dividends: 'At the end of the games, the huge crowd cheered the volunteers for 12 minutes. They exceeded themselves and gained the gratitude and admiration of competitors and spectators alike.'
Moir adds: 'Recognition and the freedom to excel – these are basic people management skills, which apply equally to every stratum of a law firm, from trainee to senior partner.'
Burcher Jennings law firm pricing consultant Nigel Haddon talks about pricing and profitability. We should be aware, he says, of behavioural economics where, for example, a new £2.50 aspirin cures a headache while an existing 10p pill does not – this despite the new drug containing nothing but vitamin C and the cheaper pill being a genuine aspirin. It is the placebo effect, he tells us, where consumers can be 'predictably irrational'.
And one should take into account this tendency to be irrational when deciding a firm's pricing strategy. 'For example, never underestimate the perception of "free", even if it isn't,' states Haddon. 'It's called the free paradox and most consumers will choose the option with "free" attached even if logic tells them nothing is being offered for nothing.'
Haddon concludes with the conundrum of over-pricing your service in the hope of appearing 'reassuringly expensive' or under-pricing it at the risk of seeming 'alarmingly cheap'. You risk damaging your brand by low pricing and showing willingness to discount, he observes. What is the solution? Use proven psychological techniques, such as those outlined above, to increase profitability and remember that clients prefer choices and deals. He ends: 'And bear in mind that nobody in their right mind would buy the cheapest parachute.'
'Increasing inclusivity in law firm management: practical ideas for change' is the topic upon which Clifford Chance partner and global head of HR and talent Laura King leads a breakout session. 'Leaders are made, not born,' she asserts. Individuals from under-represented groups in the firm's hierarchy – such as women, and black and minority ethnic people – should be steered towards gaining valuable experience on committees, in client relationship roles, and through participation in projects and initiatives.
But what if they refuse the opportunity through diffidence or insecurity? 'Remove the mythology,' urges King. 'These roles are like driving a car. Any idiot can do it. And tell them it's fine to be different.' Learn to question the status quo, she continues. 'Why don't good women associates want to progress to the partnership? Why did a promising individual leave the firm?' Keep pushing for change and never take 'no' for an answer. 'Cultural change is not a diet or a race; there is no quick-fix solution or a finishing line. Some leaders spend years practising their leadership skills before they are confident in them. Enjoy small victories. And remember: if all you want is to be liked, then sell ice cream.'
Marzena Lipman and Sarah Brodie, the Law Society's regulatory affairs interim head and policy adviser respectively, proceed to update the conference on impending regulatory changes, aided by Bennett Briegal partner Paul Bennett.
Major changes are coming, we hear, and firms should be ready for them. The good news is that the reforms will make the rules simpler and focused on what matters, namely rendering it easier for the public to access legal services and for solicitors to do business.
The SRA's decision to allow solicitors to work on a freelance basis and outside SRA-regulated firms is controversial. The Law Society has written to the Legal Services Board raising concerns that the changes will increase consumer confusion and risk damaging the brand of trusted solicitor.
Employment and partnership firm CM Murray partner Zulon Begum grasps the nettle and addresses us on 'Brexit: issues for law firms'. She starts by stating that, in the event of a no-deal Brexit, the UK legal sector could suffer a £3bn revenue hit and lose 12,000 jobs by 2025.
Begum explains that this is because our current EU membership allows the UK legal services sector to operate relatively seamlessly across all EU jurisdictions. Post-Brexit, our legal services will be governed by World Trade Organization rules, meaning we will have to negotiate separate deals not only with the remaining EU states, but with every other country in the world. This will take time and will see tariffs applied to goods and services.
A good number of lawyers, Begum continues, have sought to mitigate the effects of Brexit by requalifying as a practitioner in Ireland. However, it is still unknown whether this will genuinely solve the problem as there are doubts around rights of audience, legal professional privilege, data protection and immigration controls.
Former barrister Nicola Jones, who owns and runs learning and development consultancy Athena Professional, later teams up with Bennett Briegal partner Mark Briegal to share their expertise at a breakout session on 'Succession planning: promoting future leaders'. Jones emphasises the importance of planning for every eventuality. 'You need to make sure that if the senior person leaves the building, for whatever reason, you know how to maintain client relationships. How else are you to stop the work stream leaving with him?'
She gives some figures to underline the importance of people as a law firm asset: 'Seventy per cent of the capital of most businesses is within the human head. This gets even bigger with law firms, which otherwise only own desks and computers.'
Briegal touches upon the problem of appointing and retaining the right balance of talents in a firm. 'Sometimes the maverick who bills well, but is not a team player, can produce good results. But would you buy into a firm with one? And does your workforce reflect your clients' workforce? That's important because people buy from people they can identify with.'
Jones adds: 'To get the right balance, you need to manage and work with people who are different from you. Don't think about who you have got, but who you need.' Briegal ends: 'You need to be hard-nosed. Take a competency approach, promoting someone who is not necessarily the biggest biller or best lawyer, but who has the talents necessary to lead.'
The conference moves on to a panel discussion titled 'The challenges of implementing case management systems'. Harrison, who chairs both the LMS and north-west firm Stephensons, urges us: 'Only change your CMS if you absolutely have to. It can take years to implement a new CMS and learn to master how it works.'
Law tech consultancy 3Kites founder Paul Longhurst agrees that the choice of CMS should reflect need. Does one require 'matter management, including due diligence'? Or perhaps 'document management or practice management or all of the above'. Select the appropriate CMS accordingly, he advises.
Law tech company Jayva managing director Nicola Moore-Miller says that when asked if she can help choose a new CMS, she responds with questions of her own: 'Why do you need a new one? What are you trying to achieve?'. The process, she says, is 'identify the need, identify the solution and only then implement it'. She adds: 'An average product implemented well can make a real difference. But a top-of-the-range product poorly implemented can be disastrous.'
LexisNexis sales and marketing director Simon Farthing comments: 'To know where you're going, you have to know where you're coming from. Ask your team to build a business case for a new CMS. Have you exhausted all the options your present CMS has to offer?'
The panel's consensus is do not rush into purchasing a new CMS until you have a clear idea of what you want it to achieve and you are also confident that it is worth the disruption.
The conference draws to a close with Paul Bennett asking 'Which way is ethics?'. Outcomes are no longer a definitive measure of a lawyer's competency. Instead, the focus should be complying with standards of professional conduct – on putting and being seen to be putting ethics above all else.
The essence of ethics, asserts Bennett, is knowing the right thing, doing the right thing and ensuring your actions are taken for the right reasons. 'You must always be embedding ethical concerns into your day- to-day practice. Don't fall into the trap of knowing the right thing to do, but not doing it because a client asks you to cut corners. And don't be an ar*e – be gender, sexuality and colour-blind.'
For more details on the Law Management Section of the Law Society go to: communities.lawsociety.org.uk/law-management