Lawyers are helping to spearhead a civic and economic renaissance in Birmingham.
It is, of course, easy for those charged with selling regeneration and development to talk up the 'renewed confidence' of an area. Countering the scepticism that can attend such talk, Birmingham is engaged in a raft of new projects that seem to substantiate the jargon.
These include the recently completed £188m 'Library of Birmingham', the ongoing transformation of New Street Station (to sit within the new 'Grand Central' development), and an overhaul of the city's main business districts which may include an 'urban meadow' backed by a striking skyline.
The city will benefit from HS2. Deutsche Bank is poised to double its Birmingham workforce to 2,000, creating one of its 'centres of excellence'. For the city's media, new architecture, the creation of professional jobs and improvements in infrastructure are front-page news.
'Birmingham is a city that is growing and that has leadership,' explains Trowers & Hamlins partner Amardeep Gill. His firm's plans underline that 'renewed confidence'. 'Our strategy is to grow,' Gill adds. 'We expect a lot of investment to come into Birmingham. To take advantage of that you need a reputation here.'
Birmingham's civic vision is taking shape against a backdrop of austere public finances – of which more below. But the nascent recovery is now being felt.
Gateley's senior partner, Mike Ward, observes: 'It's difficult to judge what it will mean for top-line growth, but we are seeing a bit more confidence in the market. There was a change just after Christmas. Clients are feeling more confident about making plans, so there's a feeling that there is more in the pipeline.'
Caroline Coates, executive partner for Birmingham at DWF, says the firm wants to further developing its practice there: 'Our recent investment in new offices at the prestigious One Snowhill development is a key indication of our commitment to growth within the Midlands region,' she says.
In this promising context, the legal community is doing much more than wait for a rising tide to float all practices. Through the Birmingham Law Society, which is England's largest local society with around 4,000 lawyers (including barristers), it is actively contributing to economic strategy.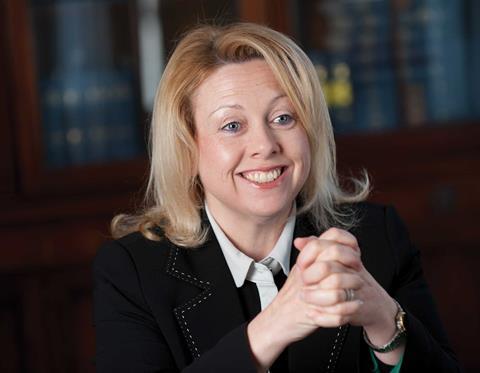 Since the financial crisis many firms have struggled… due to a prudent financial position we have taken advantage of opportunities in a changing marketplace

Caroline Coates, DWF
The Society's vice-president, Freeth Cartwright partner Mushtaq Khan, argues: 'We are using our strong collective voice.' That voice is used to engage the Greater Birmingham Chamber of Commerce, local government, local MPs and other professional bodies to help address 'the challenges and opportunities for growth in our city and our sector', he adds.
Birmingham law firms are at the heart of renewal; Eversheds, for example, is advising the city council on the Grand Central scheme. And as the new commercial office developments that are changing the city centre spring up, Birmingham's major law firms are among those committing to prestige properties. These include the Snow Hill development, where Wragge Lawrence Graham & Co will join other leading law firms, Barclays and KPMG as the development's lead occupiers.
One could argue that the 'renaissance' of the Birmingham profession's upper echelon is a reward for patience. That patience was required as Midlands-based partners in larger firms supported expansion and investment elsewhere.
Wragge Lawrence Graham & Co corporate partner David Vaughan explains the centrality of the firm's Birmingham office to the firm's international work: 'We are becoming global, but English law is the main product offering for the firm – and more than half of that is executed in Birmingham.'
With firm-wide turnover touching £150m, generated from SMEs to Fortune 500 companies, he estimates that this means a contribution of £80m 'for the GDP of the West Midlands'.
Eversheds describes itself these days as 'one of the leading international full-service law firms in Asia' with offices in Beijing, Shanghai, Hong Kong and Singapore.
David Beswick, the firm's senior partner in Birmingham, points to the dividend for Birmingham of this expansion, which has arisen from the 'interplay' between offices. 'Quite a few of our clients trade internationally,' he notes. 'The human resources team [here], for example will deal with 12-15 other Eversheds offices a day.'
That means work for US-household name clients. For many of these, all 'OUS – outside-the-US' work is co-ordinated from the Birmingham office. He also cites the firm's high-profile arrangement with Tyco, whereby Eversheds provides almost all of that company's legal needs across Europe, the Middle East and Africa.
DWF is also profiting from this multiplication of international synergies, says Coates: 'Birmingham has great cultural and often familial links with the Asian sub-continent which bring opportunities for expansion, together with strong trading links with cities such as Chicago, Frankfurt and Lyons and more recently, several gateways into China. Within the DWF Birmingham office, we have developed a specialism in commercial litigation for Russian clients, who are keen for disputes to be governed by the law of England and Wales.'
Recruitment drive
The upturn follows a recession that arrived in the middle of Birmingham's current economic plan (2006-2015), and which hit the city's economy much harder than it did London and the south-east.
This turbulence saw the high-profile failure of two Birmingham-based law firms. Challinors collapsed in August 2013, leaving creditors who were owed a reported £7.1m with nothing. Blakemores, meanwhile, was the subject of an intervention by the Solicitors Regulation Authority, which removed 7,500 files from the firm at a cost of £2m-£3m.
DWF's Coates observes: 'Since the financial crash in 2008 many firms have struggled. However, due to a stable and prudent financial position we have been well placed to take advantage of the opportunities a changing marketplace has provided.
'The firm's acquisition of Cobbetts strengthened our offering in the region and has provided a platform for growth. Our insurance and litigation teams have continued to thrive throughout the downturn and as the economy has shown signs of recovery, our real estate and corporate teams have too shown growth, particularly following the recruitment of senior lateral hires from competitors.'
As Coates' remarks indicate, the recruitment market is in a state of flux. There is particularly fierce competition for junior lawyers, following cuts in both trainee and newly qualified (NQ) places.
Ward says: 'Recruitment is a big challenge that everyone will face in the next 12 months – a "perfect storm" for people who didn't take on trainees and NQs. The competition will be for two-five year PQE lawyers. That is the challenge of the recovery.'
Recruitment consultants based in Birmingham concur with that analysis. Rebecca Barry, operations director at eNL, says: 'In a direct comparison of vacancies registered in quarter-one 2013 versus quarter-one 2014, [we have] seen an increase of 53% in residential property vacancies, 49% in commercial property and real estate, 33% corporate and finance, and 18% commercial and intellectual property.
'This upturn in the non-contentious disciplines,' she adds, 'is a direct reflection of increased client demand.'
'Everyone is recruiting at the two-five year level,' Chadwick Nott's Birmingham manager Kate Sinclair comments. The result of increased competition, she says, is that 'on salaries – everyone is asking for data'; which must be good news for applicants.
4,000
The membership, including barristers, of Birmingham Law Society
£600m
The cost of transforming Birmingham New Street station into 'Grand Central'.
70%
The percentage of medium-sized Birmingham law firms expecting to grow in 2014.
£188m
The cost of the newly completed Library of Birmingham, winner of eight RIBA design awards.
49%
The increase in vacancies for lawyers in commercial property practices in 2014 compared with the same period in 2013.
1,000
The number of new jobs Deutsche Bank plans to create at its Birmingham base, doubling its headcount.
220,000 sq metres
Office space to be taken by Wragge Lawrence Graham & Co at Two Snow Hill.
Local difficulties
Birmingham City Council has been widely praised for its leadership in driving the city's growth strategy. But the council's finances, and Birmingham's not-for-profit and social welfare sectors, have been placed under severe pressure.
The impact of austerity has been complex for legal services. At the council, director of legal services David Tatlow tells the Gazette, the number of staff in the legal department has fallen from 250 to around 200, 150 of whom are lawyers. This reduction has taken place against the backdrop of major projects being delivered – such as the Library of Birmingham.
Tatlow says: 'As a legal department, we try to provide a service in the most cost-effective way, so that as many of our resources as possible can be put in to front-line services. Nothing about that changes with an improvement in the fiscal environment.'
The challenge for the legal department is to identify where a funding cut equates to a reduction in demand for services. 'That may not be so for the whole department,' Tatow explains. 'In child safeguarding, we are having to do more.'
In social housing, Birmingham law firms which are national centres of excellence have seen cuts lead to some of their most innovative and complex instructions.
'The social housing sector is facing a period of rapid change,' Khan explains. This includes reductions in direct subsidies, welfare reforms and changes to regulatory requirements.
'A number of housing associations are becoming entrepreneurial with a commercial outlook, by using their assets to develop solutions… [involving] innovative schemes such as joint venture schemes, and sale and leaseback.'
For Gill, this is also a reason to expand Trowers & Hamlins' practice in Birmingham: 'The challenges for social housing and local authorities have shifted. We are helping them to create trading companies and mutuals, for example, [and] finding new ways to deliver services.' Together with the public sector, he adds, social housing clients are looking to find ways 'to participate or invest in the local economy and commercialise services'.
Legal aid
Practices dependent on legal aid face an even bigger challenge. Even large law firms such as Duncan Lewis recognise that their strategy has come up against some hard realities.
Practice director Jason Bruce says: 'The closure of a number of reputable and established law firms following legal aid cuts has resulted in a significant reduction in the supplier base in the Birmingham legal market for publicly funded legal services to vulnerable clients requiring local advice and assistance in key areas such as family, housing and immigration.'
Birmingham is central to the firm's strategy for coping with this retrenchment, as whole areas of civil legal aid have been taken out of scope. 'From our perspective, as the largest civil legal aid provider in the country, Duncan Lewis has been able to establish itself in the Midlands to cover this "legal aid gap".'
Bruce is particularly enthusiastic about the potential of high-speed rail for the sector as a whole. He believes it could be the making of it – or saving of it.
'If HS2 does indeed go ahead it will effectively ensure that Birmingham-based legal practices remain viable nationally,' he says.
Legal aid lawyers have had to change the way they work, Bruce observes, using more IT, such as the Legal Aid Agency's digitised client and cost management system, and also changing their working patterns.
'Most solicitors joining Duncan Lewis throughout the UK are doing so on a consultancy basis,' he says. 'This ensures that the company is able to grow without the expense of additional salary overheads. Strong back-office support, which is separate to the delivery of legal functions, is also key, to ensure continuous efficiency and quality of service.'
Not an ideal situation, perhaps, but a plan that looks to have a long-term future.
No contagion
During Birmingham's industrial heyday, it was said of the city that anything man could make could be made in Birmingham. In manufacturing, that is a boast that no longer holds true, and the UK's second city had a painful adjustment to make.
This is not a decline that is expected to be repeated in legal services, despite the high-profile casualties of recent years. Solicitors are confident that there has not been any 'contagion' arising from the high-profile failures of Blakemores and Challinors.
Even after Cobbetts, which had a Birmingham office, went into administration, Beswick notes: 'None of our clients called to ask about our security.'
Others note that such failures were sad, but there is very little sense among other firms that they 'dodged a bullet' in a difficult economy.
The city's commercial firms have used Birmingham as an engine whose strength – the ability to act on any instructions – has powered growth elsewhere. As they set about planning to grow in key areas, these are investments that look poised to pay off. If large in-house teams in areas such as financial services begin to move more operations to the city, it would cement its status.
As Beswick notes, for advisers Birmingham is already a 'key centre for professional services'. For many, he points out: 'Birmingham will be their second-largest office in Europe.'
Many are placing their trust in the city's ability to combine quality with a lower cost base than London. As Khan puts it: 'Expertise without experience makes clients nervous. What the Birmingham legal market offers is expertise and experience in a context where value for money is important. Any client is looking to tick all of those boxes.
'Any firm in Birmingham is looking to provide that,' he adds, 'whether it is for big international or national clients, or smaller corporates and SMEs.'
For all these reasons, it is perhaps unsurprising that despite fierce competition for lawyers in growth areas, the city's law firms remain content to pick and choose. 'Birmingham's top law firms have a history of attracting impressive clients and good quality work,' eNL's Barry notes. 'It is therefore extremely well-placed to recruit the best people into roles that offer the chance to work "close to the action".'
'Candidates need to demonstrate a commitment to the location,' Sinclair confirms.
With figures suggesting that around 70% of Birmingham's mid-sized law firms are looking to expand in 2014, what could go wrong?
Trowers & Hamlins' Gill is not alone in concluding that the city needs to stay focused on a coherent economic plan that is rooted in the wider region: 'The threat is if there is a failure to leverage the wider opportunities of the West Midlands area,' he counsels.
Eduardo Reyes is Gazette features editor
Read about the Law Society's regional work in the Midlands