A continuity trade deal between the UK and South Korea will allow the four UK firms established there under an EU licence to remain in Seoul post-Brexit. The four are magic circle firms Clifford Chance, Allen & Overy and Linklaters, and international firm Stephenson Harwood.
A fifth firm, Herbert Smith Freehills, has already switched to an Australian licence as part of its Brexit contingency planning. Law Society president Christina Blacklaws said: 'A new South Korea-UK FTA, once ratified by both parties, will assure the UK law firms currently operating in Seoul under an EU free trade agreement that they will be able continue in South Korea post-Brexit.'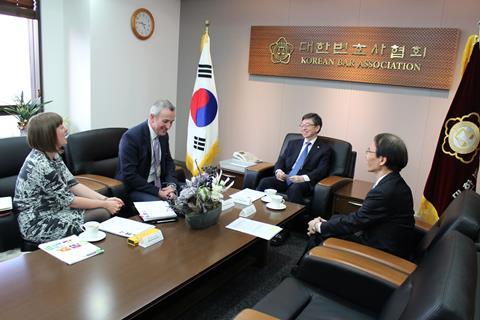 The deal was signed by Liam Fox in Seoul this morning. It fully replicates the legal services chapter under the EU-Korea FTA. The latter enables European firms to establish foreign legal consultants in South Korea, share profit and form joint ventures. EU-qualified lawyers can also provide home state advice.
According to a statement from the UK's international trade department, the UK has now secured agreements with countries that account for 63% of trade currently covered by EU agreements, up from 28% three months ago. The two countries plan to ratify the deal before the latest Brexit deadline at the end of October.
The agreement is the first major trade deal the UK has signed with a trading partner in Asia since the June 2016 referendum.