Co-operative Legal Services posted a £3.4m loss in the first half of 2013, compared with a £700,000 profit for the same period in 2012, the group's half-year results show today. Turnover in the legal arm grew 5.8% to £18.1m.
The firm said the losses 'reflect the start-up nature of the [legal] business'. In 2012 profits were down 63.1% compared with the same period in 2011.
Co-op Legal Services, formed in 2006, was one of the first firms to be awarded an alternative business structure licence from the Solicitors Regulation Authority, in March 2012.
It said the award of legal aid contracts in family law has provided the business with more than 1,500 legal aid clients since April. Probate revenue has 'outperformed expectations', it said.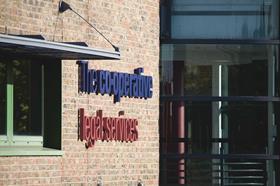 Niall Booker, deputy group chief executive, said: 'In legal services, we will continue with our plans to develop this growing business.'
In June Co-op Legal invested in a multi-million-pound TV and radio advertising campaign.
Losses in the legal arm were dwarfed by the group's overall pre-tax deficit of £559m for the 26 weeks to 6 July, incurred mainly by the banking arm writing down £496m in bad debt arising from its takeover of Britannia Building Society. City regulator the Prudential Regulation Authority has demanded that the Co-op Bank make good a capital shortfall of £1.5bn.
As part of group structural changes Co-op Legal Services will be run as a standalone business from the second half of the year, Booker said.