Despite precarious funding, the court has pioneered an approach to fighting parental addiction that keeps more families together.
Around of applause and a photograph with the judge is not the traditional ending to most family court proceedings. But this is an exceptional tribunal: the UK's first Family Drug and Alcohol Court (FDAC).
Inspired by a US approach to tackling parents with drug and alcohol addiction, the indefatigable District Judge Nicholas Crichton (pictured), after much persuading and cajoling, secured agreement from four government departments to pay for a three-year pilot project.
FDAC was funded to the tune of £500,000 a year – 'chicken-feed', as Crichton puts it – by the Ministry of Justice, Department for Education, Home Office, Department of Health and three local authorities.
Housed until this spring at the Inner London Family Proceedings Court in Wells Street, behind Oxford Street, it looks and feels very different from other family courts. Chairs and desks are set out in a horseshoe, so all parties can see each other, with the judge seated on the same level rather than on a raised bench.
The court provides a problem-solving, therapeutic approach to care cases where parental substance misuse is the key element in the local authority decision to bring proceedings.
It aims to improve outcomes for children by helping parents change their lifestyles to safely reunite families, or ensure swift placements with alternative carers where reunion is not possible.
Crichton, who had reached his 70th birthday, retired from full-time sitting at the end of last year. But he has been allowed to continue sitting as a stand-by FDAC judge.
He is passionate about what the court is seeking to achieve and why its work is so important. 'It's not unusual for the family courts to remove three or four children from the same parents or mother for the same reason,' he says.
A system that goes on removing children because of drug and alcohol issues, but does nothing about the core problem, is a 'failing system', he adds: 'We know from experience that a mother who has a child removed deliberately goes out to get pregnant again because it is the only way she can heal the wound of the loss.'
Combining empathy and exasperation, he continues: 'Removing three or four children is usual. Six, seven or eight happens. I once removed the 14th child and I know two judges who have removed the 15th.'
In over 50% of FDAC cases, parents have previously had children removed. Failing to address the underlying problem, he says, amounts to 'condoning the birth of more children who will inevitably go into care'.
And children, he laments, do not do well in care. 'From every point of view, it's a better outcome for parents, children and society at large if we can enable them to stay with their birth families.'
Moreover, he adds: 'If you can get a mother to keep one child, it may stop her having the fourth, fifth or sixth.'
FDAC's multi-disciplinary team, which is independent from social services, includes social workers, a clinical nurse specialist, drug and alcohol specialists, a domestic violence expert and child and adult psychiatrists.
Cases are referred from five local authorities – Camden, Islington, Westminster, Hammersmith & Fulham and Southwark.
Parents come with their lawyers and social workers for a first appointment on a Monday. The specialist team explains the process, offering them the opportunity to have their case dealt with by FDAC if they are serious about keeping their child and tackling their addiction.
'We can't work with people who are in denial,' says Crichton who, despite his seemingly limitless empathy, is by no means a soft touch.
On the following Thursday, parents spend the day with the team who prepare an assessment of the family and a tailor-made intervention programme. That is presented to the court on the second hearing, which takes place two weeks after the first, says Crichton, emphasising the swiftness.
If the parents want to join the programme (and Crichton notes that only two have ever declined) they sign a 'symbolic' agreement – accepting that all parties will share information to help the court, promising to keep appointments and come to court, and pledging to be open and honest with the court. 'We often have to remind them of the last part,' he says.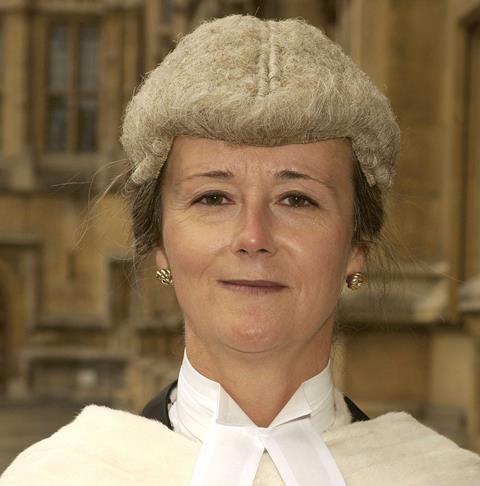 Justice must never be sacrificed upon the altar of speed

Mrs Justice Pauffley
Then begins the intensive work of detox, rehab, testing, counselling, group therapy, psychotherapy and domestic violence awareness. Whatever is needed to turn around what has often been an intergenerational cycle of addiction. 'It's trying to help and support people at every level to get out of a bloody awful mess,' says Crichton.
Parents will get all the support they need, he says, including parent mentors who have themselves been through the process successfully. But he adds: 'Unless they find something from deep within themselves they will not succeed.'
The programme tests whether parents can overcome their problems and meet their children's needs within the child's time frame. Parents are expected to abstain from street drugs and alcohol, begin to address the issues driving their substance misuse, and strengthen their relationship with their children to create a child-centred lifestyle.
Since April, the court has had to work within the 26-week time limit to complete care cases imposed by government with the intention of reducing delay.
Programmes for FDAC parents, who may have been addicted for 30 years, can take up to a year. The 26-week limit, says Crichton, might be 'savage' in some cases, but focuses the mind on getting children to alternative permanence if they cannot remain with their birth family.
He is adamant that 'twenty-six weeks will not be a straitjacket, not in this court'. This has been acknowledged by the head of the Family Division Sir James Munby. In the recent case Re S (A Child), Re [2014] EWCC B44 (Fam) (16 April 2014), Munby praised FDAC: 'The simple reality is that FDAC works,' he said, adding that it 'must be a vital component' in the new family court.
While he stressed FDAC cannot be 'driven by sentiment', Munby accepted that its cases may be exceptions to the 26-week rule.
In an earlier case, Re NL (A Child) (Appeal: Interim Care Order: Facts and Reasons) [2014] EWHC 270 (Fam), Mrs Justice Pauffley expressed the view, endorsed by Munby's later judgment, that 'justice must never be sacrificed upon the altar of speed'.
But, Crichton says: 'I have a great fear that that is what is happening at the moment.'
FDAC cases are heard by the same judge throughout, enabling continuity so that parents build a relationship with the judge. The court day begins before the parties arrive with a team briefing with the judge, who is advised on the approach to be taken with individual parents.
Once parties have signed up, they come back to court once a fortnight for the judge to check their progress. The Legal Aid Agency will not pay for lawyers to attend so frequently, so parties attend without their lawyers.
This, says Crichton, was initially problematic for the lawyers, who feared what their clients would say when they were not present.
So afraid was Crichton by the prospect that parties would appeal the court's decisions due to its process, he asked a High Court judge for advice. His response: 'What you are doing is so innovative, just follow your nose and do what you think is right.' And they must be doing it right, because as Crichton relates, 'we have not had a single appeal'.
After four to six months, if parents are doing well, they can reduce their returns to court to once a month. But, says Crichton, many do not want to – they are proud of what they are achieving and want to come in so that the judge can see how well they are doing.
'These people find their voices,' he says. They like the interaction with the judge and feel they are given the opportunity to be heard and listened to, which, says Crichton, is hugely significant.
'People who go through the court process feel the lawyers do all the talking and they never get to be heard. It feels punitive, but in family proceedings people are not criminals,' he says.
Amid economic austerity, Crichton adds, that feeling of not being listened to increases. But he insists: 'If you take the time to treat people with courtesy and respect, and have the time to listen to them, you are more likely to get the best out of them. I think that's what FDAC accomplishes.'
As a proud father might, Crichton notes how the parents, who are given diaries at the start of the process, imperceptibly begin to take control of their lives, taking out their diaries and stating they cannot attend court at a certain time due to a prior commitment.
Parents who successfully complete the programme get their children back, if, as is the case for most of the latter, they have been in foster care, and have a year-long supervision order made.
They have a graduation at the court, where they are presented with a certificate, get their photo taken with the judge and a receive a round of applause, as well as the heartfelt congratulations and best wishes of all the professionals involved.
But as Crichton often tells parents: 'It's not the end; it's just the beginning – they have a lifetime of parenting ahead.'
So for the all important question – does it work? According to an evaluation carried out by Brunel University, funded by the Nuffield Foundation and the Home Office, the answer is a resounding yes.
FDAC families were more likely to stop misusing substances and were more likely to be reunited with their children than those who had been through ordinary care proceedings.
The findings, based on a sample of 90 families who had been through the court, showed 40% of FDAC mothers and 25% of FDAC fathers stopped misusing substances, compared with 25% of mothers and 5% of fathers who had been through ordinary care proceedings.
FDAC had higher rates of family reunification: 35% of FDAC mothers stopped misusing and were reunited with their children, compared with 19% of others.
The rate of neglect or abuse one year after children returned home was lower in FDAC cases: 25% compared with 56%.
FDAC costs £8,740 per family over the life of a case, offset by savings to local authorities from more children remaining within their families, both during proceedings and after the final order.
The report shows savings throughout the process, with shorter care placements saving £4,000 per child, shorter hearing and fewer hearings with lawyers saving councils £682 per family.
In addition, the specialist team carries out work equivalent to that done by experts in ordinary care cases, saving £1,200 per case.
But Crichton is keen to add: 'You cannot quantify how much more local authorities save if a mother does not have a child every year that is taken into care.' He admits: 'We've had some tragic failures and some wonderful successes – we are winning in one in three cases, which is pretty good.'
But, he adds, success can be measured in other ways, including when a parent gains an understanding of why they have lost their child.
One heart-rending case he recalls is of a mother who had been addicted to heroin for 11 years, since the age of 10. After a few weeks in the FDAC programme, she realised her recovery would take two years, which for her child was too long, so she gave up her baby for adoption.
Despite the court's success and the noises from government about encouraging problem-solving approaches, money remains a constant issue.
Once the pilot phase ended, the government withdrew funding, expecting charities to step up to the plate. But, Crichton explains, they refused – perceiving the court's work to be core government business that should be funded by government.
For the last two years, FDAC has been funded by the local authorities that refer cases to it. As they plan budgets annually, the court only knows at the end of each year if it can continue.
'We are limping from year to year. It's not the healthiest way to continue,' says Crichton, who has dreams to build on the service, if only he could be certain of longer-term funding.
He would like a house to put the mothers in so they could stay with their children, as happens in the government-funded FDAC-style courts in the US and Australia.
'These are all very isolated women. The places they live in are often dangerous, with violent partners or drug dealers banging on the door at 3am – it's unhealthy and can quickly undermine the work we are trying to do with them,' he says.
If the court could provide a home, they need not be separated from their children; they could form a little community of mutual support and would be protected from violence.
The court has two judges in addition to Crichton – Kenneth Grant and Fiona Barrie, a feature even supportive civil servants struggle with, believing the process can be effected without the relatively expensive resource of judges.
But, Crichton insists, that misunderstands the use of the authority of the court. He likens it to Weight Watchers. 'If you tell someone they need to lose half a stone in six months then send them away for six months to do it, they won't do anything about it until the last two weeks. At FDAC we make then come back and stand on the scales.'
The authority of the court, he says, is crucial: 'Parents have to know and understand that the nice person listening to them and wanting to help, also has the authority to say they won't get their children back.'
Following the success of the court, a similar FDAC has opened in Gloucester and £300,000 over two years has been secured from the Department of Education to extend the model to four other courts – in Milton Keynes, Buckinghamshire, West Sussex and somewhere yet to be determined in the north.
But Crichton and the court continue to face battles. Parents must submit regular drug and alcohol testing to prove abstinence. Periodic hair strand, saliva and urine samples can only provide a partial picture.
The court would like use the SCRAMx alcohol testing bracelets which it successfully trialled last year. They monitor alcohol consumption continuously, reporting usage every 30 minutes, showing not only if parents have binged, but helping them prove abstinence.
However, the LAA will not pay the £460 for a 30-day test, asserting that is it a treatment, so it cannot be used.
Following the closure of Wells Street, FDAC moved to the far less suitable environs of the Principal Registry at First Avenue House, High Holborn, where it drifted to whichever room was available, losing its single-level horseshoe formation. Last week it was given a permanent home in court six, enabling it to revive its horseshoe format. So things appear to be looking up, at least for the rest of this year.
Catherine Baksi is a Gazette reporter
Click here to view more articles in our private client section