Hosts Pinsent Masons came out on top in the London leg of the first Global Legal Hackathon, held simultaneously in 40 cities on six continents over the weekend. The brief was to bring together lawyers and technologists to create working prototypes of systems to support legal practice and access to justice.
The London event was organised by Robert Millard of the Cambridge Strategy Group and David Terrar of Agile Elephant, with judges including Law Society vice president Christina Blacklaws.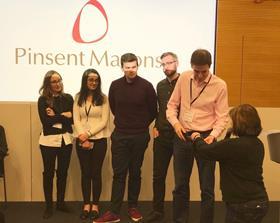 Six teams worked through the weekend to create applications with emerging technologies including artificial intelligence and blockchain. The Pinsents team, led by head of R&D Orlando Conetta, created Apella, a blockchain system allowing the firm's partners to vote on internal innovation initiatives. The idea was to build 'a real-time, anonymous decision tool', which allows everyone to see the percentage of votes without showing who supported each proposal.
The runner up team, Lipsync, created a smartphone chatbot to help litigants in person dealing with divorce, an uncomfortable situation where parties commonly represent themselves on issues involving their personal finances. The chatbot, Polly, used IBM Watson's natural language processing and sentiment analysis to offer guidance, information, practical help with creating arguments and documents as well as a check list of next steps.
Other London teams produced a chatbot for GDPR compliance, an automated email management system, a conveyancing blockchain and an AI powered practice management system.
The Pinsent team will go on to compete in the second round, and the global winner will be announced after final presentations in New York in April.