Is it possible to pursue a second vocation alongside the law?
Being a solicitor, Gazette readers know all too well, is a demanding job. One has to be passionate about the law to practise it. Factor in the backdrop – increasing regulatory obligations, legal aid cuts, the Jackson reforms, a saturated corporate law market, diminished partnership opportunities, to name but a few – and it becomes hard to imagine being one of those solicitors who have a second career, whether that be in music, sport or writing, for instance. But how easy is it to pursue that other passion as more than a hobby, on top of the day (and often evening and weekend) job?
Time machine
Time is, without a doubt, the most important obstacle to combining law with another career.
Jo Summers, founding partner of PWT Advice in London, believes being her own boss, rather than an employee of a firm, has helped. The author of crime novels Foul Play and Poison Pen, which she co-wrote with mother Pauline Kirk under the pen name PJ Quinn, says: 'I think back to when I was head of department at a big firm in London and I don't think I could have done it. The demands on my time – work, clients, management, other partners – were such that I would have [had to] take holiday.
'You can write a book in a two-week period, but it won't be very good,' she advises.
Costs lawyer and former professional football referee Grant Hegley believes the nature of his job allowed him the flexibility needed to juggle his time, as he was not 'always tied to the desk'. Hegley, a partner at Imperial Costing in Bishop's Stortford, refereed in the Football League for 11 years, and before that was an assistant referee in the Premier and Football leagues for nine years.
'My workload allowed me to [practise] at different times. For instance, if I had a game on Tuesday, I knew I could work on a Sunday to catch up.'
That is not to say your (second) career is over before you have even started if you are not your own boss, as criminal law solicitor David Rowntree proves. The drummer of rock band Blur joined international firm Kingsley Napley in 2010.
'During my interview for the trainee position, I said the band was still ongoing and that I would be away from time to time,' Rowntree recalls. 'To the firm's credit they have been overwhelmingly supportive, making sure I can do both things and juggle time effectively.'
Demanding jobs
For those who want to 'double up', spare time will feel even more precious, as they won't have much of it. Solicitors should not underestimate how many hours they will need to dedicate to their secondary pursuit.
Summers writes during evenings and weekends, but says: 'It's not just the writing, a lot of time is spent on marketing – appearing at book festivals and book readings. In this day and age, publishers don't do a huge amount of marketing themselves… it's up to you, you have to shift the books.'
She also receives several requests to give talks on collaborative writing. 'A lot of people book us to talk about writing with your mum or daughter, rather than what the book is about. There are many crime books out there, but not that many mother-daughter duos,' she says.
While matches were predominantly on a Saturday, Hegley also refereed two midweek fixtures a month, which saw him go to great lengths to cover a game.
'I live in Bishop's Stortford and the furthest I went on a Tuesday night for a game was Torquay, which was a 530-mile round trip,' he recalls.
Another devotee of the national game is Sean Rogers, director of personal injury firm High Street Solicitors in Liverpool – and manager of Mold Alexandra FC (see case study). He says: 'I left English football for Welsh football. It seems a strange move but, in England, you can expect 60+ games a season and due to postponements lots of midweek games with a lot of travelling.
'In Wales you may only play 40 games and the clubs I've been at have great groundsmen – limiting postponements and, therefore, limiting the midweek games.'
Advanced planning and organisation can go a long way to help manage both workloads. Music and literary festival dates, for instance, are fixed many months in advance.
'Last year we did a fair bit of touring, but much of it involved playing festivals, so I could leave work on a Friday, play the festival on Saturday and be back at work on Monday,' says Rowntree. 'Occasionally we had longer trips, which I mostly took as leave in the normal way.'
For Hegley, however, advanced planning was not always possible.
'When I started refereeing in the Football League, you received notification of your appointments some six weeks in advance,' he says. 'Because of issues such as match-fixing, the system changed and so you were notified of your appointments on the Monday afternoon before the Saturday and midweek games.'
Hegley also had to fit in one-and-a-half hour training sessions at the gym, two to three times a week. 'As time went by and I got older, training got harder,' he says. 'The clubs wanted fitter and fitter referees.' Though, he notes: 'As training got harder you became fitter and healthier. When I was in my early 40s, I think I was fitter than I ever was.'
But Rowntree has found he is 'bumping against the 24-hours-of-the-day limit now'.
'Until recently, I've found you can always just squeeze one more thing in, one more interest, one more fun thing to do,' he adds. 'But in the last few years I've had to start saying "no" to people, which I'm a bit disappointed about.'
Case study: football focus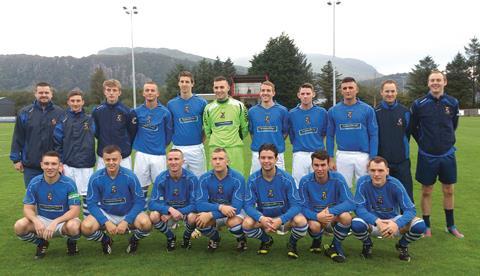 Sean Rogers (back row, left) is a director and shareholder at personal injury firm High Street Solicitors in Liverpool. He is also manager of Mold Alexandra FC (above)
'I was brought up with football and always enjoyed it when I played. I was lucky enough to have a season ticket at Liverpool from a young age. My ambitions as a footballer were always bigger than my ability. When I was in my early 20s, a friend was doing his coaching badge; he twisted my arm a little and I went with him to obtain my Level 1 FA Coaching badge. I then helped coach an amateur club's under 11s.
Over the next five years I completed my FA Level 2 coaching award and coached at schoolboy level for the local FA, while helping to set up non-league side AFC Liverpool. I put in place a youth system while coaching the youth sides and assisting with the reserves and first team.
My careers in law and sport have mirrored each other. When I qualified in 2008 as a solicitor I had started my UEFA B Licence Course. In 2011 I was offered a chance to be director of High Street Solicitors and about a week later I got offered a manager's job at New Brighton FC. I was approached by Buckley Town FC in the Cymru Alliance in Wales to work as a coach at a semi-pro side and in summer 2013 was offered the manager's job at Mold Alexandra in North Wales.
My primary responsibility is my wife, son and daughter on the way, along with the rest of my family. My second biggest priority is my role at High Street Solicitors. The staff's employment, wages, mortgages/rent, careers and so on are in our hands, which is a huge responsibility.
My family and work come before football and my second career has to fit around them. I am very lucky though that both are flexible.
I feed off being very busy and even as a child I could never sit still. I think Sir Clive Woodward once said that he needs his family, his business career and his rugby, and he couldn't do one of those three without the other two. It's the same for me. I never consider not having one of the three in my life. I need all three – family, work, football – to function. You only live once, after all.
A typical week starts on a Sunday. I spend the afternoon/evening ensuring I'm as up to date with work as I can be, while reviewing the tasks and goals (no pun intended!) for the week ahead. On Sunday evening I speak with the chairman/assistant manager and coaches about this week's training, games, issues with players, scouting and finances. I try to have it all prepared.
From Monday to Friday I get to work as early as I can, and work until 5pm without any breaks. Generally I dedicate 5.30pm-9pm to the family and then spend 9pm-11pm on work. If I am up to date I will dedicate it to football. It is rare I get time to sit down and chill out, but that is what bedtime is for!
During the season Mold train on a Wednesday night and pre-season on Tuesdays and Thursdays. On Saturday I have generally done all the prep for the match on a Friday night. I just need to get to the ground early to ensure preparations are correct before that day's fixture.
The week then starts again on the Sunday…
I live my life seven days a week at 100mph – but I like it that way.'
Two become one
Good time management is crucial, but switching back and forth between the two callings is not always advised.
'It's really hard to have my lawyer brain on and then my writing brain,' says Summers. 'So I would take a block of time to do the writing, finish that and go back to the law.'
She adds: 'As a lawyer you use a lot of words in writing, but it's a fairly different kind of writing. If I'm writing, I can't just think "I'll quickly send this work email and then go back to the writing". As soon as I'm in work mode that's it, I'm in work mode.'
Rowntree concurs. 'It would be very hard to make good music if I treated it as a hobby,' he says. 'When I'm playing with the band I have to devote my full attention to it, and trying to fit it in after work would be a complete waste of time. If you try to scrimp on rehearsals, do an evening here or there, the show's rubbish.'
Happy employees
For those who like a relatively easy life outside work, pursuing an external interest might not be the right decision.
'I only have one speed and that's flat-out,' says Rowntree. 'I was on the dole for a few years and I found that absolutely soul-destroying, and I've kicked against that for the rest of my life. I was so bored – I swore I would never get into that situation again.
'I have done whatever was necessary not to live a boring life – being busy is the air that I breathe,' he adds.
Without support from employers, having a second career becomes difficult. 'Some law firms still have a mentality that if you're not 110% committed to the law and there at all hours, you're not ever going to get promoted,' says Summers.
But she adds: 'Happy employees always work harder. If there's something they desperately want to do, they will do it, however many barriers you put in their way, and they will hate you for putting barriers in their way.'
The law is undergoing a massive shift, Summers believes: 'The days when you started out as an articled clerk, stayed in the same firm and took your time are gone. People are much more mobile, US firms have got so much more money. Keeping good employees has to be more than about the money and the hours, it's about making sure you're supporting them to do what it is they want in a way that they're happy. They will then stay and not be enticed somewhere else.'
However, Rogers cautions, should a firm decide to be more flexible, 'make sure the business can cope if everyone came to you with similar requests, ensuring everyone is treated equally'.
Support, though, has to be a two-way process. 'Family and work [the law] should be the priority,' adds Rogers. 'Make sure it does not have a negative impact on your work. Make sure you have the support of family and work, and ensure you stick to the agreed plan.'
Monidipa Fouzder is a Gazette sub-editor