Rules governing how serious sex cases and proceedings involving vulnerable witnesses are heard will be tightened up following an announcement by the lord chief justice Lord Judge today.
A list of approved and specially trained judges will be drawn up to hear all serious sex cases that are likely to last more than 10 days, or involve one or more 'significantly vulnerable' witness.
Those judges selected will undergo bespoke training from the Judicial College on how best to conduct these cases, and how to deal with difficulties posed by multi-defendant trials, to control multiple cross-examination and give better protection to witnesses.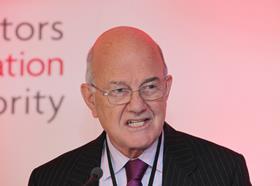 Judge (pictured) made the announcement in a four-page letter to Labour MP Keith Vaz, following proposals made by the Home Affairs Committee chaired by Vaz, into child sexual exploitation and concerns over how judges deal with child sex abuse cases.
Judge said that treatment of vulnerable witnesses has been 'the focus of a considerable amount of innovation' over a significant number of years.
As a result, he insisted that the arrangements operate 'extremely well' in the 'vast majority of cases', though he stressed that courts should not be complacent, and accepted that there have been 'valid criticisms' of the process in a 'very few' cases.
All judges who try defendants accused of serious sexual offences already go through an approval and authorisation process, vetted by senior judges, and receive 'comprehensive' training, including dealing with child and vulnerable witnesses, and training on the use of intermediaries.
Judge said: 'I am confident that this training is well constructed and that it covers all of the main areas.'
But, in light of the 'rare instances' relating to multi-defendant trials in which the process may have 'operated imperfectly', Judge said he had reviewed the position following the letter from Vaz.
However, Judge rejected the committee's recommendation for specialist courts to be introduced, suggesting that restricting the venues at which cases are heard would only increase waiting times and expense.