Large firms are dominating the conveyancing sector as their smaller competitors fall victim to market consolidation, analysis of Land Registry data suggests.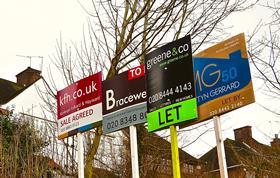 Searches business Search Acumen, which analyses the data to monitor business performance, says the number of active conveyancing firms in England and Wales is at an all-time low since records began in 2011.
According to its latest market tracker, 700 firms have dropped out of the market in the last seven years. Search Acumen says the decline is a result of mergers, acquisitions and periods of dormancy as well as a market exit. The number of firms handling up to 25 cases a month has fallen by 10% over the past five years - from 3,662 to 3,278. The number of those handling over 50 cases a month has risen by 31%, from 268 to 353.
Property transactions have fallen by 3% over the past year, from 254,606 to 248,023. However, due to the dwindling number of conveyancers, those still in the market are handling more cases. Average monthly transaction volumes are rising, from 50 in the third quarter of 2013 to 60 in the same period this year. Search Acumen says the top firms are grabbing a bigger share of the market.
Andrew Lloyd, Search Acumen's managing director, said: 'Over much of this decade, we have witnessed a clear consolidation of conveyancing business at the top end of the market. Technology has been a big driver in allowing smarter firms to steal a march on their rivals, which in turn means that the smaller, local conveyancers have struggled as market consolidation bites. They have seen their margins squeezed, local business networks shrink and opportunities to find new business diminished.'