Magic circle firm Freshfields Bruckhaus Deringer has reported a fall in net profit on the back of flat income for 2016/17. Profit per equity partner rose, however, amid what the firm described as 'challenging' market conditions.
In the year to 30 April revenue climbed £3m (0.3%) to £1.330bn, while net income dipped £5m (-0.8%) to £612m.
PEP grew by £74,000 (5%) to £1.547m.
Stephan Eilers, joint managing partner, commented: 'We have had a solid year in spite of challenging market conditions. Our trajectory continues to be positive as we support our clients in delivering some of the most significant work in the market.'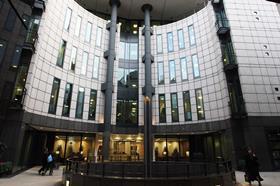 Highlights during the year included combining the Cologne and Dusseldorf offices to boost the European business; and the fit-out and occupation of the firm's Global Centre in Manchester.
National firm Shoosmiths, meanwhile, enjoyed growth in both profit and revenue in the 12 months to 30 April – though an increase in the number of partners at the firm meant PEP remained flat.
The firm boosted its revenue by 9%, from £107m to £116.7m, while profits of £29.3m were up 17% on last year's figure. The number of equity partners at the firm rose from 36 to 41, with PEP static at £366,000.
Claire Rowe, chief executive, said the firm had continued its ambitious growth strategy to take a larger slice of the UK legal market with investment in new talent and infrastructure.