Just one in ten family law clients choose to go directly to a barrister for advice, partly due to a widespread belief that barristers charge more than solicitors. Lack of consumer confidence about who to turn to when a problem arises also explains why so few people bypass solicitors - especially where that solicitor has been recommended.
These are among the findings of the most in-depth research yet carried out by the bar's regulator into the preferences of barristers' clients. Some 1,200 people who had recently had to deal with a family law issue were surveyed by the Bar Standards Board, followed by interviews with 50 clients who had used a barrister during their family law case.
When a family law matter goes to court, the research found most people are represented by a solicitor-advocate and around a third by a barrister. As most family law matters never go to court, this means only 13% of those with a family law issue of any type used a barrister.
Referrals from solicitors and law firms are the way that most individuals come to use a barrister, even though seven out of ten people knew they could go direct. Some 61% came via solicitor referral, while 27% were also referred but by another individual. In total, referrals are responsible for almost nine out of 10 family law clients using barristers. Only 12% of individuals made direct contact with a barrister without using the referral route.
Perceived cost is a clear deterrent to direct access, even though direct access barristers are more likely to offer fixed fees.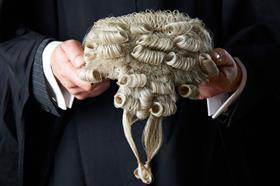 Just over a third of those not taking legal advice from a barrister did consider using a barrister at some point in their family law matter but decided against it. The other two-thirds never considered this option. For almost half (46%), cost was the deterrent - the barrister was considered too expensive or the individual couldn't afford it.
More than four out of five respondents - 83% - believed that barristers charge higher fees than solicitors and other legal services providers. Of those respondents who did use a barrister, 79% were either 'satisfied' or 'very satisfied' with the quality of the service they received.
Some clients referred by solicitors highlighted the limited contact they had with their barrister before going to court, and said that this led to problems with the service they received, such as the barrister not providing enough information to the client, or the barrister not having all the details they needed to provide effective representation.
Although the proportion of those who directly accessed a barrister via the Public Access scheme was low, the research suggests this led to a stronger barrister/client relationship, clients were more likely to access a greater range of services from their barrister, and all of those who used this approach would use the scheme again.
On fees, in most instances these had already been agreed between the solicitor and the barrister and were included in the solicitor's overall fee. A fee based on the barrister's time (either hourly rate or daily rate) was the most often quoted option, mentioned by a third of individuals, but a number of barristers offered a reduced rate on their standard hourly or daily fee. Some interviewees note that it was their solicitor that helped them to obtain a reduced fee. Fixed fees were less commonplace but still offered by a fifth of barristers overall.
BSB director of policy and strategy Ewen MacLeod said: 'We are pleased most of the respondents who used a barrister for a family law matter were satisfied with the level of service that they received. But our survey also shows that many people facing a family law matter are unable to access appropriate legal advice for a variety of reasons. They may choose to represent themselves in court or turn to unregulated advisors for help. Having obtained a more complete picture of the experiences of family law clients via this research, it will help inform our future regulatory response to these important issues.'
Family law commentator Tony Roe, principal of Reading firm Tony Roe Solicitors, commented: I don't find the results of the BSB survey surprising. Parties in family law matters generally need an ongoing relationship with their lawyer rather than a "hired gun" they might use on a direct access basis for a hearing. Typically, they don't realise a barrister cannot offer that. Specialist family law solicitors understand that one needs to develop a bond with a client, as well as a strategy, in such emotionally-charged issues.
He added: 'In my experience, fewer barristers offer fixed fees. Hourly rates are more common. As a niche family law practice, we will always talk to potential clients without the clock ticking. As much as anything, this is a risk-management exercise.'