QualitySolicitors has called time on the ambitious franchise scheme conceived to establish the network as the first 'household name' legal brand. The network has now pledged to offer a package that will enable member firms to decide how closely they wish to publicly associate with QS, after suffering defections in recent months.
Ben Greco, who replaced Eddie Ross as chief executive earlier this year, said the franchise model that QS's founders had sought to build was no longer in operation: the company will no longer seek to change the legal market through lavish advertising.
Instead, Greco said, the network will offer a more 'boring' package to its 100 law firm members. This includes winning contracts with clients who want to work with local firms across the country and bulk-buying key services such as indemnity insurance. The company, which said it made a small profit in the last quarter, is preparing to announce a contract with a major client next month that was secured ahead of major consumer firms with a presence in several sites across the UK, he said.
The former head of Move With Us said the QS business would not explicitly offer 'affiliate' status, but is likely to give firms two options for how much they wanted to absorb the QS brand. The company has also vowed to make significant changes only if the majority of its members agree.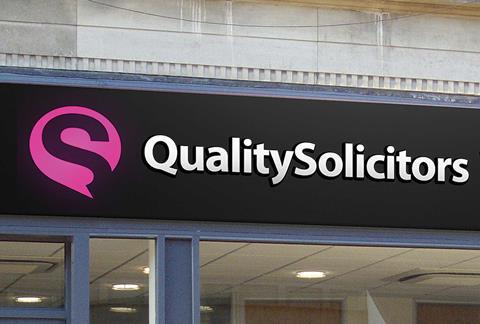 One decision that has been made is for member firms to publish prices online, once the client has opted to seek out more information.
'The hardcore middle section of firms know they need to move with the times but they also want to stay independent. We have stopped doing things that only 25% or firms used – if they don't see something as a benefit then we won't do it,' said Greco.
'Does it need to be full-on branding? We are working on finding the balance. I see online quotes as being one element of the network that is homogenised. Does that mean QS firms will offer the same price across the country? No – that's impractical.'
He added: 'We have this established network of strong firms – what we plan is not exciting but it will bring value to them. Firms have to adopt enough of the brand for brand recognition but it will be their choice if they want to go full-on [QS colours] black and pink.'
The company, which has moved headquarters from Leicester to East Anglia, says it attracts 1.2m web visitors a year and the chance to find work through this platform will be a key selling point for members of the network.
'Most of [our members] have a traditional base and they are traditional firms. We don't want to scaremonger them into joining: I am not going to say "your business model is dead if you don't come on board with us", but all the firms we work with share a belief that customers are increasingly going online to find their legal service provider.'
High-profile departures from QS in recent weeks have included Leicestershire firm Mander Cruickshank and south Wales firm Devonalds. Greco said two more firms are about to join and that the business will start marketing again in January. His ambition is to have 200 firms on board.
Back in 2010, under long-departed founder Craig Holt, QS launched a national high street branch network in a bid to become the first 'household name' legal brand. The aim was to establish an office in every town in England and Wales within 18 months. Subsequent ventures included opening outlets in branches of WH Smith.