National firm Slater and Gordon today signalled the start of a new era with a chief executive appointed to lead the newly-independent business. David Whitmore will lead a firm which has now cut all ties with its parent company in Australia.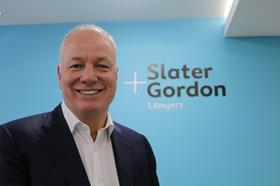 An Australian court last month ratified the separation of the UK operations and the transfer of the running of the business to senior lenders.
Effectively Slater and Gordon UK is no longer part of a stock exchange listed company and is owned entirely by the New York hedge fund Anchorage Capital Group.
The new owners will continue with plans to trim office numbers and seek to restore the business to profitability, with Whitmore saying there is now the chance to make Slater and Gordon a success story.
'The legal industry is going through a period of change, with firms getting to grips with regulatory reforms, technological advancements and clients' evolving needs,' he said. 'I'm confident that, in this challenging environment, and with the clear support shown by its new owners, Slater and Gordon is very well equipped to become the leading provider of consumer legal services in the UK.'
Ken Fowlie, one of the few senior members left from the old regime, moves to the role of managing director of legal services. He predicted that more appointments would be made in the coming months. Fowlie added: 'The future success of Slater and Gordon in the UK is now firmly in our hands following the recapitalisation and separation and we're ready to face the future.'