Average percentage growth in profit per equity partner (PEP) at top-40 firms is topping 10% in 2013/14, Gazette research shows.
PEP rose by an average of 12% for the year ended 30 April, on income up by an average of 6%, according to an analysis of results filed so far. The research disregards the highest and lowest outliers.
Viv Williams, chief executive of consultancy 360 Legal, said the strong increase in PEP reflects a concerted effort over the past year by firms to become more efficient. 'They are realising they can't carry people who are dead wood and are becoming productive, investing in technology,' he said.
Another factor is the long-predicted move away from hourly billing. Williams said the trend of 'value pricing', where firms charge on the value of the work they perform rather than by hour, has forced efficiencies. 'I think that's something we are going to see taking off across the rest of the profession.'
He said the commercial property market in London and international expansion had contributed to an increase in turnover across the board.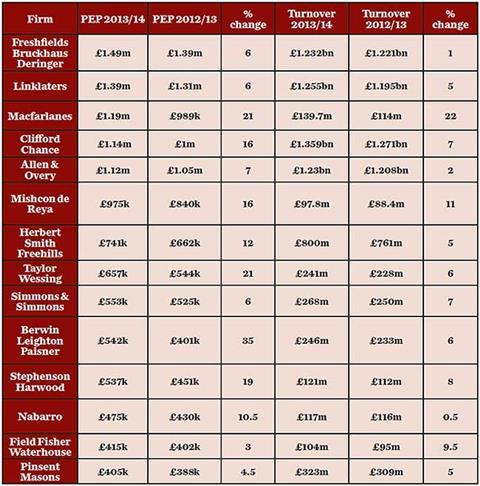 Alasdair Douglas, chairman of the City of London Law Society, agreed that firms have become much 'leaner' in their operations.
'They have also been well placed to take advantage of the upturn in the UK economy and internationally,' he said. However, he warned that the recovery was still tentative and senior partners and managing partners will be looking to make further efficiencies.
George Bull, head of professional practices at accountancy firm Baker Tilly, attributed some of the efficiency savings to a lagging indicator of previous redundancy programmes. 'The cost savings of those are only beginning to come through this year,' he said.
Magic circle firms Allen & Overy, Clifford Chance, Freshfields Bruckhaus Deringer and Linklaters revealed an average PEP increase of 9% on turnover up 4%. This was a strong improvement on last year when PEP at the four firms rose by just 1.1% on average turnover up 1.2%. One magic circle firm, Slaughter and May, does not publish results.
International firm Berwin Leighton Paisner recorded the sharpest increase in PEP, 35%, to £542,000.
London-based firm Macfarlanes reported the highest joint increase in PEP and turnover, which were up 21% and 22% respectively.
Some of the percentage numbers disclosed by firms may vary slightly from stated profit and turnover figures, depending on whether 2012/13 figures were based on unaudited or audited results.