Stand outside the Old Vic theatre and look diagonally across the junction to a new branch of Pret a Manger, then tack left. There among the steel and the glass, with the hulk of Waterloo station rearing up behind, is the pretty brick façade of the law firm Steel & Shamash. Inside, one encounters a five-storey warren of fire doors and narrow staircases with faded carpets. The Legal Aid Practitioners Group has been squeezed into a room at the back. There are box files bearing the names of public figures and celebrities, and meeting rooms with 'Legal Aid Agency bureaucracy' stacked to the ceiling.
BIOG
BORN
Manchester
EDUCATION
University of Surrey; Law Society Finals
ROLES
Solicitor, PR Kimber Solicitors in Middle Temple (1976-81); founder and partner, Steel & Shamash (1981-present); councillor, Barnet Council (1986-94); parliamentary candidate, general election 1979; magistrate in Middlesex 1985-present
KNOWN FOR
Advising the Labour party, MPs, peers and the Association of Labour Councillors; leading phone-hacking claims for high-profile public figures; advice on reform of electoral law; lecturing and training at home and abroad on behalf of the Law Society and Foreign Office
Gerald Shamash may not be a household name, but if you watch the news you will have seen him many times. He is that calm, neat presence in a waxed jacket and long scarf – large ringbinder in hand – walking a little ahead of parliamentarians who are leaving or entering court looking queasy. Or you might have noticed him guiding a vulnerable Paul Gascoigne through a media scrum.
As one of the Labour Party's key solicitors, Shamash has also acted as nursemaid during some of the party's lowest moments: cash for honours, MPs' expenses, and various election scandals ranging from voter registration fraud to dubious election addresses.
Politics has always been in the background. His family moved from Manchester to London with the election of Gerald's brother-in-law Robert (now Baron) Sheldon to parliament in 1964. For Gerald, however, law was not always his destiny. Studying science at the University of Surrey, he was headed for a career as a dentist.
It did not happen – though in those days, he recalls, it was difficult to shift from doing a science degree to an arts degree. His wife Naomi Angell, now a respected international adoption law specialist, and her father suggested Shamash consider law. 'I was pretty politicised at that point and this was a really good crossover,' he says. 'I thought, "I can use law as a political tool".'
Shamash ran for Westminster Council ('with my old friend Alf Dubs, now Lord Dubs') and in 1979 he stood for Labour in the safe Conservative seat of Shoreham. He later served two terms on Barnet Council, north London. Yet, he reflects, law has given him more time at the very centre of politics than a surprise success in Shoreham would have done.
Shamash's early legal career involved stints working in criminal law and personal injury. Either side of qualification he flitted about, working in criminal law, and joining a Westminster firm whose clients had a political or 'egalitarian' bent (the firm acted for Friends of the Earth and the Euthanasia Society).
As a personal injury lawyer, at PR Kimber, he acted for butchers' insurers, 'travelling around to various butchers' shops where kids had lost arms and hands and everything, it was pretty gruesome at times'.
In 1981 he went into partnership with Elaine Steel, a lawyer his wife had shared a room with as a trainee, at first acquiring the medical negligence practice Simanowitz & Brown. They moved into space in the now-demolished building where Pret stands, 'burrowing' through to 12 Baylis Road, Waterloo as they expanded before buying the place outright.
Despite the celebrity names on boxes, Shamash characterises this as a 'predominantly' legal aid practice. It is 'difficult' to turn a profit on legal aid, he notes, but though he does not do such work himself, Steel & Shamash manages to make money on it. 'We cover just about every area of legal aid – Court of Protection, mental health, education,' he says. 'It's very, very tough and the administration that you need behind a fee-earner to turn those fees into costs almost makes it unprofitable.'
What motivates the firm to stick with legal aid? 'Certainly, a lot of people here feel very committed, otherwise they wouldn't be doing it,' Shamash says. 'It's really stressful, working very long hours for little reward. You've got to be a very good lawyer to deal with that.'
Shamash never made it to the House of Commons, but started doing some property work for Labour in the 1980s. He was then approached to join a legal team being assembled for the 1992 general election. Thus began his interest in election law, at the core of which is the Representation of the People Act.
The Conservatives won in 1992, of course, when John Major rather upset the odds. But Shamash had arrived and was later installed at Labour HQ for the duration of the party's happier 1997 campaign.
GAZZA 'WINS THE CUP'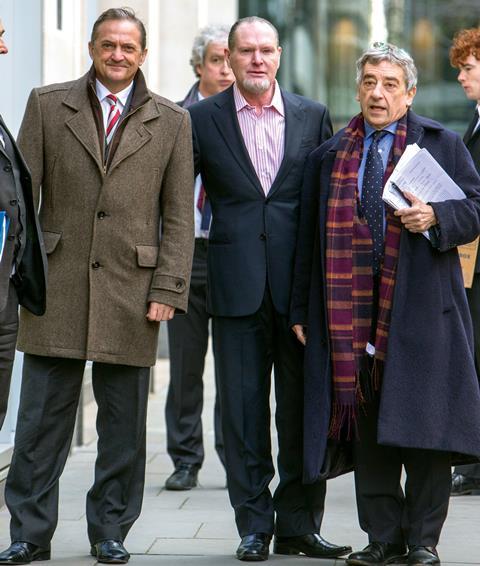 Gerald Shamash recalls Paul Gascoigne's 2015 hacking case against Mirror titles and the Mirror Group. Just getting his client to court was a worry, he recalls.
'Paul was quite shaky about this, because he'd never done it – it was a really high-profile case.' In court, he says, 'it was so obvious that he was really right on the edge of not being able to cope'.
But the Mirror's counsel then declined to question Gascoigne. Told he could stand down, the former footballer said: 'That is disgraceful. I've waited 15 years for this.'
'They bottled it,' Gascoigne told waiting reporters on leaving court. Shamash recalls the comments of Gary Mabbutt, Gascoigne's friend and his former captain at Spurs. 'Gary said to him, "You know what, Paul? You've done the equivalent of winning the cup. You've got everything. You've got your evidence. You made the point. They haven't cross-examined you."'
Mabbutt turned out to be right. Gascoigne was awarded £188,000 in damages.
Heady days for him, but there were 'tough' challenges ahead. Soon Shamash was called on to act for Newark MP Fiona Jones, whose election costs were challenged. Jones had the Labour whip withdrawn and was convicted of election fraud, upon which she was disqualified from the House of Commons. Within weeks the Court of Appeal dramatically overturned her conviction, but Speaker Betty Boothroyd refused her re-entry to the Commons.
Shamash's next task was to go back to court to obtain a declaration allowing Jones to return. 'A satisfying moment for [Jones],' he reflects. But there was no happy ending. Jones lost the seat in 2001 and in 2007 she was found dead, surrounded by vodka bottles. Her husband blamed the pressures and drinking culture of the Commons for her death.
There was more high-profile firefighting to come in the 'Cash for Honours' scandal. This broke when a Metropolitan Police investigation was prompted by a letter from an SNP MP who alleged that the award of peerages was linked to donations to Labour. Shamash acted for the party and its staff throughout the 18-month affair. In July 2007 the police announced that no charges would be brought against three individuals who had been arrested.
'It was one of the most interesting and exciting times of my career,' he says. 'It was a privilege to do it.' But it was also one of the most unsettling times. Phone hacking had yet to outrage the nation, but Shamash was disconcerted by the conduct of the investigation and the apparent role of the police and press.
What troubled him was the way information about the investigation reached the papers.
'I couldn't understand what was happening,' he recalls. Newspapers knew, sometimes in advance, about police interviews and raids. Shamash had his phone security-checked and at one point two broadsheet journalists blagged his mobile phone number from his teenage daughter. 'The press,' he observes later, 'is rotten to the core. Absolutely rotten to the core.'
Shamash is critical of John Yates, the inspector who led the investigation.
He recalls at the outset 'having to give John Yates, up in Scotland Yard, a little potted summary about how you'd get a peerage.
As soon as you qualify, you have power. Power to use the system to fight for your client, to be assured that their rights are met. If you can contain and hold that, as you go forward, you'll have a very interesting career
'The bottom line is, there is only one person who can give a peerage,' he adds. 'If the PM is absolutely scrupulously clean and has done nothing, and there's no money going into his bank account, that's the end of the story. That is exactly what I said right at the very beginning to John Yates.'
The 2009 parliamentary expenses scandal was up next. This engulfed the House and Shamash handled it for Labour: 'I must have seen 40-odd people concerned about negative publicity they were getting from local newspapers. I said, "Well, look, it's true. You have done this. There's not much you can do, I'm sorry. The best thing to do is let it ride."' These were for relatively minor issues, he says.
For three MPs the scandal was much more serious. Elliot Morley, David Chaytor and Jim Devine failed to have their cases covered by parliamentary privilege and faced a criminal trial. Each was found guilty and served a custodial sentence.
Morley's predicament in particular stuck in Shamash's mind: 'I was sitting next to him at his mitigation [hearing], and we had a sheaf of recommendations that the judge had read, and they were read out. This man had given so much to the community in Scunthorpe as their MP. I turned to him and tears were just pouring down his face. It was very moving, in a sense. Nobody else would have seen it, but I saw it. I thought, what a terrible waste. What a stupid thing he did. He knew it. He paid the price for it.'
Hacking
Running concurrent to 'Cash for Honours' was the arrest of private investigator Glenn Mulcaire and the News of the World's royal correspondent Clive Goodman. They were jailed in January 2007.
The full extent of phone hacking, a practice deployed by other News International titles and the Daily Mirror, was not then clear. But over succeeding years, as evidence of its prevalence emerged, the list of those whose phones may have been hacked grew exponentially. Shamash acted for clients including former footballer Paul Gascoigne (who had also been a client when splitting from his wife), Lord and Dame Mary Archer, and Neil and Christine Hamilton.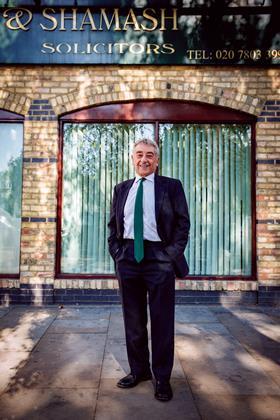 So many people were affected that collaboration between lawyers representing hacking victims was key. 'That collective power was enormous,' says Shamash, 'very formidable, and on the whole it worked incredibly well. We were pushing the boundaries. Nobody knew where this was going to go.'
His greatest satisfaction was gaining a result for Gascoigne, a client in a vulnerable state whose problems were made worse by press intrusion (see box, left).
More recently, Shamash has acted in a libel win for three Labour MPs, brought against UKIP MEP Jane Collins who alleged they knowingly ignored crimes in Rochdale's child sex abuse scandal. The High Court found against Collins and ordered her to pay £54,000 damages to each MP. It has since awarded the MPs £175,000 in legal costs – an award that UKIP is being pursued for on the grounds the party had a degree of control over the case. 'Somehow or another, we will enforce it,' Shamash vows.
How does he find acting for the Labour party now? He's a longstanding adviser to its disciplinary body, the National Constitutional Committee, which is a focal point for various internal battles. The rules, he says, have wrinkles that need to be ironed out. But he insists the process, during which counsel is commonly available for all parties, is a fair one. The party now has an in-house lawyer.
Aside from the Labour party, there is ongoing advice to the former abbot of Ampleforth Cuthbert Madden, who 'voluntarily stood aside' over allegations of sexual harassment at the school. Madden was exonerated but not reinstated.
How confident is Shamash about his firm's future? He is realistic: 'The pressure on firms now to become larger or merge is huge. We are not adverse to that and recognise it,' he says.
He does voice confidence that the clout of the legal profession is an important factor in sustaining its future. 'As soon as you qualify, you actually have some power,' he concludes. 'Power in being able to use the system to fight for your client, to be assured that their rights are met. If you can contain and hold that, as you go forward, you'll have a very interesting career.
'Sometimes, you get knocked back. You pick yourself up and dust yourself down and get on with it.'