As a kid I hated unfairness – and I still do. I was motivated by a desire to help the most vulnerable in society, people who often might have no one else on their side. I have always liked arcane trivia, so I also like the intellectual variety of the job. Depending on your caseload, you might have to become an expert in unusual areas, such as Bitcoin and darknet drug marketplaces, or the difference between hay and straw for VAT purposes.
I was fortunate to train at a firm specialising in the defence of serious fraud and white-collar crime. Working on large and complex cases taught me to approach such cases logically and forensically; to be able to control and manage vast quantities of documentary evidence; and the importance of communicating complex ideas in very simple terms.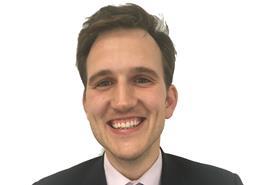 I also had good role models to try to emulate. In particular, Lesley Burrows taught me that we are here to fight for our clients – and always gave me the opportunity to progress.
One career highlight that stands out related to a client arrested following a tip-off by the US Secret Service for hacking into the Washington DC CCTV system shortly before president Trump's inauguration ceremony. Through our own investigations, we were able to show that the client had effectively been framed by an unknown third party and they were subsequently eliminated from the investigation. Even if the NCA's investigation had reached the same conclusion independently of us, which was by no means certain, it could have taken months or years to reach that point.
Any criminal lawyer will say that the real pressure comes with having a client you believe is innocent. Aside from that, clients accused of hacking and computer misuse can often have autism spectrum disorders such as Asperger's syndrome. That can affect almost every aspect of their case and requires lawyers to take care to ensure they understand and can fully participate in the proceedings.
I have seen the restraint and confiscation provisions of the Proceeds of Crime Act 2002 applied unfairly far too often. The act was intended to, and does have, a deterrent effect on financial criminals. However, it is difficult to see individuals serving lengthy sentences in default of payment of orders which consist of huge sums of hidden assets which they, in reality, do not and never did possess. The effect of such orders on innocent third parties can also be disproportionate.
The landscape has become far more difficult for defendants with the relaxation on the admissibility of hearsay and previous convictions, the requirement to engage fully with the prosecution case early on and then throughout the life of a case, as well the increased use of asset forfeiture powers by the Crown. One positive development has been the development and use of sentencing guidelines, which have ensured that sentences are more consistent.
As a cybercrime specialist I think the profession (at all levels) is seen as a potentially easy target. My hope is that firms take the security of their data and systems seriously.