The first woman to lead a magic circle firm, Georgia Dawson is determined to protect and build on 'all that is fantastic' at Freshfields Bruckhaus Deringer. Jemma Slingo spoke to her about the firm's priorities in the age of Covid, the need for diversity and plans for expansion
BIOG
BORN
Sydney, Australia
EDUCATION
Abbotsleigh School; University of Sydney (History and Government BA, Law LLB); Queens' College, University of Cambridge (International Relations MPhil)
ROLES
Associate at Freehills, Sydney (1999-2002); associate and senior associate at Freshfields Bruckhaus Deringer (2004-2012); Freshfields partner (2012-2017); Freshfields Asia managing partner (2017-2020); Freshfields senior partner (2021-)
KNOWN FOR
Senior partner at Freshfields Bruckhaus Deringer
It is not easy to start a new job in the middle of a pandemic. It is even harder when the job involves leading 2,800 lawyers, 29 offices, multi-billion-pound deals – and you are stuck halfway across the world.
Georgia Dawson is Freshfields Bruckhaus Deringer's new senior partner. Shortly after taking the reins on 1 January, Dawson was due to move to London from Singapore, where she has served as Asia managing partner for the past three years. However, her plans were scuppered by UK lockdown measures and she is now in the unenviable position of 'straddling time zones'.
'Because I'm in Singapore, which is eight hours ahead of the UK at the moment, I split my day into two parts,' she says. 'I do a couple of hours in the morning to catch the US and Asia. Then I take a pretty long break in the middle of the day and do another session of work in the afternoon and through into the evening.' Her day is rumoured to end between midnight and 2am.
'It's a bit like running your day in reverse. Usually you would do that longer stint first then maybe have an evening break and then check your emails at the end of the day.'
Freshfields is keen to stress that Dawson's time-bending schedule is only temporary and that her hours will be less punishing when she touches down in London. Indeed, Dawson says her 'top priority' as new senior partner is ensuring staff stay supported and sane during the pandemic.
'It is a very challenging time for people around the world, and we need to make sure we continue to deliver in the best way we can while we are juggling the various domestic demands on our time. We need to make sure people feel motivated and supported.'
The firm has trained more than 300 of its people as mental health 'first aiders' and has just launched an intranet site dedicated to wellbeing. With an eye to the future, Freshfields is also running a six-month pilot programme in Hong Kong in which lawyers can work from home as much as they like without seeking permission from their bosses.
A similar shift in working practices is taking place in London, with Linklaters and Norton Rose Fulbright announcing that staff can work from home up to half the week once the pandemic has passed.
'It is a very challenging time for people around the world, and we need to deliver in the best way we can while we are juggling the various domestic demands on our time'
Freshfields is in an awkward spot, however, having just moved to a 255,000 square foot office at 100 Bishopsgate, a shimmering City of London skyscraper that opened in 2019. Will Dawson really allow swathes of the building to go unoccupied after signing a 20-year lease?
'Given that the situation continues to evolve, it makes sense to pilot new arrangements to see how they work and to take feedback,' she says. 'At the moment, it's business as usual, although obviously [the office] is not being fully utilised now, like most offices in London.'
Dawson grew up and went to university in Australia, before starting a training contract at Freehills in Sydney. Her father is a retired solicitor and, after doing some high school work experience in a law firm, Dawson completed a law degree and 'hasn't looked back'. After a stint in Hanoi on a law reform project and a master's in international relations at Cambridge University, Dawson joined Freshfields in 2004.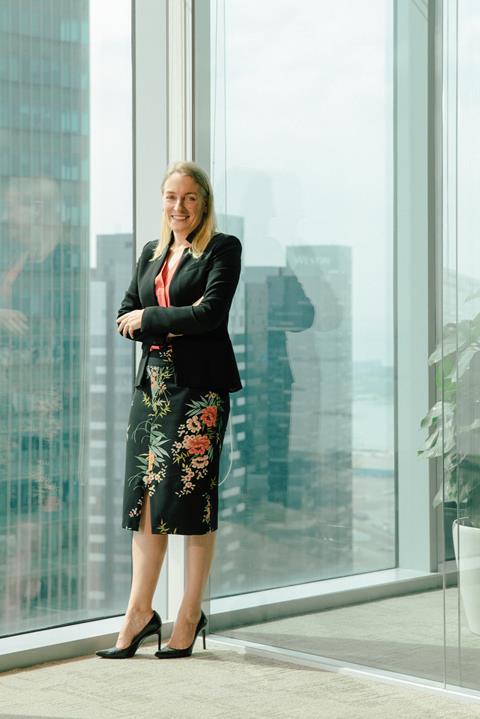 Seventeen years later, Dawson is the first woman to head a magic circle firm and – at 45 – is more than a decade younger than her predecessor, Edward Braham. Seen as an outside bet, she is expected to bring a fresh approach to the 278-year-old practice.
Dawson is not planning a major overhaul any time soon, however. 'At its core, it's about protecting and preserving what's already fantastic about the firm,' she says.
With three children aged between nine and 12, Dawson has grappled with maternity leave and childcare as she has climbed up the ranks. Do female lawyers have to fight harder to reach the upper echelons of the City than men with families do?
'For talented men and women across law firms, it's highly competitive to get a training contract and then to progress,' Dawson says. 'I can't say I have felt I have been treated any differently, if that's the thrust of the question. I've been afforded access to fantastic work opportunities, great training and development. I've had some great mentors in the firm and people who have really encouraged me – if not pushed me – to develop and go ahead.'
However, Dawson and her management team – Alan Mason, Rafique Bachour and Rick van Aerssen – are committed to helping more women reach the top.
'Across the organisation there is a range of different sponsorship programmes, mentorship arrangements and training schemes – it has been an area of focus since I was an associate,' she says. 'Together with my management team, we are laser-focused on this and want to accelerate the progress we have made to date.'
Targets are also on the cards. 'I think they're a really useful way of ensuring you maintain focus and that people are held to account,' Dawson says.
According to Freshfields' most recent pay gap data, around a quarter of UK partners at the firm are women, and the gender pay gap for partners and employees stands at 57.2% – slightly lower than those of its magic circle rivals. However, the power dynamics of the firm came under scrutiny in 2019 when former partner Ryan Beckwith was fined £35,000 by a disciplinary tribunal after spending the night with a junior colleague following a night of drinking.
The tribunal's finding was later overturned by the High Court, which found Beckwith had not committed professional misconduct. However, the hearing – combined with the prosecution of Baker McKenzie's former London managing partner in 2020 – raised questions about the City's 'work hard, play hard' culture. Is it time to put a stop to boozy work events?
'I think as part of a wider focus on inclusion across the firm, that's something people have been concentrating on for a while,' Dawson says. 'It's about ensuring people are mindful of developing team activities that appeal to the broadest possible base.'
Young solicitors could well drive the change. Last January, the Law Society's Junior Lawyers Division banned alcohol from its events, saying firms have a 'collective responsibility' to change drinking habits. The division encouraged firms to move away from alcohol-centric events and embrace activities such as ping-pong, quizzes, tea ceremonies and hat-making.
Pandemic pressure
When coronavirus began to sweep the globe last year, pessimism spread almost as quickly in the legal sector. Alarming research by the Law Society suggested that thousands of high street and sole practitioner firms could shut within six months. Meanwhile, in the City, practices furloughed staff, cut employees' pay, suspended partner drawings, halted recruitment and scrapped bonuses, in a scramble to preserve profits.
However, the dire predictions have proved – thus far at least – overly pessimistic. 'We are fortunate that our footprint and our client relationships around the globe meant this past year – despite all the challenges we faced – we had the opportunity to work alongside clients and help them with some really interesting work. That has kept the business in good shape,' Dawson says.
Freshfields suspended partner payouts and froze pay and bonus reviews during the UK's first lockdown. However, in July it announced a solid set of financial results, with profit per equity partner dipping only slightly to £1.82m.
Did some Freshfields offices fare worse than others? 'I think it was more or less uniform – it was just a timing delay,' Dawson says. 'Asia experienced the pandemic earlier than other markets, so you simply saw that play out across the world as the pandemic spread.'
The influence of young lawyers is evident elsewhere. Junior talent is a valuable thing and US firms are increasingly seeking to entice UK grads with hefty pay packages – some in excess of £130,000. In 2019, the magic circle entered the bidding war, increasing their salary and bonus packages to a minimum of £100,000 for newly qualified lawyers. Covid put the brakes on things, with several firms reversing their pay rises last summer. However, the market seems to be stabilising and NQ salaries are rising again.
Will Freshfields be re-entering the fray? 'The talent market is highly competitive and pay is a key feature of that,' Dawson says. 'In all our key markets, including the UK, we have to watch what's happening in the market but equally ensure that – given we want to remain a leading firm – we are at the front of the market.'
However, it is not just about financial reward, Dawson says. 'Making sure we're a responsible business is a really appealing thing to recruits.' Environmental policy and pro bono work are high on the agenda, with the firm vowing to cut business travel by 30% over the next five years and ditch 40% of paper documents.
Junior solicitors have not had an easy time in lockdown, with many trainees starting work from their homes under the supervision of a webcam. However, Dawson says Freshfields' graduate recruitment, and learning and development teams have done 'a truly spectacular job' delivering IT equipment to people's doors and running remote work experience programmes.
'Things we'd never have thought possible before – they have achieved,' Dawson says, adding: 'The pandemic has made very clear the need for robust technology so you can continue to deliver in an agile environment. Technology is right up there at the top of all management teams' priorities list.'
'Tech skills are going to be important in the delivery of client services but equally in an understanding of the sector so people can work in that space'
This month, Freshfields hired a team of four machine-learning experts and Dawson says tech skills are increasingly valued in trainee recruits. 'We always look for a diverse set of skills, whether that's language skills or specialism in a particular area of law or project management skills. Tech skills are going to be important in the delivery of client services but equally in an understanding of the sector so people can work in that space.'
As part of an ambitious US expansion plan, the firm opened an office in Silicon Valley last year – the first magic circle firm to do so. The office, situated on the doorstep of Stanford University, will advise California's tech empire on mergers and acquisitions, employee benefits, regulatory matters and litigation. 'That's our latest expansion in the US. That pillar of practice fits with the broader plan in the US, which is to build a really strong M&A practice, a litigation and disputes practice and antitrust practice. It's a very exciting time.'
For now, however, Dawson is enjoying her final stretch in Singapore. 'My eldest son and I have been putting together a memory book on what we will miss about Singapore. It ranges from the enormous leaves here – you get leaves that are the size of half a car – through to the wonderful wet markets where you can get great food, fruit and veg, and flowers.'
In terms of the pandemic, things have been 'pretty easy' on the island. 'The government has handled the pandemic in different phases and has been very clear and consistent in its messaging throughout. We are quite fortunate, I think, in terms of how things are today in Singapore,' Dawson says.
As the UK reeled from its coldest temperatures since 1995 and Lockdown 3.0 continues its interminable course, perhaps straddling time zones is more appealing than it sounds.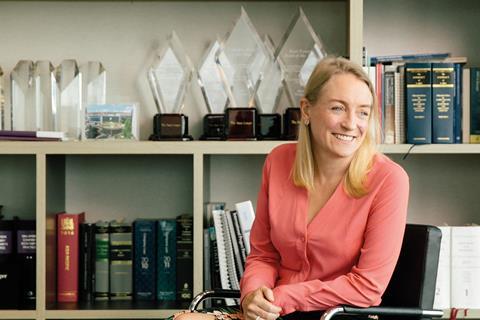 Reporter