Imagine a works canteen that stretches as far as the eye can see.
China? The former Soviet Union?
No. Leeds, 1975. Montague Burton's factory in Hudson Road had once been the biggest clothing factory in the world, but even then was redolent of a city rapidly losing its mojo. I remember attending the annual sports day as a small child (the eponymous founder of Burtons, a Lithuanian Jewish immigrant, was a noted paternalist) and being puzzled that this hulking complex seemed largely empty.
It would soon be emptier still. My grandad, a tailor who had worked for Burtons since the 1930s, was made redundant soon after, along with many of his equally long-serving pals.
A lost Leeds, I reflect, as I arrive at Gateley plc for the Gazette's latest roundtable, in the shadow of the city's magnificent Victorian town hall. Perhaps no northern city has reinvented itself as successfully as Leeds. An economy once founded in textiles is now one of the country's most diverse, with financial and business services accounting for a whopping 38% of total output.
Lupton Fawcett managing partner Jonathan Oxley evokes that transformation bluntly, as is the way in these parts: 'I remember being driven through Leeds to school in Harrogate in the 1970s,' he says. 'Leeds looked like it had been bombed, and fairly recently. The contrast now is amazing.'
At the table (main image): (from left, clockwise) Jonathan Oxley Lupton Fawcett Nick Emmerson Gateley Jo McLeod the Law Society David Lewis Weightmans David Smedley Walker Morris Matthew Howarth Shoosmiths Jacqui Timmins Pinsent Masons John Murray Ward Hadaway Emma Pearmaine Ridley & Hall
Channel 4 choosing Leeds for its new headquarters is one of a string of recent coups for local business and political leaders. Iconic fashion brand Burberry's arrival is another.
In truth, however, Leeds' renaissance began long ago. As far back as 1993, the transfer of the departments of health and social security from Whitehall to the Orwellian pile of Quarry House at the
foot of the Headrow was hailed as a watershed for the local economy. Equally totemic was Harvey Nichols opening its first store outside London, on Briggate, in 1996.
The stag and hen parties – accommodated via an orgy of hotel building which continues still – came later.
The city's enduring vibrancy is predictably reflected in the strength of a highly competitive legal sector, which between 2010 and 2015 grew total employment by 20% (see box below).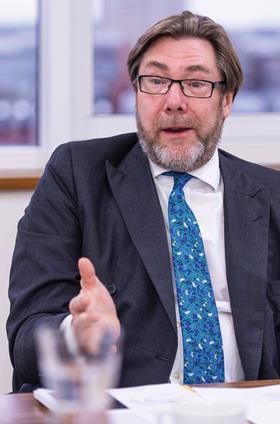 'We have a fantastically strong legal and financial community,' says David Smedley, chairman of partners at Walker Morris. 'As an independent firm based solely in Leeds we fish in the local pond – which is possibly overfished. But we also fish in the national pond and the international pond. And we do that very successfully from a Leeds base.'
Leeds sells itself beyond the West Riding by offering the same services as peers in London, but without the eye-watering fees. 'Quality, reputation and price' – that is the mantra, according to Oxley.
International work is abundant, including from the US. Such is the geography across the Atlantic, says one attendee, that pointing out your Leeds firm is 200 miles from London is apt to prompt the response: 'OK, no problem, you're in the suburbs then.'
Says Smedley: 'We're doing a lot of work for US firms in areas such as employment and property that they are happy to farm out. And in 2018 we were recognised in the Bloomberg rankings as one of the top 20 most active mid-market corporate legal advisers in the UK. All from a Leeds base, without an office in London. That shows what can be done.'
Rapidly evolving legal technology also helps. 'So much work is done remotely anyway,' remarks Matthew Howarth, head of Shoosmiths' Leeds office. 'You won't actually meet many clients. You'll be on email, you'll be on the phone, so the need to have a central London presence becomes less relevant in many areas of work. So you're selling yourself, your skills and your availability.'
Most of the heavyweight Leeds firms have more than one office, of course. Gateley partner Nick Emmerson points out that the city's relationship with London is not necessarily adversarial.
This region is definitely losing out. Look at Manchester, look at Birmingham. We haven't got our act together on devolution. How we do that is a challenging question, but we really need to do so

Jacqui Timmins, Pinsent Masons
'We interact with London, we're not anti-London,' stresses Emmerson, who is also Law Society Council member for Leeds. 'Many of our partners are down there at least once a week; some people are down there three days a week and come to Leeds for two days. There is a lot of interaction.'
Curiously, although this synergy holds good down the 200 miles of east coast mainline to King's Cross, there is less traffic over the Pennines. And it is across those dark, lowering hills that our Leeds legal heavyweights spy clouds on the horizon for their city.
Greater Manchester has led the way on the devolution of powers and budgets from national government, in a way that has not happened either in Leeds, or the Yorkshire and Humber region generally. That bodes ill for the city's relative prosperity in the next five to 10 years.
'In the legal sector we're doing really well, but I think we are in a bit of a bubble,' observes Jacqui Timmins, head of Pinsent Masons in Leeds. 'This region is definitely losing out. Look at Manchester, look at Birmingham. We haven't got our act together on devolution. How we do that is a challenging question, but we really need to do so.'
Yorkshire's sheer size – the county has a similar population to Scotland – is both a strength and a weakness. Just as no one thinks of Middlesbrough versus Sheffield United in football's Championship as a local derby, it can be difficult to discern exactly what Wensleydale has in common with Dewsbury. There is certainly no 'Greater Leeds'.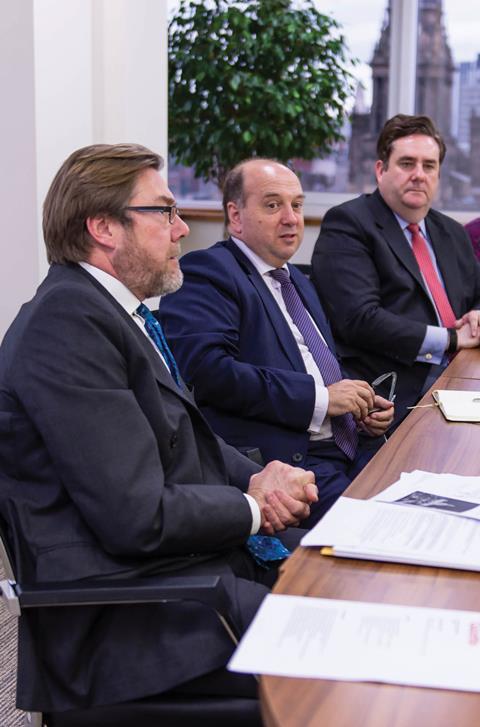 LEEDS IN THE LEAD
Leeds boasted the fastest-growing legal sector in Britain between 2010 and 2015, according to research based on data from the Office for National Statistics. The number of legal jobs in the city grew by 20% to 8,100.
Over the same period the sector grew 5% in London, while Manchester, which suffered high-profile casualties Halliwells and Cobbetts, experienced a 7% decline.
Traditionally seen as strong in the mid-market, Leeds boasts its own 'Big Six' commercial law firms: Addleshaw Goddard, DLA Piper UK, Eversheds Sutherland (International), Pinsent Masons, Squire Patton Boggs and Walker Morris.
Walker Morris is unique in operating solely from Leeds; though directory Legal 500 observes that the sextet also face strong competition in a crowded market from Leeds-only firms Clarion and Shulmans. New entrants to Leeds in recent years include Shoosmiths, Bevan Brittan and Devonshires.
According to the same survey, commissioned by Leeds City Council and Leeds Law Society, the Leeds legal market generates output exceeding £300m annually.
George Osborne's 'Northern Powerhouse' does not mean much in the white rose county, either. 'I think the Northern Powerhouse is a bit of a red herring [for us],' says Emmerson. 'It was always a Manchester gig, I think.'
The county's great and good convened in York on 1 August last year – Yorkshire Day – to call on the government to break the long-running stalemate on devolution. Campaign group One Yorkshire, which originated with politicians in Leeds, proposes a devolved authority, like those established in Manchester, the West Midlands and Liverpool, covering all of the county. It would be headed by a directly elected mayor and would oversee transport, economic development and skills.
Our roundtable acknowledges how Leeds is missing out by referencing a great public relations asset for Manchester – the never-knowingly-undersold mayor, Andy Burnham.
David Lewis, senior partner at Weightmans, looks even further west: 'I spent 30 years in Liverpool and can see many similarities with Leeds,' he says. 'Both cities have allowed themselves over time to feel like they are in the shadow of Manchester, and neither needs to do so because they both have something different and great to offer.
So much work is done remotely. You won't actually meet many clients. You'll be on email, you'll be on the phone, so the need to have a central London presence becomes less relevant in many areas of work. You're selling yourself, your skills and your availability

Matthew Howarth, Shoosmiths
'Back in the 1980s, Leeds appeared from a distance to be a very confident city, whereas Liverpool wasn't. Liverpool has overcome that. I think Leeds should also have more confidence as a commercial legal centre than it has. And as far as devolution is concerned, we've got to see ourselves as architects of our own future, not as victims of what is imposed on us from elsewhere.'
In October last year, 18 of 20 Yorkshire council leaders called for negotiations to begin on a devolution deal immediately, with Leeds City Council accusing the government of 'holding back' Yorkshire. But Oxley suggests ministers actually fear county-wide devolution, because it would create too powerful an alternative power base.
The rose may be white, but metropolitan politics in Yorkshire are deepest red.
Earlier this month eminent solicitor Sir Nigel Knowles, chairman of DWF and outgoing chairman of the Sheffield City Region local enterprise partnership, expressed his frustration over the deadlock. Alluding to municipal rivalries, the former global chair of DLA Piper called on council leaders 'to be less like blocks of granite in their approach'.
As a no-deal Brexit approaches, Emmerson voices the hope that leaving the EU could actually spur devolution. 'Hopefully there'll be a bit more emphasis on what the regional centres can do, and what the offering of the UK as a whole is – rather than just London,' he says.
As to the economic impact for clients, the fallout will be size- and sector-specific, believes Timmins . Though no one truly knows.
She adds: 'We know the legal services market is really good. I look at many of our clients and think that they are big enough and heavyweight enough to survive [Brexit]. But small to medium-sized enterprises, and those based in the north-east particularly, are they robust enough to cope?'
Snaffling the Tour de France from under Scotland's nose in 2014 shows what can be done when Yorkshire does get its act together. Still more impressively, were Yorkshire an independent country it would have ranked 16th in the 2016 Rio Olympics medals table (a slight dip on London 2012, when the county came 12th).
These eye-catching achievements may seem like mere window-dressing, but there is nothing like headline sporting and cultural events to showcase a city and region beyond its borders.
John Murray, executive partner at Ward Hadaway's Leeds office, points to the fillip to Manchester's profile and 'bravado' that comes from hosting two world-class football clubs, along with all the associated economic benefits. By contrast, once-mighty Leeds United have languished in the lower divisions for 15 years. Yorkshire's sole Premier League representatives (though not for much longer, in all likelihood) are overachieving Huddersfield Town.
Leeds' bid to be 2023 European Capital of Culture, meanwhile, collapsed after the European Commission said the UK will no longer be eligible to have a host city after it leaves the EU. Unabashed, council bosses devised a six-year programme that will culminate in a year-long celebration of Leeds' diverse cultures in 2023.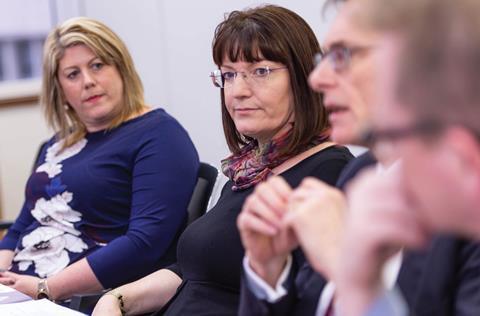 Ridley & Hall MD Emma Pearmaine is also vice-president of Leeds Law Society, one of the partners helping the city bid for City of Culture. She says: 'Although that fell flat on its face, what has come out of it is a partnership of many different sectors in Leeds, looking at running our own year of culture and involving all our different communities.'
All these initiatives add up when it comes to attracting young lawyers to work in Leeds and elsewhere in Yorkshire. Murray, who came back north after a spell in the capital, observes: 'It's about the culture, it's about the sport, it's about the countryside, it's about accessibility. We've got it all going on. I can't be the only one who left London to come up here. I went down to London for a while, got it out of my system and thought: "Why do I want to be here when I can be there?". And I am hardly unique.'
London's legal sector is booming too, of course. But, as Pearmaine stresses, so is the cost of living and 'lifestyle is really important to savvy millennials'. Young professionals in Leeds (and Manchester, Liverpool and Newcastle, come to that) are not looking at the thick end of a million pounds for a three-bedroom semi in a pleasant part of town.

We know younger people want the firm they're working for to be a force for good. They don't want to be part of a cynical profit-driven machine. It's a crucial part of recruitment and retention

John Murray, Ward Hadaway
Smedley says: 'We've got at least four outstanding educational institutions feeding in people who are not from Leeds or even Yorkshire. I'm actually from Leicestershire myself. You occasionally get people cherry-picked by London, because the experience we are able to give our assistants is so much broader. We've lost people to White & Case, for example, because they were just so good. But then it works the other way, when people have had enough of the bright lights and working around the clock.'
It has become a truism that millennial juniors have more inclusive values than the go-getting yuppies of 1980s yore. Corporate social responsibility, together with diversity and inclusion, are front of mind for all of the law firm leaders around this table.
Timmins highlights the work of the Leeds-based Ahead Partnership, which connects employers with education, public and private sector partners to foster social and economic change. This started life when Ahead's chief executive, Stephanie Burras, left Pinsents to set up social enterprise Leeds Ahead.
At a time when the law is actually become less socially diverse, Timmins points to the importance of these initiatives to secure a pipeline of future talent. 'We've got 11 universities based in this region, but it all starts before that, in primary school,' she says.
'Ahead has run a legal [professional services] education week for a number of years, to which many firms have contributed. Stephanie really wants to up their game in our sector and she wants to get as many firms along as possible to collaborate.'
'How do your staff think your organisation benefits the local community? It would be good to give a clear, collective vision and response to that as a legal community,' muses Oxley.
'We know younger people want the firm they're working for to be a force for good,' concludes Murray. 'They don't want to be part of a cynical profit-driven machine. It's a crucial part of recruitment and retention.'
In Leeds as elsewhere.
This roundtable was kindly hosted by Gateley plc and organised by Jo McLeod, head of relationship management (north) at the Law Society