The low down
Northern Ireland's strong educational base and relatively low business costs have combined with an industrial policy superintended by development agency Invest NI to attract professional services offices in ever-growing numbers. Grants have been awarded as inducements, but perhaps their most important purpose was to signal that Northern Ireland welcomes legal services – which now contribute more than £300m to the UK economy. The Covid-19 pandemic represents a serious business disruption (and Brexit was not wanted here) but with the ending of the suspension of the Assembly, the region's lawyers and investors retain their confidence in Northern Ireland.
What's not to like about Northern Ireland? With ready availability of local talent, generous government incentives and low operating costs, the region's legal sector has flourished in recent years. Before the current disruption caused by Covid-19, there were even suggestions it was beginning to suffer from its own success.
Legal services is one of the fastest-growing sectors in the region, according to economic development agency Invest Northern Ireland (Invest NI). With more than 500 law firms, 2,300 solicitors and 650 barristers and QCs, the region's legal services industry contributed £309m to the UK's economy in 2017, with Belfast accounting for more than half (£190m), a recent report by private-sector membership body TheCityUK shows.
Funding is available from the government through Invest NI, which provided £524.4m to businesses across various industries between 1 April 2014 and 31 March 2019. This is not restricted to any particular type of activity, or conditional on a Northern Ireland national having an equity interest in the business. Assistance includes grants for training, marketing, consultancy and salaries.
'The support of Invest NI has been important for many legal services firms growing their business in Northern Ireland, including ours,' says Conor Chambers, senior manager of operations and projects for the UK, US and EMEA at the alternative legal services (ALT) division of global law firm Herbert Smith Freehills.
Some of the growth has come from a small number of home-grown firms 'expanding organically', says Neasa Quigley, senior partner at Carson McDowell, a full-service firm. Its lawyer headcount of 100 has increased by about 10% in the past two years, with revenues also rising steadily: by 2.4% in 2018; 4.6% in 2019; and 8% between January and early March this year.
'A combination of the availability of high-calibre legal talent in a relatively low-cost environment has [also] attracted international firms such as Baker McKenzie and Allen & Overy to locate their offshoring activities in Northern Ireland,' Quigley says. 'This has really driven growth in the sector.'
There are more than 16,000 people employed in professional and legal services working with local firms, and seven international law firms have established bases in the region, says Michael Chissick, managing partner of Fieldfisher. 'Northern Ireland is a good place to build a legal business and we have aspirations to grow significantly in the next two to five years,' he says.
Fieldfisher's 'Belfast Solutions Hub' has grown 'almost tenfold' since launching in August 2018 with a staff of eight. The top 25 firm, which merged with Donaldson Legal Consulting in 2017, received a £630,000 grant from Invest NI in 2018 to create 125 new legal and business support jobs in the capital.
There are other reasons for setting up shop in Belfast. 'Office rents are among the lowest in western Europe and compare very favourably with other UK regions, and the overall tax burden in Northern Ireland is the lowest of all the major European economies,' says Chissick.
'Operating costs in the region can be 20-30% lower than in the rest of the UK and Europe,' says Alan Murphy, managing partner of Eversheds Sutherland Ireland. The Belfast office has gone 'from strength to strength' since it launched in 2015, says Murphy, who leads a team of 20, with another 10 recruits due to join by year-end.
'This level of growth has contributed to our recent move to new offices in the centre of Belfast,' he adds.
Belfast also benefits from 'a strong talent pipeline', with almost 3,000 STEM students and 700 law students graduating from Queen's University Belfast and Ulster University each year.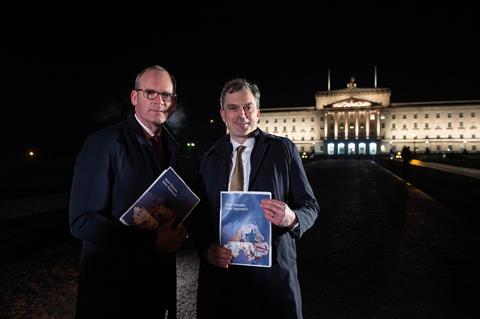 Belfast is also one of the youngest cities in Europe with 43% of the population under 30, Murphy points out. And there are many professionals who, having progressed their careers elsewhere, are keen to return.
TheCityUK reports a 28% increase in legal services employment between 2018 and 2019. 'The expansion is mainly due to the quality of legal talent here in Northern Ireland,' says Angela Clist, a partner at Allen & Overy and head of its Belfast-based legal services centre (LSC). 'There is a depth of talent beyond graduate level, too.'
One of Invest NI's conditions for awarding the magic circle firm £860,200 in 2014/15 was to create new jobs. The firm launched the centre in 2012 with 19 people and now has a legal staff of 115, in addition to six PhD-level scientists specialising in life sciences, physics and chemistry. There is a mix of qualified associates and law graduates, and more than half the team has been with the centre for more than three years. 'Revenue has increased year on year,' Clist says.
Baker McKenzie launched in Belfast at the end of 2014 with five people. It now employs around 400 people across 35 legal and business services, including finance, corporate support, marketing, IT and legal project management. Invest NI has awarded it £1,485,728 between 2014/15 and 2018/19.
James Richards, the Belfast centre's executive director, says that not only is the Northern Irish capital cheaper than many major business centres, 'there is a growing ecosystem of financial and legal services organisations, which helps to broaden the range of experience of the workforce here'.
Unlike some other low-cost locations, Belfast shares the same language and time zone with London, and is 'well connected' to global business centres through Belfast and Dublin airports, he stresses.
The fact there is a fibre optic cable directly connecting Northern Ireland to north America means there is also a great communications infrastructure, says Murphy. This makes 'Northern Ireland the optimal communications point for north American and pan-European markets'.
LAWTECH innovation centre
How has Belfast emerged as a lawtech hub? Alan Murphy, managing partner of Eversheds Sutherland Ireland, says there is 'a solid track record of collaboration between the Northern Ireland Executive, academia and industry that ensures the region's skills base meets the ever-evolving needs of employers. This collaboration is actively promoted in the region.'
An example is the Legal Innovation Centre at Ulster University, which was established in 2016 as a 'pioneering' collaboration between its School of Law, and School of Computing and Intelligent Systems. The centre promotes and supports innovation in legal services and access to justice; its advisory group includes representatives from Baker McKenzie, HSF, Allen & Overy, Deloitte and PwC.
Allen & Overy is a founding sponsor of the centre. Angela Clist, a partner at the firm and head of its legal services centre (LIC), says: 'We have benefited from helping shape their postgraduate training programmes on law and technology, and many of our staff have attended. Through the centre we also have an active post-doctoral research programme on natural language processing and machine learning, which directly benefits the firm and our clients.' A legal innovation course – an LLM/MSc law and technology master's degree – is due to launch in September.
Herbert Smith Freehills, too, has collaborated with the LIC on a number of initiatives, and 'benefited immensely from the expertise and training it makes available', says Conor Chambers, the firm's senior manager of operations and projects.
The international firm has also forged 'close ties' with Queen's University Belfast, by sponsoring its 'Student Hub' and offering, in conjunction with the School of Law, a 'tailored' student engagement programme.
So what is the focus of legal work in Belfast? Home-grown firms such as Cleaver Fulton Rankin (CFR), Carson and Tughans are full-service. Carson's managing partner Roger McMillan says healthcare, defence, insurance, real estate and licensing have seen the most expansion in the past 18-24 months. Reasons include the growth of healthcare services in the Irish market and Carson's acquisition of specialist defence insurance practice Francis J Irvine Solicitors in 2018.
CFR, another leading commercial law firm, with 94 employees, has stepped up efforts to stay competitive. 'In the past 24 months, we have transformed as a business by investing heavily in recruiting new team members, legal tech and new practice areas,' says managing director Jonathan Forrester.
Chambers points out that the past decade has seen a 'seismic shift' in the way goods and services are bought and sold, including legal services.
Clients have been demanding 'more for less' to address 'intense pressure to reduce legal spend,' he says. In addition, data volumes associated with large-scale contentious legal matters have increased 'exponentially'.
Alongside this, legal technology has become more important and sophisticated, presenting an opportunity for law firms to become 'more efficient'.
Launched in Belfast in 2011, ALT now has around 350 employees in 11 teams across its global network in the US, UK, South Africa, greater China and Australia. It does not practise local law, and products and services either 'integrate' into the wider firm's offering or 'complement' it, says Chambers.
'The LSC in Belfast is supporting our offices around the world – from Hong Kong to Paris and New York,' says A&O's Clist. 'It addresses client needs that work is carried out cost-effectively using tech-enabled, lower-cost resource.'
The team is 'fully integrated' into the business, supporting all its main product groups – from corporate, litigation and banking to real estate.
Clist says that while banking work has increased in the past 24 months, the LSC has focused on supporting the firm's international offices, particularly in the Middle East, which is an area of notable growth.
The Belfast office is one of two centres established by Baker McKenzie. The first such centre, launched in Manila in 2001, employs more than 1,000 people. Both offices tackle high-volume, large-scale projects, including e-discovery, document review, M&A due diligence and legal research. The legal teams work on a wide range of projects for clients – from banking to corporate and dispute resolution, Richards says.
Fieldfisher has a similar approach. The focus of the Belfast Hub is to 'provide alternative and cost-effective' services and 'to support our European partners', says Chissick, the firm having many outposts in Europe, including in Italy and Germany.
The hub's team of 'experienced lawyers and document review specialists' provides a 'seamless' service to the rest of the firm – from document review and e-disclosure to legal support, in areas including personal injury and clinical negligence, real estate and privacy. Through its Donaldson Legal Consulting business, Fieldfisher offers specialist financial trading documentation, including securities lending master agreements, commodity agreements and brokerage documentation to in-house teams in financial services.
'In addition, we are rapidly expanding our firm-wide support units such as practice administration, document production, client on-boarding, money-laundering checks, IT and remote PA services', Chissick says.
Not all international law firms follow the same model. 'Eversheds Sutherland is the only global law practice providing a full range of front-end legal services across the island of Ireland and the UK,' says Murphy.
Expanding areas in the Belfast office include litigation and dispute management, and banking.
PwC Legal has an altogether different business model that capitalises on 'synergies' with the wider firm. In Northern Ireland it employs a 'significant' number of lawyers across three main areas: employment, legal technology and 'remote' legal support.
'The common factor across these teams is the ability to source top-quality legal talent and use the skills and expertise across PwC's multidisciplinary practice of 22,000 employees in the UK,' says Majella Culbert, head of employment law at PwC NI.
In November, PwC NI launched a new employment law and HR advice service for companies with fewer than 100 employees. For a monthly fixed-fee of £250, they get unlimited access to an HR legal helpline staffed by PwC's lawyers and use of the 'HR Hub' – an online library of HR template documents, legal updates, knowhow and guidance drafted by PwC's employment law experts.
Brexit could see the legal sector in both NI and the Republic of Ireland becoming even stronger, bolstered by clients who still need to work within the framework of EU law

Michael Chissick, Fieldfisher
PwC's free business support apps, including 'Cashflow Coach' and 'My Returns Reminder', are also part of the offering for small businesses.
For an additional fee, clients can get their own dedicated HR lawyer who will provide on-site support.
Increased competition is the other side of the coin of the growing popularity of Belfast as a legal hub. Aside from all the uncertainty in the wider economy caused by the Covid 19 pandemic, the 'demand for talent' is now a challenge, argues Quigley.
'The challenge for us is to adapt, continue investing in our people, and maximise the opportunities provided by legal tech,' Forrester adds.
Belfast is 'a leading centre for legal innovation', TheCityUK points out in its report, hosting lawtech firms such as Axiom, iManage and Briefed. Unsurprisingly, legal technology underpins much of firms' work.
'Technology is front and centre of our plans for growth in Northern Ireland,' Chissick says. 'We use AI platforms and analytics technologies, and we have a data-driven approach to the practice of law with a view to overall efficiencies.'
Technology has enabled firms to decentralise their operations and stay competitive. Chissick compares the legal services market in Northern Ireland with the rest of the UK, which 'has become too crowded and law firms have to be smarter about how they staff and deliver the work'.
The market overall faces 'disruption' from legal technology and new ways of working, but Chissick contends that 'Northern Ireland is probably more able to absorb these changes as [Great Britain] is a far more mature legal market and behaviours and practices may be more entrenched.'
Forrester says 'legal tech enables a firm our size to compete with larger firms and deliver our legal services on time and on budget'. CFR has developed 'e-playbooks' for its transactional services and claims to be the only law firm in Northern Ireland to offer business clients of all sizes a series of 'self-paced' e-learning courses, delivered through its proprietary learning management system. This enables clients to train staff in subjects including data protection, equality and diversity, and health and safety, and to certify this training.
'Legal technology is key to everything we do,' says A&O's Clist. 'We are a tech-enabled lower-cost resource. We always ask ourselves "what tech can we use on this transaction to make it more efficient?"' The LSC in Belfast recently ran a legal tech challenge and the team came up with 44 new lawtech ideas.
'Belfast has been a hub for innovation within the firm right from the outset,' says Bakers' Richards, singling out 'legal project management' as an example. LPM enables in-house lawyers and private practice firms to scope matters more accurately and then conduct work more effectively, thereby keeping costs down. 'It has had a real impact and is helping us to improve on the traditional model of delivering legal services.'
THE TROUBLES: a certification model?
From 1966 to 2006, more than 3,700 people lost their lives during the Northern Ireland's Troubles. 'The true figure of those who died as a result of the Troubles is of course likely to be higher and the number of those hurt by the Troubles must be enormous,' Northern Ireland's attorney general John Larkin QC said in a lecture at think tank the Policy Exchange last month.
Larkin was reflecting on the state of the UK's constitution and the European Convention on Human Rights (ECHR) – particularly Article 2 (the right to life) and its implications for how policy concerning the legacy of the Troubles is made. He said that 'with the passage of time, it has become clearer that the Human Rights Act 1998 [HRA] has been less important as a conveyor "home" of rights under the European Convention than as a tool for the domestic judicial expansion of those rights'.
There is no limitation period for indictable offences at common law, Larkin said, and he recommended introducing a 'certification model for the commencement or continuation of Troubles-related cases in Northern Ireland' (whereby a specialist judge would test legacy allegations against veterans).
He also suggested that 'a future protocol should re-establish the primacy of sovereign states as the creators of international obligations under the [ECHR]'. States would enter 'interpretative declarations within one month of final judgments addressed to them in which they could reject the interpretations of the convention by the [Strasbourg] court'.
Larkin also expressed concerns about 'the scope for judicial lawmaking that might arise from a British Bill of Rights'. He argued that the UK does not need one and that 'its creation and existence would not only lead to an expansion of judicial lawmaking' but also 'be likely to dull or diffuse that keen concern for our rights that ought to exist among members of parliament'.
Lord Brown of Eaton-under-Heywood, a former justice of the Supreme Court, said of Larkin's proposed solutions: 'I don't think these are going to fly frankly. Certification has got terrible problems.' However, he said there was room for some modification of the HRA itself, such as limiting the act 'territorially'.
What about Brexit? Most people voting in the EU referendum in Northern Ireland voted to remain and the Irish border has been centre stage in the Brexit negotiations due to potential repercussions from the Good Friday Agreement.
Like the rest of the UK, Northern Ireland has suffered from the uncertainty surrounding the process of exiting the EU, with Northern Ireland's economy slowing down last year.
Brexit's 'unknowns' have been increased by the Covid-19 pandemic, with speculation that this could lead to an extension of the transition period beyond the end of this year. The lack of certainty has been 'exacerbated' by the absence of a Northern Ireland executive (devolved government) for three years.
Murphy says this has led to 'a more cautious approach to investment and a slowdown in deals' although that has in part been offset by advisory work on Brexit preparedness.
Forrester agrees: 'There have been significant changes in the economy in Northern Ireland, which have brought challenges and opportunities for all business sectors.'
But Murphy says there has been greater demand for employment and immigration law advice. 'The real estate market in Belfast is full of potential and our team in Belfast [led by partner Gareth Planck] has been busy advising investors and developers.'
A recent example saw a cross-office Dublin and Belfast team advising London-based investment firm Blantyre Capital on its multi-million-pound investment in McAvoy Group, an offsite construction specialist in the UK and Ireland.
For CFR, it has also led to 'significant growth and development' of its Brexit 'multi-disciplinary' team, which covers areas such as corporate and commercial, employment and immigration, procurement and construction.
Forrester says: 'We have witnessed a surge in queries around the status of EU workers and how to retain and attract global talent to the UK.'
He adds that international trade post-Brexit is another key issue for his firm's clients, pointing to IP, customs laws, competition law, and movement of capital and currency as some of the many areas Brexit will affect. There has also been a notable increase in data protection work since the coming into force of the GDPR and the Data Protection Act 2018 in May 2019.
Meanwhile, Fieldfisher's Chissick is sanguine about future prospects for the industry. 'Brexit could see the legal sector in both NI and the Republic of Ireland becoming even stronger, bolstered by clients who still need to work within the framework of EU law,' he says.
With operations in Belfast and Dublin, the firm can advise clients who have chosen a base in the Republic 'as the only English-speaking gateway now in the EU,' he says.
Chissick adds: 'In terms of language, culture and legal system, both jurisdictions on the island are closest to mainland UK. Operationally, this makes the transition practical and attractive for legal professionals.'
In February, the NI Assembly reopened at Stormont on the basis of power-sharing. Murphy concludes: 'Now, with an executive in place and at least some parameters around what a Brexit deal might look like, confidence in Northern Ireland is growing and hopefully key decisions necessary to power the local economy will start being made.'

Marialuisa Taddia is a freelance journalist