Just a few weeks ago at the Conservative party conference, David Lidington stood before a room of lawyers and waxed lyrical about how appreciated they were. He made no promises about changes in policy, but this was a justice secretary who understood them, who listened to them, who valued them.
Nobody expected Lidington to announce a complete reversal of the Legal Aid, Sentencing and Punishment of Offenders Act and to answer every other lawyer's prayers when he returned to London.
But this week's decision to ignore 97% of responses and forge ahead with criminal legal aid reforms suggests a lord chancellor indistinguishable from his predecessors.
Worse still, there was even a moment of Grayling-esque condescension from the lord chancellor at this morning's session at the House of Commons justice committee. Lidington smirked as he contemplated the response of lawyers to yesterday's decision, adding: 'The legal professions are nothing if not articulate and frank in making their representations when they don't like something I'm doing.'
Another way of putting that is the legal profession will make its feelings clear when your latest policy, on top of 20 years of cuts, threatens to fatally compromise the work legal aid lawyers do to help some of the most vulnerable people in our society.
Lidington talks a good game, he is polished and he understands his brief. But I don't see him (and perhaps this was the intention of appointment) as someone prepared to bang down the door of the Treasury to free up extra funds.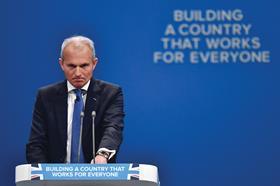 As was pointed out at the justice committee, the MoJ's budget amounts to less than 1% of government spending – and that includes money for prisons. Cuts in legal aid funding are trivial in relative terms (the £400m savings achieved in the past seven years would not even get you halfway to securing the votes of 8 DUP MPs) and yet the lord chancellor seems to have no intention of arguing against them.
Lidington said he was 'conscious' when he sits around the table with cabinet colleagues of their spending demands.
So he should be, but that should not stop him pleading for every last penny out of the Treasury coffers.
All lawyers want to know is they have a lord chancellor straining every sinew to fight for our justice system. After trying the blunderbuss, the maverick and Liz Truss, we now seem to have a steady hand on the tiller. But the direction of travel is the same.