The UK property sector is in a state of flux and practitioners are responding with new ways of working. From the chilling effect of 'Brextention' and increased taxation, to the impact of tech and more demanding clients, the sector is going through an upheaval.
The low down
Commercial property wisdom has it that too many cranes on the horizon means a crash is coming. And the signs are there – even without the uncertainty of Brexit, the construction industry had an 11-year 'bull run', whereas such a run is normally eight to 10 years. Investment volumes in central London offices are down more than a third on 2018. The expectation is that the deals which may follow the UK's exit from the EU will be driven by foreign investors' eye for a bargain. By some measures, things have not been this bad in commercial property since the global financial crisis. High streets and shopping centres are in decline. And yet, this is an innovative sector and lawyers report plenty of interest in their instructions. Many of their transactions are multi-jurisdiction, new asset classes such as student accommodation continue to come on board, and legal technology and 'northshoring' are changing the way they work.
Until the last quarter of 2018, the market had remained largely impervious to Brexit fears. Overseas investors, particularly from the far east, had been flocking into the capital. Commercial property transactions in London more than doubled in the three years to September 2018, soaring by 166% since 2014, according to property technology firm Search Acumen.
But things have since changed, with many non-UK investors taking a wait-and-see approach as a deal with the EU failed to materialise. Investment volumes in central London offices dropped by 37% in the first six months of 2019 compared with 2018, according to Cushman & Wakefield. Investment in UK commercial property reportedly fell by a similar amount in the second quarter of this year.
Property developers are also delaying decision-making. In August, British construction contractors suffered the biggest fall in new orders since March 2009 (when the UK was in recession following the financial crash). Commercial property construction in particular has contracted since April, with fewer new orders for shops and offices.
Alistair Watson, a real estate partner and head of planning & environment at Taylor Wessing in London, says that this 'is the outcome of what the entire industry has been telling government for many months.
'There is now no question mark. It's real. No deal, no development.' He points to 'the risk of a wasteland in development and construction skills. The government needs the development industry to continue to build, and they are not letting us do that'.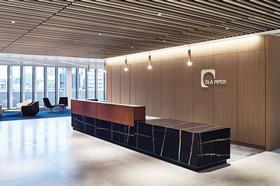 William Naunton, UK head of real estate at DLA Piper, cautions against blaming Brexit for all the sector's woes: 'We have had 11 years of a bull run in the market when most bull runs are between eight and 10 years. So we have had a very strong upward growth for a prolonged period of time and many people have been expecting the market to turn.'
The downturn is also driven by 'systemic' problems in the retail sector, a traditional asset class, Naunton points out. High street shops and shopping centres' capital values and rents have fallen due to rising business rates and labour costs, and the growth in e-commerce. There has been a raft of company voluntary agreements in the sector.
Despite reports that some London legal outfits may be reducing their real estate headcount, none of the firms spoken to by the Gazette say they have done so or are about to. Instead, some have continued to hire and all are adapting business models to follow the money wherever and however their clients invest.
The government needs the development industry to continue to build, and they are not letting us do that

Alistair Watson, Taylor Wessing
Daniel Norris, head of UK real estate at Hogan Lovells, acknowledges that 'the market is quieter and that is principally driven by international money not choosing to invest in London until Brexit is resolved'. Chinese investors, particularly from Hong Kong, 'are waiting to see if the pound deteriorates [further] because then everything becomes cheaper'.
Norris argues that firms' commercial real estate practices are affected in different ways, depending on clients. 'We are much less affected than many other firms because we have a very strong stable of UK investors as clients.' These include Prudential, British Land, Land Securities, the Crown Estate and Shaftesbury. They are not in thrall to the vagaries of the pound because of their focus on buying and selling UK assets.
According to Norris' most recent utilisation statistics, all his fee-earners 'are 100% occupied'. Despite being 'slightly behind the curve in the first half of the year, our work pipeline for the rest of [2019] looks extremely strong'.
Hogan Lovells' clients are continuing to invest in UK commercial real estate, including in prime office space, which Norris says remains 'very stable and profitable. We are doing a massive deal at the moment which will be probably the biggest in the UK this year'.
Fund manager M&G Real Estate, owned by Prudential, is reportedly stepping in to finance the £400m construction of an office tower (nicknamed 'Gotham City') in the City of London after a financing deal with a group of Hong Kong investors fell through. Norris adds: 'People fear that big financial institutions will stop taking [office] space in London in favour of Frankfurt or Paris. But this has yet to materialise. So you still see people making big London investments because they are pretty confident about the long-term state of the letting market, Brexit notwithstanding,' he says.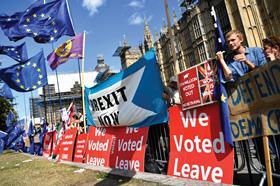 Donald Rowlands, a real estate partner at Herbert Smith Freehills (HSF) in London, acts for developers and investors, including from overseas, on their UK and European projects. 'Investment volumes in the market are definitely down from the beginning of the year, but that isn't to say that there isn't activity,' he says. 'There is a different type of activity in different subsectors of the real estate market.'
Despite some ongoing sizeable transactions in London's central business district, Rowlands says, 'there just isn't the volume in the office investment market at the moment', while 'capital values in the retail sector of the property market are very challenging'.
By contrast, there has been an 'uptick' in activity in the alternative sectors – for example, industrials, including warehouses for data centres and 'last-mile' logistics; the private rented sector; and student housing, with demand from UK and overseas investors largely unaffected by Brexit. HSF recently acted for Allianz Real Estate, the global real estate investment and asset manager of Allianz group, on the creation of a student accommodation real estate joint venture in London with Greystar Real Estate Partners, and Public Sector Pension Investment Board, one of Canada's largest pension investment managers.
'We have structured our business [so] that we have a very diverse client base' says Rowlands. This includes north American investors (global private equity players Blackstone and Brookfield, and Canada Pension Plan Investment Board); sovereign wealth funds (Singapore's GIC and Norway's Norges Bank Investment Management); and UK 'propcos' (Omers' Oxford Properties). Rowlands argues that because the firm acts for a wide range of investors, 'we are able to flex to where the capital is going'.
'Many of our overseas investor clients are looking at other destinations,' says Hugh Lumby, Ashurst's head of the global real estate practice. For example, he points to Europe, where the firm recently bolstered its real estate armoury, including in Milan and Paris, with lateral partner and team hires.
'There is a huge amount of money, globally, looking to be invested, and much of that is allocated to real estate,' Lumby says. 'If it doesn't come to London, it is going to go somewhere else.' Total value of worldwide real estate assets under management reached €2.8tn in 2018, up 12% from €2.5tn in 2017, according to a fund manager survey published in May by real estate investor associations Inrev, Anrev and Ncreif.
As Naunton observes, 'the sources of capital are getting a lot larger'. For the first time last year the world's largest fund manager, Blackstone, surpassed €200bn with total real estate assets under management of €201.6bn, followed by Brookfield and PGIM (part of Prudential) with €163.8bn and €147.7bn respectively. 'When you are looking to deploy [that] amount of capital, you are never going to see it just land in one economy,' Naunton says. 'A number of investments I have made this year have been in more than one jurisdiction where the UK has been a component of it, but not necessarily the only one.' One of Naunton's largest deals was acting for a large property investor on the acquisition of a portfolio of prime assets across multiple jurisdictions, including Germany, France and the UK.
DLA Piper's real estate practice spans several countries. In the UK it has about 200 lawyers, including 45 partners; there are another 'few hundred' in continental Europe and as many in the US. It also has real estate teams in Australia, Asia and the Middle East, as well as 'a burgeoning presence' in Africa. Headcount has increased in the past year. By November seven new partners will have joined the UK's real estate practice since the start of the year, including in London, Birmingham and Edinburgh. These changes reflect an increasing industry trend towards multi-jurisdictional transactions.
Going green
As the language of eco-activism shifts from climate 'change' to 'crisis', can the property and development sector do its bit to reduce its carbon footprint? There are several areas where commercial property lawyers can assist.
Notably, much is made of 'green leases'. Green leases are an agreement between landlord and tenant on sustainability goals such as improving a building's energy efficiency – through built-in physical features, the way a building is used, or the way it is maintained. Since green leases lead to lower utility bills, in the long run they tend to benefit tenants most directly.
Due diligence ahead of signing a lease will include reviewing the building's energy efficiency certificate, but policies and training may also need to be put in place so that working practices do not undermine good intentions.
Lawyers are not just following clients around the globe, but also adapting their practices in other ways. Simon Hart, a partner in the real estate department at Mishcon de Reya in London, says: 'The uncertainty surrounding Brexit has inevitably impacted on the volume and value of commercial property deals we are seeing within the market.' Most of Hart's clients take a long-term approach to development and investment, so have remained active despite uncertainty. Yet 'counter-cyclical' practices such as property litigation have been busier because in a slower market investors and other clients take the time to scrutinise activity around their properties and portfolios, he explains: 'In addition, debt finance through loans secured against underlying commercial real estate is an attractive investment route in a slow market. We recently launched a new debt advisory business, headed by partner Omega Poole, which focuses on debt sourcing.'
Still more factors not related to Brexit are adding to the uncertainty of investing in commercial real estate in the UK.
Historically, the country has been regarded as 'very low-risk' politically, with a 'very benign tax status' – yet, as Naunton observes, this has changed in recent years. 'If you look at the incidence of taxation on real estate, it has grown enormously,' he says. Since April this year, gains on the disposal of any UK property (commercial or residential) by non-resident individuals, companies and trusts, are taxable (either through capital gains tax or corporation tax). That is in addition to a raft of other changes to property tax progressively introduced since 2012: for example, the annual tax on enveloped dwellings, or ATED; and reforms to stamp duty land tax (SDLT). Further changes are being considered, including an additional 1% surcharge across all SDLT rates for non-UK residents.
The consequences for practitioners have been two-fold: 'It is quite clear that the UK government wants to clamp down on the use of offshore structures that reduce tax take,' says Norris. 'A lot of people used offshore structures to avoid that capital gains charge which is no longer available and that has an impact on people's inclination to use those structures. Many of the UK funds won't do it now,' he adds, and are instead looking at UK onshore alternatives such as real estate investment trusts (REITs).
Norris explains that through REITs the UK government wants to create a 'domestic tax-efficient means of investing in the UK. They are of particular interest to [clients] because of their tax efficiency'. They also do away with the ongoing costs of managing businesses – there is no need for all those flights to the Caribbean.
The other side of the coin is that investors in UK real estate now need more tax advice than ever before. Rowlands says: 'We have seen much more focus on ensuring that the new taxation rules are fully understood and any changes that are required for structures are happening.'
That also means that real estate practices are a one-stop shop, offering a range of legal services. 'We operate on a sector-basis because in the modern real estate market clients aren't interested in the individual practices,' says Lumby. 'For example, funds are increasingly looking at real estate and infrastructure together.'
Ashurst has more than 20 transactional real estate partners in London, spanning a spectrum of expertise including finance, construction, planning, environmental and tax law. 'The whole market is changing, and we are changing with that to be more joined-up,' Lumby says.
Men behaving badly?
The property industry, in common with other sectors, has found its conduct under ever-closer scrutiny.
The annual property 'jamboree', MIPIM, gathers 'all the key players of the property market' in Cannes (pictured) each year – this year they numbered 26,000 professionals, investors and other industry players. Commercial law firms are prominent among those attending, some traditionally renting high-end yachts for entertainment.
But the global financial crash led to criticism of corporate extravagance at the event, and the #MeToo movement put accusations of participants' harassment record, and sexist or gendered entertainment choices, into the open. The style of events around the conference is, organisers say, changing in response to such criticism.
What about the carbon footprint? Some lawyers have been urging more delegates to take the train – or even to cycle – rather than fly in.
Northshoring
City firms increasingly rely on their regional centres to handle real estate work more efficiently and cost-effectively for clients, albeit with different approaches.
At Hogan Lovells, about 15 fee-earners, 20% of total real estate headcount in the UK, are based in the Birmingham office which launched in December 2014. 'They do exactly the same work as colleagues here in London,' Norris says. 'There is a tendency with some practices to send the lower-value work out to the regional centres. We did look at that model originally but decided it doesn't work for us and our clients.'
Around three-quarters of DLA's UK real estate team is based outside London, as part of its strategy to create centres of specialism or 'excellence' across the country. While the London office remains a key hub, the firm's regional offices focus on different segments of the commercial real estate market: Birmingham and Manchester for real estate development; Edinburgh and Liverpool for real estate investments (including asset management); Leeds and Sheffield for corporate occupiers.
From its Leeds office, DLA also operates a 'legal delivery centre' with paralegals who handle the more routine aspects of real estate and other legal work.
HSF responded to client demands of 'more for less' by starting up its own 'alternative legal services' business. This handles high-volume and document-intensive legal work and now spans nine hubs around the globe. Launched in Belfast in 2011 with a team of 19 fee-earners, the office now has over 250.
Real estate was the first practice to establish in Belfast, where there is now a dedicated team of 12 lawyers. 'We work closely with them on a number of different mandates,' says Rowlands. 'We look at opportunities to vertically segregate the work insofar as we can. There are always parts of the job which lend themselves to being done by a lower-cost operation base and we will try and use our business over there as much as we can.'
'This is a new way of doing work,' says Lumby, arguing that this is about growth facilitated by new technology and not cost-reduction. 'We are in effect now able to do types of work that traditionally we could not because we could not compete on a cost-effective basis.' For example, automation and artificial intelligence have transformed the way the firm conducts legal due diligence in real estate transactions (which it does through its Glasgow-based Ashurst Advance team of over 140 legal analysts), significantly speeding up the process while ensuring greater accuracy.
Lawtech and proptech
Proptech play

DLA Piper's 'proptech' practice, launched earlier this year, advises clients working 'at the intersection of the real estate and technology sectors'. These include traditional property investors and developers, emerging proptech companies and 'proptech-oriented funds'.
Proptech is a term for a multitude of different transactions, explains William Naunton, UK head of real estate at DLA Piper. It includes but is not limited to data centres, smart buildings and cities, and shopping centres. 'For example, GDPR is quite a major issue for shopping centres, if they are starting to track their shoppers' desires and wishes, and pulling in data from their mobile phones,' Naunton says.
The practice straddles both sides of the pond with two partners based in Chicago (Gregory Grossman and Heidi Azulay) and a further two in London (Paul Jayson and Anthony Day, a tech lawyer).
'There is an increasing interest in proptech from within our client base,' says Naunton, adding that the practice brings together 'a repository of knowledge' and the go-to lawyers for clients seeking legal advice in this area.
Technology is having a profound impact on commercial real estate practices.
It is a two-sided coin. On one side is 'lawtech', which enables lawyers to provide 'better, faster and cheaper services' to clients; on the other is 'proptech', which is the impact of technology on the client's business. Norris points to drone technology in construction and the need for buildings to integrate charging for electric cars. Designing in stable energy supplies from renewables to make buildings energy-efficient and carbon neutral is another significant source of work.
Hogan Lovells is also advising the Crown Estates on its renewable energy business, including its offshore wind portfolio. This further highlights how technology innovation is transforming real estate practice as property clients diversify their interests – and the smart firms are geared up to follow them.
Driven by client demand, commercial real estate lawyers are increasingly harnessing the benefits of legal technology. Keith Barnett, a partner and head of Taylor Wessing's real estate group in London, says: 'For over three years, we have had our own bespoke software. We have also started to automate a range of real estate documents, meaning we can produce first draft deal documents soon after receiving instructions.'
Barnett says this is good for clients (because a quicker turnaround results in lower costs and more efficiency) and the firm (because it can win more business).
Lawtech is also an important and growing part of Mishcon de Reya's real estate practice. Notably, the firm has worked with AEW, a large institutional investor client and its management agents, MJ Mapp, to develop a 'tool' which combines machine-learning, data extraction and document automation software to collect and transfer lease and tenancy data. The tool was used by AEW to purchase three multi-let properties, consisting of 45 commercial leases.
Upon completion of the transactions, the lease data was transferred to MJ Mapp's property management system, saving over 20 hours of manual data inputting, according to the firm. Mishcon has also partnered with technology provider Kira to help build its AI-driven lease extraction models for the UK real estate market.
Leases are a key cause for delay in commercial property transactions, hence why firms are adopting lease information extraction technologies. With the advance of legal tech, lawyers can now process ever larger transactions which are in demand from the huge funds now dedicated to this sector.
Naunton points to a recent example, the refinancing of an 800-property portfolio, split equally between leaseholds and freeholds. He needed to check whether there were any restrictions on the legal title of any of the properties, meaning third-party consent was needed before registering a legal charge at Land Registry.
Naunton says: 'We put all Land Registry entries and all of the leases through AI. It took a morning to do what would otherwise have taken 30 paralegals seven or eight days to do. We picked out correctly just those properties where we needed to [obtain] third-party consent to be able to mortgage those properties very quickly. In my mind this is actually not about saving costs, this is about producing a faster, more consistent, higher-quality output to clients.'
Firms are also experimenting with blockchain. Hogan Lovells last year advised on the first ever blockchain transaction in the Polish office market – the parties involved included Business Link, the largest co-working operator in the country, and Polish start-up ShareSpace. According to Hogan Lovells it allowed for the 'access, verification, and validation of the documents and commercial arrangements' in a way that 'significantly reduced the time of the negotiations' with multiple parties. Norris, whose firm is currently trialling another blockchain transaction in the UK, is cautious however. 'We don't think the market in the world is ready for blockchain deals,' he says. Not yet, at least.

Marialuisa Taddia is a freelance journalist