The date, terms and even certainty of the UK's departure from the EU are all in doubt, but law firms can still do more to plan and prepare. Melanie Newman reports
THE LOW DOWN
Law firms of all sizes will be affected by the UK's departure from the EU. Firms that planned for an exit on 29 March or 30 June 2019 could be forgiven for feeling jaded, but no one should rely on ennui as a business strategy. Serious risks reside in contracts that would fail to perform in the event of market turmoil, currency movements, regulatory change and new trade barriers. Practising rights and the immigration status of staff and partners must, where possible, be checked, secured and regularised. Data protection is one of the biggest known headaches – and do staff and partners know what to do in the event of civil unrest?
With only 17 days to go to the 31 October Brexit deadline, all outcomes were possible as the Gazette went to press: from a deal accepted by parliament, a no-deal crash-out, an extension to 31 January or beyond, a general election, a second referendum or a revocation of Article 50. Nothing is certain – not even an end to uncertainty. Given the first date is so close and the outcome still so unclear, is it worth law firms making further detailed preparations now?
Certainly, says Claire Larbey, who runs Trowers & Hamlins' general counsel and risk teams: 'While the majority of law firms have been working on Brexit preparations for some time, there are areas they should be rechecking now to ensure they are doing all they can to protect them and their clients in the event of a no-deal Brexit.' Her advice is to gather together the managing partner, heads of individual practice groups and heads of business functions such as HR, finance, risk, marketing and operations to run through a 'Brexit checklist'.
Data transfer is one area that will affect any firm with clients in Europe, she points out. On exit day, if there is no deal, the UK will become a 'third country' under the General Data Protection Regulation, which means if personal data flows from the EU to the UK from clients, third parties or suppliers, firms will need to put new contractual provisions in place. 'The Information Commissioner's Office has a comprehensive tool and provides guidance on standard contractual clauses,' Larbey notes.
She also suggests firms check where data is held (for example, is it on servers in the UK?). 'If you are offering services to individuals within the EU, consider whether you need to appoint a representative in the EU because you will still be subject to the EU GDPR,' she adds. A sweep of your privacy notices and standard terms of engagement to check for provisions that need to change from EU GDPR to UK GDPR is also a good idea.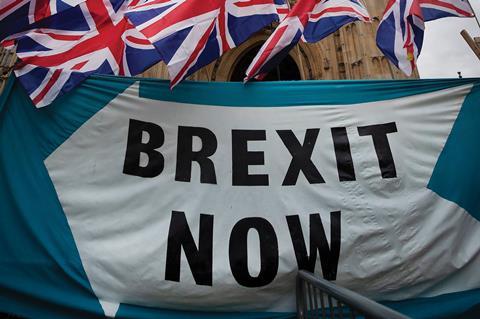 For Hogan Lovells, flexibility and focusing attention on business areas most likely to be affected are key. Speaking at a webinar in September, Susan Bright, the firm's managing partner for the UK and Africa, said: 'It's really important to focus on the areas of higher risk rather than trying to cover everything.' Bright also warns against focusing on a particular outcome, even if it seems the most likely result at a particular time. 'Try to avoid locking yourself into no-deal plans which then won't work if the date changes or if there isn't a no-deal exit.' Instead, you should be ready for whatever happens.
Besides preparing for a range of outcomes, she suggested preparations focus on cross-border data flows, issues concerning overseas staff, compliance with regulations, back-office systems and contracts. Contracts should give firms and their clients the flexibility to pass on cost increases resulting from tariffs and close off the risk of a counterparty claiming force majeure post-Brexit. 'Do think about new contracts you may be entering into and whether they expose you to potential risk,' Bright advised.
Although both the UK and the EU are planning contingency measures if the UK exits without a deal, they will not be able to extinguish the possibility of an economic shock post-exit, says Tom Bridgford, commercial partner at Eversheds Sutherland. 'If a counterparty's financial covenant is weakening or its business model is under threat, how does that impact on your commercial arrangements?'
He recommends firms carry out a risk assessment of contracts to identify priorities, for example by focusing on strategic contracts or relationships which are dependent on EU trade, funding or authorisations.
'Score these by value of contract, then assess the extent to which they are likely to be affected by market turmoil, currency movements, regulatory change and new trade barriers,' he says. 'Next, look at the possible contractual mechanisms you can use to mitigate these risks. But remember these mechanisms can cut both ways. Previous assumptions used when selecting a jurisdiction for the contract may no longer be appropriate.'
At a recent conference Etienne Dessy, head of Linklaters' Brussels financial regulation and investment funds practice, said his firm was seeing more and more commercial contracts written in US law. That prompted a rueful comment from a delegate that 'the only winners from Brexit are US law firms'.

Suzanne Gill, real estate partner at Wedlake Bell, points out that building managers need to be involved in firms' plans: 'One Mumsnet thread picked up by the Financial Times predicted shortages of loo roll – very bulky to store with low-profit margins. If you run a building, how do you maintain supplies and stop theft? Operation Yellowhammer warned of the risk of civil unrest – how secure is the building? Is it likely to be a target or next door to a building which might be? Are all employees aware of the lock-down process?'
European lawyers working in the UK are unlikely to consider themselves winners from Brexit, regardless of the outcome.
Measures introduced to create a single market where European Economic Area (EEA) lawyers can operate in each other's jurisdictions will no longer apply to the UK. This means that EEA lawyers will no longer be able to provide the six 'reserved legal activities' here or seek admission to the local profession based on experience.
Registered European lawyers (RELs) can breathe a sigh of relief, though, because whatever happens they will have until the end of next year to sort out how they will continue to practise in the UK, even in the event of a no-deal Brexit. Under guidance on the implications of no-deal for lawyers issued in August 2019, the government said RELs would retain their pre-Brexit practising and qualification rights until 31 December 2020.
PEOPLE AND INFRASTRUCTURE
'On the day after the EU referendum, we formed a subcommittee to think about Brexit-related matters,' says Corinne Staves, a partner specialising in UK and international estate planning at boutique private client law firm Maurice Turnor Gardner. 'Brexit is just another factor affecting our business so our risk team keep it under review, like any other risk.
'Like all businesses, we may suffer from the short-term complications. We have joked about the impact of KitKat shortages, and in any event our disaster recovery plans allow for us all to work remotely (and eat KitKats at home instead).
'We already have robust financial management systems and processes. Fluctuations in currency affect any business, but we are much less affected than those who operate in many jurisdictions. In fact, for non-UK clients a drop in sterling would represent a discount on our charges, so hopefully those clients will settle outstanding invoices. Brexit will not change the fact that prudent cashflow management is vital to a professional services firm.
'The reality is that our business relies heavily on its people and infrastructure. We can press our IT providers about their contingency plans but we cannot control these. We can keep an eye on our team's foreign travel plans. Simple steps like avoiding business travel in the first few days following the UK's exit or allowing extra time could make a huge difference.'
European lawyers in the UK who are not RELs will have to requalify to provide reserved legal activities, restrict their practice to unreserved legal work or register as a registered foreign lawyer (RFL) and work jointly with a UK lawyer.
Laura Devine, founding partner of boutique firm Laura Devine Immigration, tells the Gazette: 'With the details surrounding Brexit changing on a daily basis, it is imperative that firms stay abreast of new developments in real time. This means having a team member or reliable third party responsible for reviewing and reporting on proposed changes, relevant legislation, and future deadlines.' Staff will need to be updated as appropriate.
'Depending on the size and resources of the firm, this could include HR-led online or in-person information sessions, sending email updates, and/or providing educational leaflets and postings around the office.'
She also recommends that firms consider future hiring strategies now. 'Assuming that the UK does withdraw from the EU, it is reasonable to expect that hiring EU nationals under the post-Brexit immigration system will be comparatively more expensive, time-consuming, and more complicated than under free movement. So some firms may wish to consider hiring additional EU staff before new rules come into force.'
Meanwhile, UK law firms with staff working in Europe have been making preparations for some time, says Tony Williams, a former managing partner of Clifford Chance and now principal of the law firm consultancy Jomati.
'Most firms have done the basics in terms of encouraging lawyers who can get other EU passports to do so and EU lawyers to get UK passports,' Williams says. But this will not necessarily be enough.
The Ministry of Justice guidance states: 'We expect that UK lawyers working in the EU and in Iceland, Liechtenstein or Norway under UK qualifications and professional titles will need to register in the same way as a non-EU lawyer.' Work by the European Commission on recognition of professional qualifications is still ongoing, and while the Law Society has issued country-specific updates on the state of play, considerable uncertainty remains.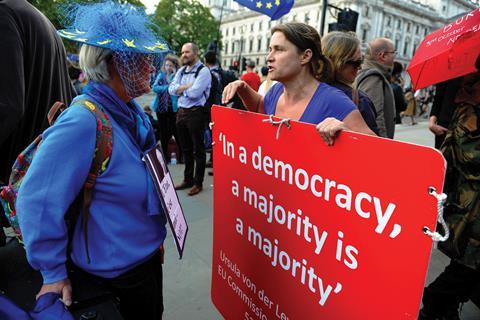 The ability of UK lawyers to appear before European institutions such as the European Court of Justice or to enjoy legal professional privilege may be affected by Brexit, Williams explains. The confidentiality of communications between clients and lawyers who are not qualified in a country within the EEA are not protected.
To seek a way around this firms have arranged for some of their lawyers to be admitted as solicitors in Ireland. The latest figures show almost 4,000 'Brexit refugees' have registered with the Law Society of Ireland since 2016, with 1,560 applications in the year to September 2019. To date, Allen & Overy and Linklaters have the largest number of lawyers signed up to the Irish roll at 287 and 250 respectively. Only around a quarter of the new registrants have an Irish practising certificate.
But doubts remain over whether this device will work in practice. In March the Irish Law Society told lawyers they would need a base in the country and indemnity insurance issued there in order to rely fully on Irish practising certificates. Neither could Irish practising certificates be relied on as a route to offering Irish or EU legal services from outside Ireland, the Society added. Pinsent Masons and Covington & Burling were the first to address that risk, opening Dublin offices in 2017. Clyde & Co, DLA Piper, Lewis Silkin and Simmons & Simmons followed suit. In May 2019 Fieldfisher merged with 'top 20' Irish firm McDowell Purcell, while Bristows and Macfarlanes set up shop in Brussels.
'Many firms have also reviewed the legal structure of their European operations to ensure that they are compliant with local bar rules following Brexit,' Williams says. However, most have not put these plans into effect because they are waiting to find out what version of Brexit occurs, he adds: 'If there is a no-deal Brexit on 31 October there could be a mad scramble to implement compliant structures.' This could entail changing a European office's status from a branch of the English LLP to an office constituted under the laws of the relevant member state, he says. Alternatively, all EU offices could be put into a separate entity.
And what of the smaller firms with clients drawn locally or regionally? As British people and companies will always need legal advice, do these firms need to think about Brexit at all?
Viv Williams is director of the consultancy Symphony Legal, which advises law firms on strategy. According to Williams, Brexit is one more stress factor for a sector that is already under strain, with more and more traditional practice areas becoming unprofitable or uncompetitive due to policy or market changes.
Property is an obvious area, with transactions falling by a fifth in recent months, he says, adding: 'We are all aware of the pressure on certain sectors such as personal injury and legal aid with many firms over-geared with significant debt levels.'
On top of this, the Solicitors Regulation Authority has opened the door to more competition in the legal services market and many more accountants, independent financial advisers and insurance companies could be competing directly in the traditional solicitor market within the next year.
As a result, banks and secondary lenders are becoming more nervous about the stability of many practices, with some reducing the overdraft facilities of firms they perceive as vulnerable.
Firms that don't prepare for external and internal change will probably not be around for long in the post-Brexit world

Viv Williams, Symphony Legal
Preparations for Brexit should therefore align with what law firms should have been doing already: adapting to a changing market and protecting themselves against uncertainty, Williams says. 'Succession planning, workforce planning, investing in technology – which has sadly not been a priority for many firms – having a clear strategy for the future. Knowing who your future owners will be, what services you will be offering, what corporate structure will be in place.' That might mean taking tough decisions to close unprofitable areas or finding a suitable merger partner.
In July, Westminster private client firm Child & Child went into administration. The administrator's report highlighted 'cashflow difficulties' caus ed by excess office space, a fall in residential conveyancing caused by Brexit and clients taking longer to pay. And research published this summer shows it is not just smaller outfits that are financially fragile. One analysis of the accounts of 50 top firms found their combined monthly payroll was on average £610m, but these firms had average cash of just £410m. If client payments are delayed as a result of Brexit, they could find themselves in serious trouble.
Giles Murphy, head of professional practice at Smith & Williamson, tells the Gazette the cash firms should ideally hold in reserve depends on the volatility of their business. 'For practices that receive a regular, predictable flow of cash from their clients, the amount of cash they need to hold will be lower, while those which have a dependency upon, say, contingency fee work, will need to hold more.' In more heavily regulated sectors, businesses are required to maintain minimum levels of capital. There is a principle that firms keep a minimum of three months' expenditure in reserve, Murphy says: 'I would suggest this is a good starting point for law firms to consider.'
Getting your house in order is the correct approach for the future beyond Brexit, whatever the outcome, Symphony Legal's Williams concludes.
'There will always be demand for legal services and I am convinced that both the public and businesses will still wish to purchase those services locally. However, firms that don't prepare for external and internal change will probably not be around for long in the post-Brexit world.'
Melanie Newman is a freelance journalist