An embattled manufacturing sector is making increasingly complex demands of its legal advisers
The low down
Some £192bn of goods are 'Made in the UK' by a 2.7 million-strong workforce. But manufacturing was experiencing a sustained period of decline even before the pandemic. 'Cash optimisation and mitigation strategies' have been an immediate priority, even as force majeure clauses were pored over and employment advice sought. M&A deals are commonly on hold, with many unlikely to go ahead even by Q4 – for many practices, such corporate activity is linked to insolvency and distress. Yet all is not doom and gloom. The tech economy continues to operate more normally, and shocks to manufacturing may well bring forward changes that the sector was always going to have to tackle at some point, from adapting to climate change to dealing with greater automation and artificial intelligence.
Times are tough for manufacturers and their supply chains. As well as a deep recession, automation and the green agenda, there is Brexit on as yet uncertain terms and the prospect of a deterioration in the state of international trade, as China and the US indulge in periodic bouts of trade-policy belligerence.
The UK is a service-led economy, but it is still the world's ninth-largest manufacturing nation. Data from Make UK, which represents the sector, shows manufacturing employs 2.7 million people, produces £192bn in goods annually and accounts for 44% of total exports.
But while the lockdown hit supply and demand, UK manufacturing was already facing challenges, including global competition from China, and keeping abreast of technological development brought about by the 'fourth industrial revolution' or 'Industry 4.0'.
There has been so much focus on the fallout from Covid-19 that we have almost lost sight of the state of the manufacturing sector in the lead-up to it. It was pretty embattled already

Tim Lake, DLA
As DLA corporate partner Tim Lake observes: 'The sector as a whole was not in a position of strength as it entered the crisis. There has been so much focus on the fallout from Covid-19 that we have almost lost sight of the state of the manufacturing sector in the lead-up to it. It was pretty embattled already.'
By December last year, UK manufacturing activity had already taken 'a turn for the worse', registering the steepest deterioration in output in seven and a half years, and an eighth consecutive month of decline.
Lake, who leads DLA's industrial sector team in the UK, ascribes this to a combination of reasons, including a decelerating global economy, trade tensions, reduced consumer confidence and a slowdown in demand.
The pandemic has affected parts of the industry more than others.
'Aerospace and automotive have been hammered unbelievably badly as a result of Covid-19 and the outlook for those sub-sectors, in particular, is perhaps a lot greyer than for some of the others,' says Lake, who also advises clients in chemicals and general advanced manufacturing.
And client needs are changing. Jannan Crozier, a partner in Baker McKenzie's corporate practice, says manufacturing clients 'are not buying a specific legal service or a practice area – they need their lawyers to support their business much more holistically than in previous periods'. This means understanding the challenges they are facing and suggesting solutions, while 'staying true to their corporate culture and their brand'.
Lake uses a more comforting analogy: 'The way we have supported our clients has been immense. We have gone to a new level in terms of really trying to wrap our arms around clients through what is a very difficult set of circumstances.'
Not all clients have needed rescuing. 'There are pockets of manufacturers who have actually done very well out of the crisis,' says Lake, pointing to supply chains and the manufacturing of PPE and medical equipment such as ventilators. 'We have been helping clients who have needed to gear-up production and take on more staff, and access agency workers temporarily to deal with an uptick in demand.'
Cashflow is king
Dorrien Peters, partner and head of Irwin Mitchell's manufacturing group, says the level of government intervention is what has set this crisis apart from other recessionary crises. Schemes include the Coronavirus Job Retention Scheme, which was open for applications on 20 April and allows employers to claim cash grants worth up to 80% of wages, capped at £2,500 a month per worker; the 'flexible furlough scheme', which enables firms to decide the hours and shift patterns of their employees, with the government continuing to pay 80% of salaries for the hours they do not work; and the 'Job Retention Bonus', a one-off payment of £1,000 to employers for every furloughed employee who remains continuously employed until the end of January.
Peters says that government support was rolled out very quickly and, consequently, 'our employment lawyers have been extraordinarily busy'.
Nevertheless, Peters adds: 'Cashflow issues continue to be a significant concern for businesses, suggesting that liquidity, in addition to solvency, will determine how businesses fare through the pandemic and the impact on the economy.'
The closure of factories and disruption of supply chains sparked an 'immediate focus on cashflow and working capital, and on keeping the business liquid', Lake adds. 'The mantra that "cashflow is king" couldn't have been more relevant in the early weeks and as we moved through Covid-19.' A survey of 600 British Chambers of Commerce members, carried out at the end of March, found that most (62%) had no more than three months of cash left to cover running costs.
DLA Piper has helped manufacturing clients 'up and down the value chain' access alternative funding sources and government loan schemes. These include the Covid Corporate Financing Facility (CCFF) – the joint HM Treasury and Bank of England lending facility designed to support liquidity among larger firms – the Coronavirus Business Interruption Loan Scheme (CBILS) for SMEs, and the Bounce Back Loan Scheme (BBLS) for smaller businesses. Lake describes this as 'probably the biggest area of work' for the firm as a result of manufacturers' cashflow problems.
Clients across all sub-sectors have also rolled out 'cash optimisation and mitigation strategies' – from closing plants and shelving M&As and capital spending, to postponing or cancelling dividend payments to shareholders and executives, and cutting senior staff salaries.
'There has also been a lot of engagement with debtors and we have advised clients on helping them gear-up their credit control facilities and functions, and to put more robust credit control procedures in place to free up cash,' Lake says.
Manufacturers have also been addressing supply chain 'gaps' caused by supplier insolvency, terminated contractual relationships and geographical changes necessitated by the pandemic.
'Reassessing and rebuilding supply chain networks includes identifying new suppliers, renegotiating with existing suppliers and addressing contractual disputes,' Crozier says.
Tom Scourfield, co-head of CMS's consumer and retail sector group, notes that contractual obligations have been put under the microscope. 'Since the crisis took hold, companies have been reviewing the provisions of their contracts to see if the outbreak might amount to force majeure or a frustrating event,' he says. 'Absent specific wording such as "outbreak of disease" or "epidemic", this can be difficult.'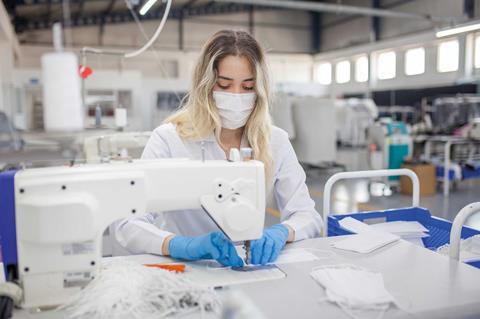 Record decline
A survey of more than 300 manufacturers conducted by Make UK between 29 April and 20 May found manufacturing output had plunged to a 'record low', with orders falling to levels only observed during the worst of the 2008 financial crisis. While 'all sectors suffered a severe drop in output', those closely associated with the automotive, aerospace and construction suffered 'very badly'.
Just 11.7% of companies said they were operating at full capacity and many were already implementing redundancies. 'Without the Job Retention Scheme, it is highly likely the employment figures would have reached the worst levels in the survey's history,' says Make UK. It estimates manufacturing will contract by almost 10% in 2020 before growing 6.2% next year.
Manufacturing was hit much harder by the lockdown than other sectors, according to a joint report published in May by law firm Irwin Mitchell and CEBR, losing £540m a day due to a fall in consumer demand. With only a few exceptions, UK manufacturing almost completely shut down.
Two phases
Mark Bardell, corporate partner and co-head of manufacturing and industrials at Herbert Smith Freehills, distinguishes two phases of the crisis. While the first was characterised by 'very quick immediate advice' concerning liquidity, supply chains, force majeure and related contractual provisions, 'in the second phase, which we are currently still in, clients are looking up from those immediate operational difficulties and trying to project forward', he says.
This includes rebuilding production levels, planning for the safe return of the workforce, accessing additional equity financing to pay off debt, and increasing capital expenditure in a low-revenue and low-profit environment that could last until 2022.
Manufacturers face an uphill struggle without a significant corporate shake-up. According to Bardell, there is both the need to cut costs and also the 'pressure towards quite fundamental changes in many industries'.
Using automotive as an example, he says: 'There is an impetus towards electrification, which is partly consumer preference, partly ESG [environmental, social and governance]-related, and that is going to require a lot of capital to invest.'
This is, in turn, putting pressure on pursuing joint ventures, M&As and other corporate deals that were 'put on pause or completely abandoned during the first phase of the crisis', says Bardell. He adds: 'We are just seeing in the last month or so that activity picking up again.' However, he cautions it is 'all early stage' and deals are unlikely to be completed or announced before Q4 of this year.
Such M&A activity as there is, Crozier says, will be 'distressed M&A… sale of non-core assets, and underperforming business units may be a liquidity maximisation strategy available for some companies'.
She adds: 'Stronger companies will have opportunities to pursue strategic acquisitions, often at lower prices, such as technology solutions or suppliers that provide critical components or are located in key geographies.'
They need their lawyers to support their business much more holistically than in previous periods

Jannan Crozier, Baker McKenzie
Supply issues
Covid-19 has severely disrupted supply chains across the world, and this could result in clients bringing them back home through onshoring and nearshoring.
'We'll start to see the notion of complex supply chains unwind and there will be quite a lot of consolidation,' says Lake. 'In recent years, manufacturers have focused on reducing supply chain costs [by] pursuing more aggressive lean manufacturing strategies, and offshoring and outsourcing have been a common theme.'
Peters says that while some transactions have been put on hold because of logistical issues, such as conducting proper due diligence amid travel restrictions, others have been progressing as normal, albeit with greater scrutiny over the numbers and forecasts. 'But most surprisingly, we have had many new instructions and new investments, particularly on the tech side, far more than we had anticipated given the current climate,' he says.
There are two sides to the story of clients calling on their lawyers in times of need. Despite 'many hours spent' on 'a variety of short-term legal advice', there has been 'a measured reduction in terms of revenue and profits during this period', Bardell points out. But with the return of corporate activity and an increase in disputes, particularly in the supply chain, Bardell expects these areas to be 'busy' in the coming months.
While in the early stages of the crisis clients were unlikely to start 'fully fledged arbitrations or court claims against counter-parties who they needed to work with quite closely during this difficult period, as things settle and cost reductions become clearer, [they] are going to be forced by commercial reasons to start their disputes in a formal way', he says.
Scourfield adds: 'We expect disputes to continue to arise as companies review the wording of their provisions and consider whether contracts should be amended or terminated.'
Unprecedented government support for business and employees put temporary brakes on job cuts and insolvencies. But this is changing as the business assistance packages wind down and end.
'Insolvency and debt-restructuring services are high on the agenda, as manufacturers try to steady their businesses,' Peter says. 'In recent weeks, some high-profile names have entered into formal insolvency processes and the knock-on effect for manufacturers that supply these businesses is an inevitable consequence.' The same is true of redundancies.
Andrew Roberts, partner and sector lead for manufacturing at national firm Weightmans, acts for a wide range of UK manufacturers, with clients operating in sub-sectors including automative, food manufacturing and packaging.
Reflecting a wider trend, the firm's employment lawyers have been advising manufacturers on HR issues related to Covid-19, such as flexible furlough, he says. But he adds: 'Sadly, we find that we are also being called upon to advise manufacturers on planned redundancies and site closures.
'The growing list of manufacturers that have announced significant redundancies because orders have slowed is inevitably going to have an adverse knock-on effect on the manufacturers in their supply chains.'
Aircraft maker Airbus has announced plans to cut 15,000 jobs, including 1,700 in the UK. More than 6,000 UK automotive job cuts were announced in June, according to trade body the Society of Motor Manufacturers and Traders.
A Make UK survey conducted at the end of June, found that 42% of companies in the manufacturing sector planned to make redundancies in the next six months.
No deal or a bad deal?
Brexit and the pandemic are 'a double-whammy' for the sector. 'Assuming there is no comprehensive UK-EU trade deal, we'll be looking at, among other things, trade barriers, restrictions on employing certain EU workers, and potentially divergent product standards and labelling regimes,' argues Dentons partner Martin Mankabady. 'Adding into this mix macro-political uncertainty, an economic downturn and reduced consumer demand, the outlook is pretty gloomy to say the least.' On the upside, he predicts that this is probably 'the bottom of the malaise and we may see signs of a recovery, even it if is slow and protracted.'
Since it was confirmed in June that there will be no extension of the transition period beyond 31 December, 'Brexit has come back to the top of the agenda,' says Paul Hardy, Brexit director and UK head of government affairs at DLA Piper. That was the 'trigger point' for clients to start ringing up for advice, including on 'no-deal' planning.
Hardy says many manufacturers already had no-deal contingency plans or Brexit mitigation strategies in place and that work already undertaken 'isn't redundant'; however, there are differences from previous no-deal planning such as the Northern Ireland Protocol in the Brexit Withdrawal Treaty, which replaces the controversial 'backstop'.
The shortage of PPE and ventilators has revealed the vulnerability of complex global supply chains and made British manufacturers keener than ever to maintain close ties with the EU. 'Covid-19 is likely to increase the protectionist agenda in trade,' Hardy states. 'But there is now a question mark about how easy global supply chains are to operate in a time of a crisis like the pandemic. That makes closer trading ties with the EU even more important than they were 12 months ago.'
In an open letter to Boris Johnson on 30 June, a cross-sector group comprising the Chemicals Business Association, the Manufacturing Technology Association and hundreds of SMEs said that no deal or a bad deal would be 'hugely damaging to the UK economy'.
Manufacturers' key concerns centre on customs, regulatory approvals, stockpiling and tariffs. However, Hardy says if a UK-EU trade deal is reached by the end of the year, it will cover goods, not services.
Human touch
HR and employment law advice has increased, but has also evolved to reflect the uniqueness of this crisis – from working remotely to advising clients when employees are refusing to attend work because they do not think it is Covid-safe.
'Support around human capital and the workforce is going to be absolutely key as we continue to move forward – particularly around helping clients design and implement a return-to-work plan on the right side of government guidelines and restrictions concerning social distancing, track-and-trace of employees and decontamination of premises,' Lake says.
The pandemic has significantly changed how manufacturers manage their workforces, according to Crozier. As companies resume higher production levels, they are introducing additional measures to protect workers, including automating tasks, contact-tracing and temperature checks, as well as implementing processes to gather data on workers and keep track of their movements.
'These activities raise myriad legal questions related to employment, health and safety, data privacy and security, and IP licensing,' she says.
Peters adds: 'We have seen an increase in data protection advice work as employers collect more personal health-related data from employees returning to work.'
The working-from-home revolution is also affecting manufacturers, particularly those with large head-office functions, so legal advice has been sought on remote-working policies and technology.
'For a lot of clients, the notion of remote working was anathema and they didn't necessarily have a corporate view, let alone a policy,' says Lake.
Not everyone can or wants to work from home and this creates 'real issues around employment and wellbeing in terms of how we ensure that the social change that has been imposed upon us works for everyone', Peters notes.
Furthermore, workers may wish or need to work more flexibly, but with skills shortages in certain areas, employers may become more protective of their workforce, prompting more restrictive covenants.
Looking to the future, what other legal services will manufacturers need? Lawyers point out that the crisis is accelerating the roll-out of intelligent manufacturing and automation to allow for social distancing, albeit with knock-on effects.
'Unfortunately, the headcount is going to be reduced as smart factories start becoming the norm and we move towards robotics and AI,' says Lake. But there is also a need to retrain factory-floor workers to operate the technology. 'There is a whole raft of legal support required around that.'
Post-crisis, further investment in technology will see machines making more 'decisions' in organisations, prompting 'greater scrutiny from regulators', Scourfield points out. This translates into additional regulatory hurdles to clear under the GDPR and issues of liability for errors and harm that arise out of AI processes.
Environment law advice will also be critical. 'Sustainable growth and transitioning to a circular economy [where resources are in use for as long as possible] remain high on the agenda for law and policymakers in the EU and the UK,' he says.
The recently adopted European Green Deal and the New Circular Economy Action Plan are 'key pillars' of the EU's ambition to achieve 'climate neutrality' by 2050 and mainstream sustainable development thinking, Scourfield explains. In the UK, the Environment Bill reflects this approach.
'All businesses will need to stay alert to a long pipeline of legal and regulatory developments on product design, and the reduction of waste and carbon emission measures, and be prepared to adapt their strategies in response,' Scourfield says.
Faced with another potential crisis on their hands – the impending break with the EU – the sector could play safe or take a gamble. As Peters asks: 'Will manufacturers have the confidence to invest in new technologies or will they want to build up cash reserves for a possible further economic shock, such as a no-deal Brexit?'

Marialuisa Taddia is a freelance journalist