The Law Society is rebooting its brand and transforming digital services to members.
The world is becoming increasingly digital. Digital communications – whether that be websites, social media or apps – are now an essential part of the everyday working life of almost all legal professionals.
Digital communication is constantly evolving, from the steady flow of new tools to studies on how new technologies change the way users consume information and services. The Digital and Brand Communications team at the Law Society must ensure they are on top of emerging technologies and digital trends.
The team manages the main member and public-facing website (www.lawsociety.org.uk), developing the site and its content with the aim of improving the service the Law Society provides to connected members.
'An important part of the team's role is to increase awareness of members' needs and ensure that the whole Law Society is looking for better ways to serve them,' explains head of Digital and Brand Communications, Paula McMahon.
'As a team, we combine strong editorial and digital skills with experience, understanding and empathy with the other disciplines of the organisation. We focus on the member, not the technology.'
The team concentrates its efforts in a number of ways:
Providing digital leadership, including best practice and training on editorial, content development, multimedia, social media and branding.
Developing and testing new online tools.
Commissioning, creating and maintaining content for the website, in collaboration with legal and business experts.
Creating policies to inform, design and create content (tone of voice, house style, accessibility).
Leading the campaign to promote the work solicitors do for the public, small businesses and commissioners of legal services.
Digital transformation
Last year, the Law Society embarked upon a complete overhaul of its IT systems, delivering fundamental technology change as part of its move towards its vision of The Future Law Society.
In 2018, the focus is shifting to the transformation of digital services provided to members. Starting with a new web platform and redesigned website, the three- to four-year work programme will align various web services on one platform to create a website from which members will be able to access all Law Society digital services on any device with a single set of login credentials.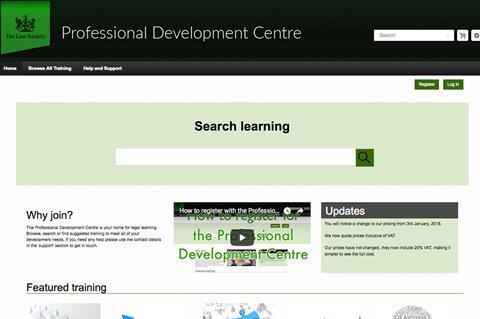 'The Law Society's IT transformation will develop the technology to enable the business to succeed. The digital transformation focuses on our means of engagement – channels and platforms – and focuses on our members,' explains McMahon.
The society's digital presence has grown organically, and user experience is somewhat uneven at present – there are at least 15 websites, 12 of which require their own login details.
'Accessing all our services and content in one place will streamline members' experiences, allowing them to receive content and information about Law Society news, services and products tailored to their preferences,' remarks McMahon.
The new-look Law Society website will:
Provide a coherent view of relevant Law Society activity, products and services.
Enable members easily to achieve their goals and tasks.
Increase members' understanding of the Law Society and our work.
Create opportunities for members to engage with the Law Society and each other.
Enable users to purchase products and services with ease.
McMahon hopes that the redesigned website will be ready by mid-2019.
'We will be working closely with members to define their experience, and to make sure that experience is reflected in the way the website looks and operates,' she says.
She points out that the ultimate aim of the digital transformation is to make digital ubiquitous across the Law Society.
'The entire organisation should be using digital tools as part of their everyday work,' she says. 'The digital landscape is constantly changing and connected members' expectations are always evolving. It's crucial that we educate staff and enhance their digital knowledge and skills, so as a business we stay ahead of the curve.'
A brand name
It's not just the Law Society's website that will be getting a reboot next year. The brand component of the team has been working for the last six months on refreshing our visual brand, writing and communication style to stay contemporary, fresh and consistent.
'The refresh is driven by the need to modernise, but without losing sight of the wealth of history behind our brand,' comments Jo Rodgers, the Law Society's Brand and Corporate Communications Manager.
Rodgers' team has overall responsibility for the Law Society brand – not just its visual representation, but also its communication style with members and the public. They also take the lead on a number of high-profile awareness campaigns, including the solicitor brand campaign, which promotes the value of solicitors to the public, small and medium-sized enterprises, and larger businesses.
Top of the rebranding agenda is simplifying the Law Society logo, so it may be used easily across both digital and print platforms. The new logo is an artistic interpretation of the full crest – a very intricate design, the component elements of which become harder to make out the smaller it becomes. There was a risk that a redesign may lose elements of the crest that emotionally resonated with members.
'To safeguard against this, we worked with a focus group of members,' said Rodgers. 'It was fascinating to hear what the crest and its elements meant to them.'
The brand team has also revisited the Law Society's house style and tone of voice.
'Sometimes we sound like we are speaking to members from the 1950s; at other times, we sound positively Dickensian,' remarks Rodgers. 'At the other extreme, some of our communications to the public are simplistic.
'Our review is to make sure that as an organisation, our communications are clear and consistent in style and tailored to our audiences, and that we write in a way that members don't have to work hard at to understand. At the same time, we will be careful to ensure that our new "voice" is sympathetic to the complexity in legal issues.'
Members can look forward to a rebranded member handbook landing this May, with the new Law Society logo appearing gradually as communications and publications are updated.
The new-look Law Society website will also reflect the rebranding. 'Overall, our brand will be a lot more consistent,' says Rodgers. 'We want members to be able to pick up a publication, paper or communication and readily identify that it comes from us.'
If you use our website and would like to be involved in the redesign contact DigitalCommunications@lawsociety.org.uk.
Duncan Wood is an editor in the Law Society's digital and brand communications team