Deal or no deal, Brexit is set to greatly complicate the professional lives of lawyers and their clients. Kicking off a Gazette special focus, Marialuisa Taddia reports from a recent summit hosted by the Law Society and TheCityUK on what leaving the EU could mean for legal services
A no-deal Brexit, Law Society vice-president Simon Davis reminds the legal services Brexit summit, would involve leaving the framework of the EU lawyers' directives, thereby 'leaving a near uniform set of rights and obligations across EU/EFTA states for a situation where our members face 31 different regulatory regimes'.
The gulf between 'no deal' and the terms of the proposed withdrawal agreement is vast for legal services. The agreement contains provisions on the mutual recognition of legal qualifications; civil judicial cooperation; and provision for covering ongoing cases. These are all essential for some semblance of business-as-usual post-Brexit.
Yet this is far from perfect. 'The UK and EU have made limited progress on legal services and market access,' Davis notes. Furthermore, 'the EU has recognised the importance of judicial cooperation in family matters, which is positive, but does not seem to be seeing the mutual benefit of wider judicial cooperation in civil and commercial matters' (see also p21) .
Still, some Law Society warnings on the dangers of a no-deal Brexit have been heeded. In December, the government deposited its instrument of accession to the Hague Choice of Court Agreements Convention 2005 whereby, in a no-deal scenario, the UK will be a contracting party to the convention from 1 April 2019. 'We are also speaking to the Ministry of Justice about the UK seeking to accede to the Lugano Convention in the no-deal scenario,' Davis adds. That would increase parties' abilities to enforce judgments in the convention's signature countries.
Lucy Frazer QC MP, parliamentary under-secretary of state for justice, tells the summit 'it is clear that it is possible for the UK and EU to agree further areas of cooperation during negotiations and we will as a minimum continue to prioritise joining Hague 2005 in our own right and seek to accede to the Lugano Convention'.
Despite such reassurance, lawyers planning for Brexit do not believe that legal services are sufficiently high up the government's list of priorities. Michael Burd, chair of Lewis Silkin, warns the forum: 'EU market access for legal services is not really at the top of the government's agenda right now,' despite a £28bn surplus with the EU in services compared with a £95bn deficit in goods. 'It is something of a mystery and certainly very much a frustration for those of us involved in the provision of services that [it] seems to have taken such a back seat in the negotiations,' Burd adds.
THE LOW DOWN
We are 'in a theatre where we don't know when the play begins, when it ends and what the plot is'. So says former solicitor general Lord Garnier QC. A no-deal Brexit could cost the legal sector up to £3bn in turnover by 2025, heavily circumscribe the professional status of lawyers, and create unwanted barriers to the enforceability of judgments. Family lawyers warn of divorces being recognised in one jurisdiction but not another. But could Brexit also yield opportunities? Perhaps only in the sense that clients will require a lot of legal advice to navigate their way through a logistical swamp. High-growth economies in the rest of the world could offer new trading opportunities; unfortunately, they include notably protectionist legal markets.
Cliff-edge scenario
Under the Lawyers Services' Directive, British lawyers and firms serve clients on a fly-in, fly-out basis. But travelling to the bloc post-Brexit, particularly in a cliff-edge scenario, is going to be 'a huge challenge and people are really freaking out about it', says Nick Rollason, head of immigration at Kingsley Napley. Every single country has its own national laws on immigration, he explains, so 'you will need to check that in each jurisdiction'. Furthermore, there are criminal and civil penalties for non-compliance with the Schengen visa, which permits a total stay of up to 90 days within a period of 180 days. 'As a lawyer, that is not a great thing to have and it may affect your ability to travel to other countries,' he says.
Linklaters, the firm's chairman emeritus Robert Elliott observes, has to some extent built its European network 'on the premise of the EU'. The magic circle outfit is now looking at what changes it may need to make to the corporate structures of the various branches and subsidiaries it has across the continent, particularly in the event of no deal.
Another issue for Linklaters is the possible emergence of new barriers to working between its own legal teams in different countries. 'How do English and Welsh lawyers work alongside local counsel in our own offices, or indeed in some of the EU27 where we are not present alongside our best friends?' Elliott asks. This will depend on how 'protectionist the relevant jurisdiction is going to be'.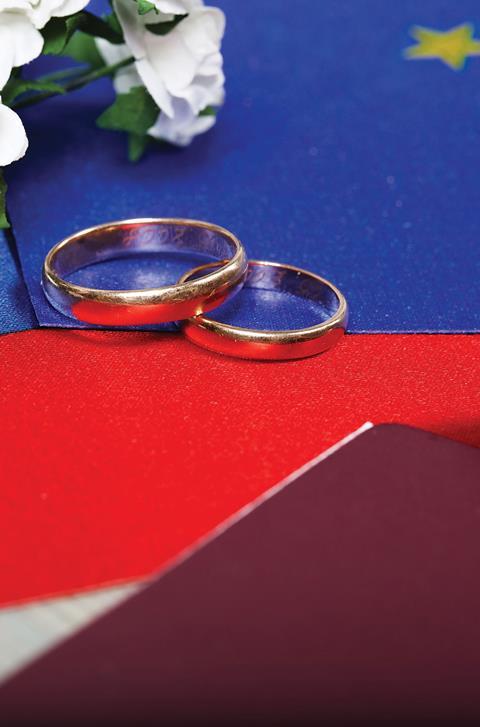 RISK of 'LIMPING MARRIAGES'
'The EU landscape for family lawyers is totally different from commercial lawyers,' Professor Rebecca Bailey-Harris, barrister at 1 Hare Court Chambters, observes. 'The only [EU] regulations which are important to us deal with jurisdiction, recognition and enforcement of judgments.' That is possible via the Brussels IIa and the Maintenance Regulation.
'It's becoming very difficult in my field to advise clients because of the range of possibilities,' Bailey-Harris adds. 'And it is an awful waste of money and time having to advise clients on matters which may be totally irrelevant. If there is a deal then the crash-out SIs [statutory instruments] are irrelevant, but if there is a deal what is it going to [happen] after the freezing period of EU law, which is the approach taken by the Withdrawal Act?'
The European Union (Withdrawal) Act will incorporate the existing provisions of EU law into domestic law at the point of exit.
The principal concerns of family law practitioners centre on this effect of 'freezing' legal concepts such as habitual residence and lack of reciprocity for lis pendens (a rule in Brussels IIa and the Maintenance Regulation which gives priority to the court first seised), and recognition and enforcement.
Bailey-Harris says that the 'crash-out' SI in a no-deal scenario was in the view of most family lawyers 'deeply flawed'. She adds: 'The existing provisions will continue to apply to proceedings already instituted, but for new cases there are significant changes in jurisdictional and competing proceedings.'
A key risk is a rise in 'limping marriages' where a divorce is recognised in one country but not in another.
Protectionist measures
Elliott draws a comparison with conditions in China, India and Brazil, three jurisdictions with significant protectionist regimes for foreign law firms: 'Are we going to see any similar behaviour from the bars and the regulators in some of the EU27 countries?'
On mutual market access, the tension between conservative practitioners and liberal 'free trade' supporters within Europe's bar associations has already resulted in skirmishes at the Council of Bars and Law Societies of Europe (CCBE).
This is related by Essex Court Chambers' Hugh Mercer QC (see also p23), who is chair of the European Lawyers Committee at the CCBE. Mercer relates a failed yet 'serious' Franco-German attempt to eject the UK from the CCBE because of the risk that the UK may not be 'a proper EU bar come March'. There was also an agreement between the bar of England and Wales and the Belgian bars that failed in September 2016 because of political pressure from France.
'There are basically the hawks, that's France, and they have dragged Germany along so far,' Mercer says. Currently a 'silent majority' in the CCBE 'really appreciates and respects the UK legal profession' and 'is more focused on justice issues and access to cross-border justice'.
Relying on that silent majority, Mercer sees 'very significant scope for ad hoc deals' despite 'political pressure' from the hawks.
'At a minimum we need some sort of process for mutual recognition similar to the equivalence regime for financial services,' he argues. 'Once you have a process then you have a procedure; you have procedural protections and potentially the ability to challenge.
'Although the 27 member states retain competence for regulating professional services, if you have a procedure it would be much more straightforward for us to negotiate bilateral deals with individual countries going forward.' The government seems willing to press for this, Mercer adds.
Can law firms with a base in the UK put their hope in free trade agreements (FTAs)?
Phillip Souta, head of UK public policy at Clifford Chance, notes that hopes are not high. He points to paragraph 29 of the 'highly caveated', non-binding political declaration. This states: 'The parties should aim to deliver a level of liberalisation in trade in services well beyond [their] World Trade Organization commitments and building on recent Union Free Trade Agreements.'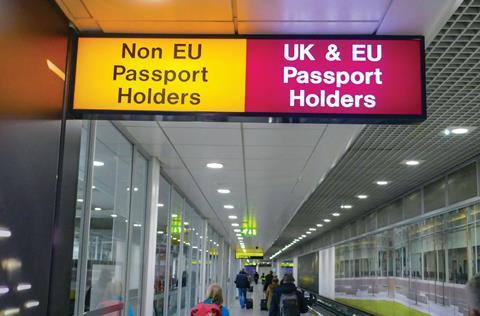 Sophisticated market
Souta notes: 'The EU provides a very deep and sophisticated market in law and the provision of legal services. FTAs currently do not.' If adopted as a template for UK/EU relations, the much-touted Canada-EU Comprehensive Economic and Trade Agreement would be little help, Souta says: 'As far as legal services are concerned, this is not much better than no deal.'
The EU-South Korea FTA is better because European firms can 'establish foreign legal consultants in South Korea, they can share profit, they can do joint ventures and EU-qualified lawyers can provide home state advice in South Korea.'
But will South Korea continue to recognise the licences of UK firms that operate in the country by virtue of the EU-South Korea FTA? 'We are currently waiting for some comfort from the South Korean government that unless they revoke the licence, the licence continues to be effective,' Souta says.
Pointing out that the agreement between South Korea and the EU includes a 'favoured nation' clause, Souta explains the problems that arise: 'If the UK and the EU agree something that goes further on legal services than what is contained in the South Korea agreement, the EU has to offer that to South Korea.'
On a brighter note, whatever the outcome of Brexit, it will 'leave unaffected the application of the Rome I and II regulations, meaning that Brexit has no impact on a party's choice of law', Davis says. Some 27% of the world's jurisdictions use English law.
But Sarah Garvey, litigation counsel at Allen & Overy and chair of the Law Society's EU Committee, says enforcement of judgments in the EU27 and Lugano Convention states is 'the key concern' that is 'causing commercial parties to question the traditional selection' of English law. The European Commission has issued a technical note, warning 'stakeholders' that in a no-deal Brexit the EU rules governing the enforceability of UK judgments in the EU will no longer apply.
By virtue of its EU membership, the UK is party to three international schemes for the transnational recognition and enforcement of judgments – the Brussels Recast Regulation, the Lugano Convention 2007 and the 2005 Hague Convention (which provides only for the recognition and enforcement of judgments where the parties have concluded an exclusive choice-of-court agreement). In a no-deal Brexit, 'essentially the approach of the English courts would be to revert to the English common law rules on jurisdiction and enforcement of judgments', Garvey notes.


Lugano on the horizon
However, the UK government has stated that its policy is to rejoin the Lugano Convention in its own right after Brexit (subject to unanimous consent of the other members). 'Lugano is much wider than Hague,' Garvey observes. 'It covers a wide range of civil and commercial matters as well as… consumer and insurance [law]. It would address the enforcement concern of commercial parties at a stroke in my view, and it is an off-the-shelf solution.'
What of extra instructions that could stem from a no-deal Brexit? 'A no-deal would be a highly disruptive event, and as we know with disruption that gives opportunities for members of our profession,' Elliott says. 'There are likely to be opportunities.'
Certainly, immigration law practices are 'booming', Rollason notes, which will likely continue once the new immigration regime becomes clearer.
But other practice areas are doing less well, notably those linked to the City's deal-making activity. Travers Smith senior partner Chris Hale, who specialises in UK and international M&A and buy-out work, notes: 'What we are seeing at Travers Smith is a slowing of transactional activity, fewer M&A deals and fewer IPOs. That is not surprising given the chaotic and overwhelming uncertainty that surrounds us.'
The outlook is not much better in the medium- to long-term. The UK 'is likely to be a lower growth economy for a protracted period', he says. Furthermore, London's position as a dominant financial centre will 'undoubtedly be diminished'.
As for commercial disputes, 'Brexit has come at a time that has not been good for us and that is because the competition for work has massively increased,' former lord chief justice, Lord Thomas of Cwmgiedd, observes. There is now 'really serious competition' from countries such as Singapore, and the government has not appreciated 'the real determination, particularly in Amsterdam and Paris, to create courts that can have the appearance of being able to compete successfully with London', he adds.
The talk, though, is not of a cliff-edge drop in parties choosing London. 'I am still slightly cynical about the extent to which we will see movement from London to [English law] courts in other European jurisdictions,' Tom Snelling, head of the commercial disputes group at Freshfields Bruckhaus Deringer, says. He does, though, see Brexit as accelerating a 'continued shift from the London commercial courts to London-seat arbitrations' due to 'concerns over recognition and enforcement of English judgments'.
Indeed, as former attorney general Lord Goldsmith QC, London co-managing partner and chair of European and Asian litigation at Debevoise & Plimpton, puts it: 'Arbitration does not depend in any way on the EU, it does not depend on the Treaty of Rome, it depends on the New York Convention. I see no reason why arbitration should not continue strongly – and we are pretty good at arbitration in this country. Indeed there is every reason why it should be stronger.'
FIGHTING CRIME
The impact of Brexit on crime-fighting was the subject of fierce debate during the EU referendum campaign, and remains the subject of claim and counter-claim.
What, for example, of the European Arrest Warrant? Bob Neill MP, chair of the Commons Justice Select Committee, points out: 'The government said that maintaining access to the EAW was a high priority, but the fact is that we have seen nothing in terms of practical steps to indicate how they would do it.'
The committee has issued two reports on the implications of Brexit for the justice system, including criminal justice. 'The very compelling evidence that we had from the witnesses to our initial and detailed inquiry [launched in October 2016] was that you can't actually take one brick out of the system,' Neill continues. 'The system of European justice cooperation is a whole system's effort and if you start pulling one bit out then you actually damage the whole lot.
'Things like Eurojust, Europol, the information systems and the EAW are all part of the same infrastructure, and whatever we end up with is not, frankly, going to be as good.'
Neill notes that going back to the 1957 extradition convention 'was rightly described by the then chairman of the Criminal Bar Association Francis FitzGibbon QC as "cumbersome awkward and slow", and he was probably being polite'.
Information-sharing is what 'underpins' the overall system. But to allow the free flow of its data to a third country, such as the UK, the EU must make an 'adequacy decision'.
'Unless you have that data adequacy statement,' Neill says, 'with the best will in the world the cooperative prosecutor or police officer in Germany or Belgium could not lawfully share with our police officers or prosecutors that information which they had or vice versa. Most of us might think this is complete madness in a world of, not just international terrorism, but also international financial crime and cybercrime.'
Technology prize
Is it possible to end on a positive note? There are some bright spots. Lawyers believe a major future prize for the UK legal sector is related to technology.
'The UK is an ideal place for lawtech to thrive and it is essential we take full advantage of the opportunity legal technology provides to the growth of the UK legal sector,' justice minister Lucy Frazer says. The lawtech sector is worth $16bn globally, she adds, highlighting government support for innovation in the sector through programmes like the Law Tech Delivery Panel and the £20m next-generation services fund, launched last April.
David Wootton, a lawyer and former lord mayor of London, points to the development of smart contracts, blockchain, artificial intelligence and crypto-assets 'where there is no law at the moment. English law needs to develop it and grab it to become the global legal system for those new technological developments', he urges.
We must also get better at marketing 'our flexible common law', argues Lord Thomas, now a member of the House of Lords EU financial affairs sub-committee. 'France and Germany in particular and other states have now marketed their laws as being certain, clear and modern, and we have done that less well.'
To promote the common law, though, there must also be a focus on controlling costs, Thomas warns: 'We fail in this country to actually get a grip on costs. Whatever has been trialled over the years, our system continues to be very expensive.' What is more, Thomas says, 'we need to show that our justice system helps the ordinary person. That has gone almost completely out of the window… I don't think in the battle to sell the UK it is possible to sell it unless we say our justice system works for everyone and not just the wealthy'.
Despite the challenges, Alison Atack, president of the Law Society of Scotland, sounds a pragmatic note for the UK legal community. 'Lawyers may moan about change but they will soon adapt and seize the opportunities and make money out of it – eventually.'
Law Society guidance on a no-deal Brexit and related resources can be found at tinyurl.com/y9n9q9ps.
Marialuisa Taddia is a freelance journalist
Special focus Brexit: Standing alone
1

Currently reading

Special focus Brexit: Standing alone

2

3

4

5