Can new gateways to a legal career mitigate the eye-watering cost of qualification and boost diversity? Grania Langdon-Down reports
THE LOW DOWN
Aspiring solicitors face an eye-watering bill to qualify, according to the Junior Lawyers Division. Nursing their student debt, a quarter of trainees start out on less than the minimum salary recommended by the Solicitors Regulation Authority – both factors which junior lawyers warn are damaging to social mobility. The focus now is whether the SRA's new two-part 'super exam', alongside more flexible qualifying work experience, can achieve its aims of being as rigorous as the current route while cutting costs to open up access to the profession. In the meantime, law firms and providers are looking at ways to improve diversity and meet new challenges concerning the role technology is playing in delivering legal services.
Studying to be a lawyer comes at a price – between £70,000 and £80,000, according to a breakdown of the costs of the traditional route to qualification by the Junior Lawyers Division (JLD). Alongside that mountain of debt, a quarter of trainees face starting their training contracts on less than the minimum salary recommended by the Solicitors Regulation Authority (SRA).
The JLD and Young Legal Aid Lawyers have been pressing the SRA to reinstate a mandatory minimum trainee salary, arguing that low wages are a key barrier to social mobility, particularly in the legal aid sector.
The Law Society has this week announced its new recommended minima (see news, p3) – and Chancery Lane is understood to be planning to push them very hard this year.
The high costs of becoming a solicitor are a key factor driving the plans for the SRA's new qualification regime, which it hopes will result in greater diversity among those entering the profession.
There are still many unanswered questions about the two-stage SQE (Solicitors Qualifying Exam) – not least about the final cost – and its launch has been postponed until September 2021 to allow education providers and law firms more development and transition time. But that has not stopped firms and providers from pursuing initiatives around legal training, including solicitor apprenticeships, degree courses incorporating SQE preparation, and new training contracts focusing on legal tech.
There has been negative publicity around the current apprenticeship framework following the introduction of the apprenticeship levy in 2017. Many large firms have criticised the levy as too bureaucratic and another 'tax' on business, while City law firms have consistently called for greater flexibility in terms of spend.
Currently, companies with salary bills of more than £3m pay a 0.5% levy on their wages, along with PAYE tax and National Insurance, but can request money from this pot to fund apprenticeships. The government also pays 90% of the cost of apprenticeships for non-levy-paying firms – leaving them on the hook for 10%, which these firms complain is too much.
Criticism forced the government to announce a series of changes in the October budget. These would give levy payers more flexibility by increasing the amount of levy funds they can pass on to their suppliers from 10% to 25%; halve the 10% fee small and medium businesses have to pay towards training; and increase wages for apprentices. But enthusiasm is running high in law firms that offer both legal and business apprenticeships, because their apprentices have quickly proved their worth.
Those who have taken on solicitor apprentices say they are proving fantastic ambassadors for the scheme

Tricia Chatterton, BPP University Law School
The most recent statistics for the six-year, level 7 solicitor apprenticeships show 110 started in 2017/18, compared with 30 in 2016/17, the first year they became an option for aspiring lawyers. Numbers are understood to have increased again in September 2018, with recruitment for September 2019 currently under way.
Salaries vary, with some based on the living wage, equivalent to £18,600 in London and £16,000 outside London. Alongside annual increases, apprentices' salaries will be aligned with other trainees once they move on to the trainee rotation in their fifth year.
The Law Society is hosting an event at Chancery Lane on 5 March as part of the 12th annual National Apprenticeship Week to encourage uptake of solicitor apprenticeships, with presentations from City law firms and the training provider BPP.
Tricia Chatterton, director of business development at BPP University Law School, says apprenticeships are starting to gain traction among law firms. 'It is a slow burner,' she acknowledges. 'But those who have taken on solicitor apprentices say they are proving fantastic ambassadors for the scheme.'
James Wilson, emerging talent business partner with Eversheds Sutherland, says the firm now has 28 apprentice solicitors working in a range of teams from commercial to litigation to real estate. It plans to recruit another 10 for this September.
'I am getting more and more requests from different teams either to have one for the first time or for another one,' Wilson says. 'The first intake are now operating very much at paralegal level and some are already going out to clients on secondment.'
By September, Womble Bond Dickinson (WBD) will have 12 to 15 solicitor apprentices, having started with three in 2017. The firm's head of recruitment Sam Lee says the first intake is now in its second year and they are already doing trainee level work. 'It is making perfect business sense,' she says.
One critical aspect of the levy funding is that any unspent funds in the employer's digital accounts expire after two years and go back into government spending.
Eversheds Sutherland's levy amounts to about £400,000 a year. The main problem with the levy pot, says Wilson, is its inflexibility.
'Reviewing and co‑ordinating apprenticeships takes resources,' he says. 'It would be really helpful if there was some flex so part of the pot could be used for staff whose sole role would be to support apprenticeships.'
He is investigating ways of expanding the firm's use of the levy across support teams.
VOICE OF THE SURVIVOR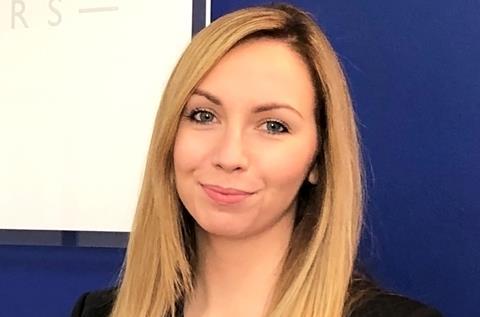 Amy Clowrey, the new chair of the Junior Lawyers Division (JLD), decided she wanted to be a lawyer when she was 14. Fourteen years later, she is now part of the child abuse claims team at Switalskis solicitors.
She welcomes the opportunity to chair the JLD, having been a member since 2014. 'The personal and professional support of the JLD community is second to none,' she says, 'and I want to give the same support that I have experienced over the past five years to other junior lawyers.'
Key issues for the JLD are widening access to the profession and supporting wellbeing, both close to Clowrey's heart.
She chose her route to qualification because she knew she could not afford the LPC and she didn't want to get a graduate loan. So, she studied law at Huddersfield University – one of only two higher education providers offering the Master of Law and Practice at that time, which exempted her from the LPC. 'Huddersfield was the closest university to my home in Rotherham, which was another big sell for me,' she recalls.
At work, she is often the first person many survivors will have told about the abuse they suffered, which can be very emotional for both. But she has learnt to compartmentalise by focusing on achieving the best results for her clients so it does not take a toll on her home life.
While she mainly brings actions against public bodies or organisations for failing to protect children from an abuser, the truth is her role is so much more. 'As a child abuse solicitor, you are the listening ear and the voice of the survivor.'
A report by the Higher Education Commission released on 29 January warned that middle-class teenagers were taking the vast majority of degree apprenticeships because so few were being offered within reach of deprived areas.
Competition for the roles at Eversheds is intense, says Wilson. But he stresses the route is encouraging applicants from diverse backgrounds. 'Fifty-three per cent had at least one flag under our RARE contextualised recruitment system and 18% had two or more. We are also seeing an increase in BAME applicants.'
Lee had initial concerns about whether the degree apprenticeships would attract a wide range of candidates. But she says: 'They are delivering on the diversity objectives we set.' She says the levy system 'isn't perfect, but it staggers me that people don't want to take advantage of it'.
Despite having around 43 apprentices across legal and business teams, WBD has not spent all its allowance. From April, the firm will start losing the unspent part; so Lee can understand how firms coming to apprenticeships from a 'standing start' will find it difficult to make full use of their levy pots.
When it comes to integrating the solicitor apprentices with the SQE, Wilson hopes that the new regime will alter the perception of the apprenticeship route, as 'the new model is much more aligned to the apprenticeship structure'.
At the same time, the SQE is putting pressure on providers to review their offerings.


Pearson Business School, the first to be established by a FTSE 100 company, developed its four-year combined LLB and MLaw in legal professional practice alongside the SQE consultation period, so it had its eye firmly on the future route to qualification.
The course integrates the academic and the vocational elements from the start so graduates are exempted from taking the LPC. John Clifford, the school's head of law, says: 'Our objective is that students will be fully prepared for part one of the SQE without any other course being needed.'
The first cohort started in 2016, with around 20 students joining each year. The students benefit from internships with Pearson's corporate legal office, with the school's partnership companies, including the BBC and Unilever, and law firms.
Entry requirements are A-levels of BBB or above. But students without the grades can also apply through a professional workshop route, which includes assessments of written skills, team working, aptitude tests and a personal interview.
Clifford says the school offers waivers to keep fees to £6,000 per annum and student loans cover the whole four-year course. Most students are from London state schools and live at home, though some live in halls of residence.
He says there is a 'degree of inertia' in the profession in looking outside traditional universities and law schools, and his role is to change 'entrenched mindsets'.
FRONTING THE REVOLUTION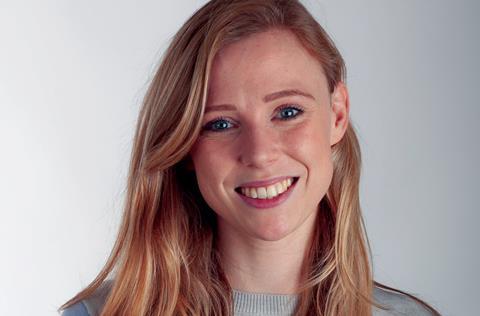 Katie Grace Matthews read law and economics at Limerick University, Ireland. She became interested in the impact of technology on law and wrote her thesis on how digital algorithms influence antitrust law.
Matthews has never thought of tech as a 'man's world': 'I went into legal tech because I was interested in both the law and technology,' she says. 'I don't think the fact that I'm a woman inhibited my career choice.
'Most areas of the law have managed to evade any technological revolution in the past. But now I think the industry is being put under pressure by clients and fee-earners to adapt. A&O's graduate scheme places trainees in front of the revolution as opposed to behind it.'
Working with cutting-edge artificial Intelligence technologies, such as machine learning document extraction tools, has been a particular highlight. 'The whole world is talking about AI; and we're actually doing it!' she says.
Working in such a huge, global law firm has taken some getting used to, she admits. 'But with 44 offices globally, I am not learning about legal tech in isolation: I am applying my developing knowledge working alongside A&O's experienced lawyers in different countries on major cross-border legal matters. In this way I've learned and understood the benefits and pitfalls of scaling legal tech.'
With so much to be clarified around the SQE, the JLD will be a key voice in how the new regime can open up access to the profession.
'The pressures on students, trainees and newly qualified lawyers are all-consuming', says JLD chair Amy Clowrey. 'The legal sector is becoming more and more competitive. This is unlikely to change with the SQE; the bottleneck is only likely to move from those seeking a training position to those seeking an NQ position.'
One area where the JLD hopes to drive greater engagement is around the role legal technology will play in the future careers of junior lawyers. It has just published a survey of 224 members and found nearly two-thirds did not think its perceived growth would affect their job responsibilities.
However, law firms are starting to grow their own junior project managers and legal technologists to manage the opportunities – and risks – that technology presents.
Leading figures in the legal IT community have also joined a new drive to encourage girls to consider a career in legal tech and cybersecurity, after a review found women hold just 1% of senior IT roles in top law firms (compared with 20% 10 years ago).
DELTAS (Diversity & Excellence in Legal Technology and Security) plans to bring legal tech providers, law firms and schools together to encourage the next generation to take STEM subjects through excursions, work experience and summer internships.
Until nine months ago, Thereza Snyman, now an IT consultant with Baskerville Drummond, was IT director at Kingsley Napley. Originally a lawyer, she transferred to the tech sphere 20 years ago because she was fascinated by the way technology could help deliver legal services.
When she started, she says there were fewer stereotypes about men and women's roles in the tech sphere. It was less professionalised so women often 'fell into IT roles' because they were tech-savvy.
There is 'no quick fix', she says. 'Having recognised qualifications and career paths is very good, but unless you have young women wanting to embark on them, they can become a barrier.'
Two of the three graduates who joined Allen & Overy's first advanced delivery graduate scheme as legal tech analysts in September are women. Modelled on the traditional training contract, the scheme lasts two years, split between A&O's legal tech group and its legal project management office.
'When I left university, my personal choice was between two career routes: the traditional training contract, or A&O's scheme,' Katie Grace Matthews (see box, above) concludes. 'Every day I am grateful that I chose the latter!'
Grania Langdon-Down is a freelance journalist