A fake lawyer whose name was featured on a legitimate chambers website has been jailed for conning a terminally ill woman out of her £92,000 life savings.
Michael Cremin was jailed for eight years at Bristol Crown Court yesterday after being convicted of six counts of fraud and one count of pretending to be a barrister.
Posing as a lawyer, Cremin gained the confidence of 51-year-old Sandra Burch, who had been given 18 months to live after a diagnosis of cancer. He said he could use her savings to purchase land on her behalf to give her a more comfortable place to live after her retirement. However Cremin kept the money for himself.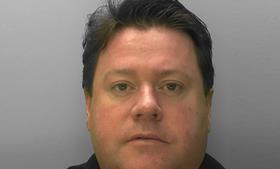 According to Gloucestershire Police, Cremin's credentials appeared legitimate as he was listed as an 'advocate' on the website of Cotswold Barristers, based in Cheltenham. The conviction for pretending to be a barrister was not related to his name appearing on the website. The fraudster also falsely claimed to have a law degree from the University of London.
The 41-year-old, who had a penchant for cars, also conned several other victims and bought a fleet of 14 cars with a total value of £330,000.
Speaking after yesterday's sentencing, Burch said: 'I've always believed in trusting people. This person came across as a professional. He made me feel he was there helping me. It was devastating. There isn't a day that goes by I don't think about it.'
Detective Sergeant Dave Fryatt of Gloucestershire Police, said: 'Cremin was what you might call a "paralegal" – he wasn't a barrister or solicitor but had taught himself a lot about the law and was involved in the legal system. The problem is he over-egged his position and introduced letters after his name suggesting he was a doctor of law. He then never sought to correct anyone who believed he was a genuine solicitor or barrister.'
Fryatt added that police managed to freeze some of Cremin's accounts during the investigation and are trying to ensure money is returned to Burch - but that it will only be a fraction of what she lost.