A partner at a magic circle firm is on course to be President of the Law Society. Simon Davis, a commercial litigation partner in the London office of Clifford Chance, has won the 2017 presidential election, the Society announced today.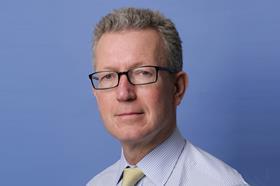 His victory means he will take office as deputy vice president in July, becoming vice president in 2018 and president in 2019.
Davis said: 'It is a great privilege to have been elected to represent the profession. I intend to represent the Law Society's broad spread of members as I represent my clients - finding out and resolving the challenges they face, permitting our members in turn to devote their energies to representing the clients who depend on them.'
The last magic circle solicitor to be president was John Wotton, a consultant at Allen & Overy, who served in 2011-12.
Robert Bourns, current president of the Law Society, said: 'I congratulate Simon, who emerged as the winner from an extremely strong field of candidates. I wish him all the very best for his three years as an office holder.'
Vice president Joe Egan will take over from Bourns in July with Christina Blacklaws, current deputy vice president, taking up the role of vice president.