The High Court has told a law firm's former client that she was not entitled to treat a document included in a general file as a costs bill. The decision in the Sheffield District Registry of the High Court will be welcomed by firms seeking reassurance about the nature of costs bills and when they are to be considered as delivered.
RTA victim Annie Parvez had objected to various aspects of her bill from north-west firm Mooney Everett Solicitors after settling her claim for £2,100 in mid-2016. Following settlement, the firm, which was working on a conditional fee agreement, confirmed that she would receive the net balance of £1,410 after deductions for success fee and ATE premium.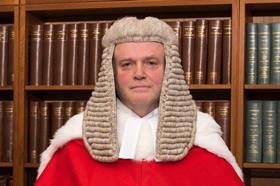 By August 2016 Parvez had instructed Leeds practice JG Solicitors, a firm which specialises in challenging legal costs, and Mooney Everett was asked to supply its file of papers. Among the papers in the file was a document headed 'bill of costs' which formed the basis for Parvez's costs claim.
At first instance, a district judge had already ruled this 'bill' to be an internal document, placed on the file but never intended to be sent to Parvez. Her new lawyers argued this document was capable of being a statute bill and, by virtue of Solicitors Accounts Rules, that it was incumbent on Mooney Everett to deliver it. They further argued that where a solicitor fails to comply with that obligation but the bill otherwise comes into the client's possession, the client may treat it as having been delivered.
Sitting in the High Court in Parvez v Mooney Everett Solicitors Ltd, Mr Justice Soole (pictured) rejected that argument and said it was established in Kingstons v Reiss that a document was not a bill of costs unless it is sent by a solicitor to the client as a demand.
The judge added: 'It must follow that it is only the solicitor who can determine the content and terms of what is his demand or claim for payment. Neither the client nor the court can make that determination on his behalf.'
Soole ruled that the district judge had been right to dismiss the challenge and he in turn dismissed the appeal.