The House of Lords has added pressure on the government to pull proposals for a probate 'death tax' after putting on record its discontent - though it stopped short of rejecting the plans outright.
On Tuesday evening peers voted in favour of a motion approving the plans but added an amendment to express 'regret' at the proposed changes, which they said amounted to a misuse of fee levying power.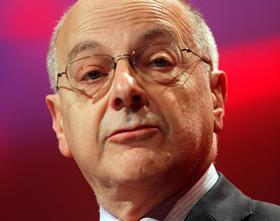 The amendment, put forward by Labour peer and solicitor Jeremy Beecham (pictured), read: 'This house regrets that the draft order will introduce a revised non-contentious probate fee structure … and that this order represents a significant move away from the principle that fees for a public service should recover the cost of providing it and no more.' Another motion to strike down the changes altogether was rejected.
This will not formally stop the government's plans but will add to the pressure they face following two scathing committee reports.
The proposal to introduce a sliding scale of probate fees was laid via a statutory instrument (SI) last month. For it to become law, the SI must be approved by both houses. As yet there is no date for when the House of Commons is due to assess the SI.
The controversial probate policy, a watered down version of a previous plan, would introduce a maximum charge of £6,000 on estates valued at more than £2m. Estates valued at £50,000 or below will not face any charge. Currently fees are set at a flat rate regardless of the size of the estate.
Last month, the Lords Secondary Legislation Committee said the fee bore no relationship to the actual cost of approving the probate application and 'has the appearance of a tax' and is an 'abuse of fee-levying power'.
In addition to the Secondary Legislation Committee, another committee, the Joint Committee on Statutory Instruments. said last week that any fee must bear some relationship to the service provided. It also warned that the proposals appear to be ultra vires and amount to an 'unexpected use of those powers'.
According to Law Society president Christina Blacklaws, the Lords vote 'showed the strength of opposition' to the proposed changes even if it was not binding on the government.
'Two parliamentary committees and now the House of Lords have expressed serious concerns about the proposed 'stealth tax' on probate,' she said. 'We hope the government will reconsider and decide not to ram through these changes despite widespread opposition from parliament and those affected.'
A Ministry of Justice spokperson said: 'Our system will see thousands of bereaved families paying no probate fees at all – protecting an additional 25,000 estates each year.
'These fees have been approved by the Lords, demonstrating these changes are progressive and proportionate. Fees are vital to the effective running of our courts and tribunals, ensuring access to justice and protecting vulnerable victims.'